Ready steady go: It's that time of the year again the Holiday Marketing season is approaching. The most important and profitable holidays are upon us, the ones that have proven to be the grand finale for many brand's sales. From Black Friday over Thanksgiving to Christmas and Boxing Week, the dark and cold time of the year is full of enlightening holidays for the ecommerce business. Are you ready? Is your Holiday Marketing Campaign ready for takeoff? It is definitely time to get started. We'll give you 10 tips for a successful Holiday Marketing Strategy, followed by three examples of brands that put Holiday Marketing perfectly into practice. But first, let's clarify the basic questions about this topic.
Definition – What is Holiday Marketing?
Holiday marketing refers to the creation of campaigns spread over different channels that are based around specific holidays. Generally, for brands, this involves developing a strategy to promote special seasonal offers, attract customers, and thus increase revenue around the event. Especially at the end of the year and the associated Christmas season, the term Holiday Marketing or Christmas Marketing is often used.
In addition to the positive festive mood, the potential to increase sales at this time of year lies in the fact that most promotions are limited in time and this sense of limited special offers encourages customers to buy. In addition, it has been statistically proven that people's buying behavior is significantly more generous during the winter months, during Christmas time many people are actively looking for gifts.
It is clear that campaigns are an essential element of Christmas Marketing and, accordingly, must be carefully planned, because Holiday Marketing offers enormous potential to attract customers through campaigns for seasonal purchases and thereby increase sales. Here are some facts & figures:

Why is Holiday Marketing important?
In 2020, Shopify generated a record global sales of $2.4 billion on Black Friday (end of November), a 75% year-over-year revenue growth. In addition, Shopify's associated report shows that apparel and accessories, followed by health and beauty products, as well as home and garden items, are in particularly high demand at this time.
When a store closes, a browser window opens, at least that was the motto in 2020. Global quarantine moved shoppers to the online world and provided record sales during Cyber Week, recognizable from salesforce's Retail Insights 2020. For example, there was a 25% increase in total orders on Black Friday. Revenue was up 30% that day, with an average order value at $105.
In the entire pre-Christmas period, there was a 65% growth in revenue, on Christmas and the following days even a revenue growth of 67%. Overall, global digital revenue grew 50% in November and December 2020, which means a total of $1.1 Trillion.
Here are 10 tips to help you determine your Holiday Marketing Strategy and plan your campaigns.
10 Tips for your Holiday Marketing Strategy
1. Plan early
According to Facebook's 2019 Holiday Marketing Guide, September through October are the months to launch branding and acquisition campaigns. That's because they are followed by the top-selling months of November and December. If you want your Holiday Marketing campaigns to be successful, make sure you spend enough time planning and preparing.
Start by creating a specific schedule that takes into account which occasions and Holiday Marketing ideas your brand absolutely needs to include. As part of your marketing strategy, you should focus on Black Friday, Thanksgiving and Christmas.
2. Choose a specific theme
It sounds trivial, but nevertheless it is the first step to a sophisticated Christmas campaign: setting a theme. It should serve as a common base your company can always look back to in further planning. The theme is also an anchor for consumers, so it's even more important that it's memorable, has good recognition value, and works across multiple channels.
Make sure it fits your brand and that your customers can identify with it. Themes that are always popular at Christmas time are charity, care, home, nostalgia and family. Not only should your wording be coherent with your theme, but also the visual language. The human brain captures visual content about 60,000 quicker than text. Typography, color scheme and illustrations should therefore be used consistently.
3. Set clear goals for your campaign in advance
To be able to analyze and reflect on whether your efforts have borne fruits, you should define clear goals for your campaign in advance. If this year is not the first time your marketing team is planning Holiday Marketing Campaigns, analyze last year's results to evaluate how effective last year's efforts were, before setting goals. Once you have an idea of what went well and what didn't go over so well, you can set new goals. What do you want to achieve – community building, customer growth, increased sales?
4. Use holiday specific hashtags
To gain attention for your brand and to benefit from the fact that many people use social media for inspiration for potential gifts and purchases, you shouldn't miss out on festive hashtags. 60% of Instagram users say they discover products through the platform, and that's exactly what you should capitalize on by establishing specific and powerful hashtags that will be associated with your brand and promote awareness. If you'd like to learn more about hashtag campaigns, feel free to download our Hashtag Strategy Guide.
5. Define your target audience
Simple and obvious: define your target audience to decide which actions and communication channels are best suited for your business or rather ecommerce Holiday Marketing. If you have a broad target group, try to divide it into smaller consumer groups. This gives you the opportunity to address the interests and wishes of your various customers individually with targeted actions. Doing this, you can highlight exactly those products that might be of interest to the respective group.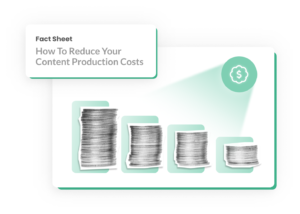 How to reduce content production costs
Download our fact sheet now and learn how to optimize content production for your brand and reduce costs in no time.
6. Operate multichannel and use manifold marketing channels
Not every audience can be reached with the same technique using one and the same channel. Depending on the audience, different channels are better or worse suited to reach the people you want to reach. For balanced and varied Holiday Marketing, it is good to set up a multichannel strategy and to find the appropriate form of content production. Channels you might integrate are: email, ads, social media, print posters, etc.. For the best outcome, create a campaign with many touch points, both in terms of different holidays and in focusing on different age groups within your target audience that you want to reach at the same time. Have a look at our top 10 social walls of inspiration to see how aesthetically pleasing marketing can be.
6.1 Increased reach through branded content
People base their buying decisions on recommendations from friends and family or even from creators – this psychological effect is called Social Proof. Therefore, in order to reach new audiences, it's a good idea to use branded content and advertising from celebrities and personalities. They can promote your products in organic posts and stories on social media, making more people aware of your brand.
6.2 Create campaigns with UGC
Furthermore, social proof can be wonderfully presented through User Generated Content (UGC). This type of visual content is ideal for personal customer driven marketing campaigns. With authentic User Generated Content, you promote your brand and your products through the satisfaction and feedback of your customers, at the same time you value their loyalty. Can you think of a better way to convince people than with real people who are already convinced? Learn how to embed Instagram content on your website or get inspired on how to make the most of Social Content by reading our related blog posts.
7. Place your products omni-channel
You should try to operate through different distribution channels. Shopping happens everywhere and retailers/brands that manage to place their products in stores, both offline and online, to thereby build a seamless omnichannel presence on different channels, have been winners in the past. Try to increase your visibility by getting into conversation with suitable retailers to place your products in multiple ways. Make sure that you are authentic and that the values of your potential cooperation partners match those of your company. Product pages are great for including images of your community, you can learn more about this in our blog post on the topic.
8. Pay attention to loyal customers
Wintertime is payback time. They are fans of your brand and they are those who recommend you their friends, hence the best suppliers of Social Proof for you: your very own customers. In the course of a Holiday Marketing Strategy, you should definitely pay attention to them.
In your Holiday Marketing 2021 you can encourage your loyal customers with exclusive discounts, unbeatable offers, free gifts or earlier access to great deals, like Amazon has been doing for quite some time with their Black Friday and Cyber Monday offers. This is a great way to honor and appreciate your customers and strengthen your relationship with them in the long run.
9. Show personality – sell emotions
People like to claim their purchases are rational, after detailed calculation of pros and cons. But the reality is quite different: Around 80% of our purchasing decisions are emotionally driven by our feelings rather than rationally based. Furthermore, emotional reactions are 3,000 times quicker than rational ones.
Love, nostalgia and gratitude are in the air during the Christmas season. So what better way to capture the feelings that swirl around during the reflective holiday season than with an emotionally charged Holiday Marketing Campaign? Try to use these emotions as the base of your mission. Especially now, make sure you're being authentic. Help people understand your values so they can identify with your brand. In our blog you can ready about how to provide online shop inspiration.
10. Create visibility through Ads
Draw attention to your brand by running Story Ads which highlight benefits, use cases, and the quality of your products. Through Story Ads you can reach potential customers in their natural environment: on social media. With a little creativity, you can get them to take a closer look at your products.
The Story Ads presented between Stories on Facebook, Instagram or in Messenger catch the user's eye directly and don't disappear after 24 hours like the normal Story on your brand account does. To run Story Ads, use Ads Manager and click "promote post" on Facebook or "highlight" on Instagram.
Examples of successful Holiday Marketing Campaigns
Here are three best practices of different, but well-executed Holiday Marketing Campaigns.
1. Coca Cola
2. Edeka
3. Happy Socks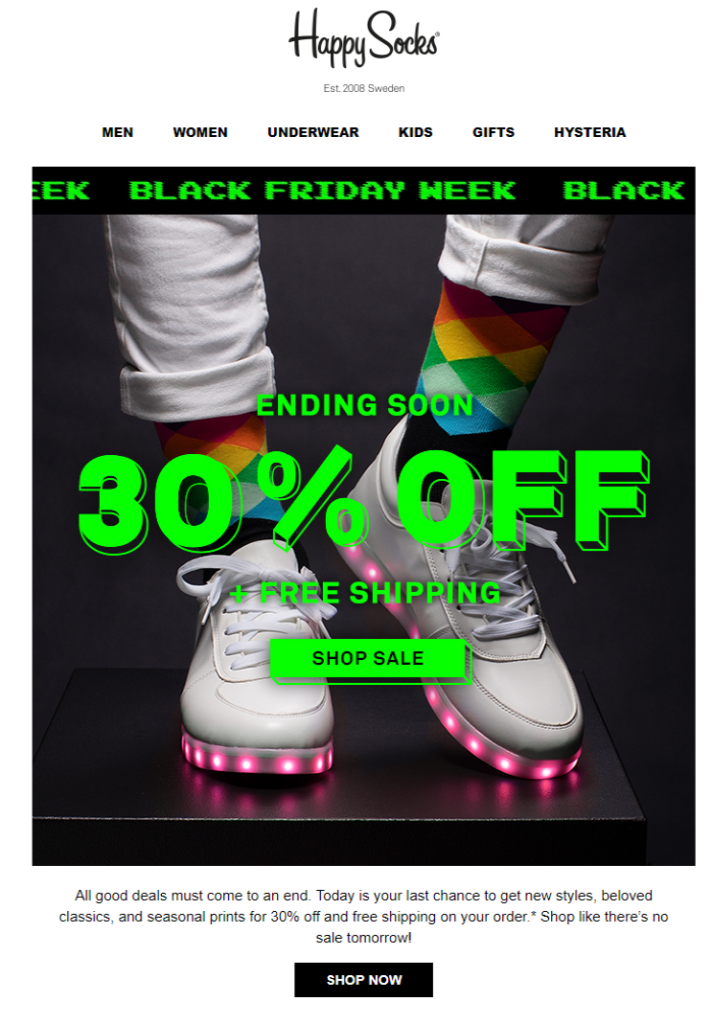 Conclusion
Now it's your turn, start planning and implementing your Holiday Marketing Campaign! Use the tips and turn them into your individual, personal strategy. Most importantly, stay authentic and don't lose sight of your company's values. No matter how good a campaign may be, your customers will notice if your brand pretends to be something it's not, and then your brand won't achieve its goals, no matter how creative, complex and fancy the campaign may be. Let's go! Last but not least: keep planning after the holiday season, because: after the Holidays is before the Holidays!
Sources
https://www.salesforce.com/solutions/industries/retail/holiday-insights/
https://www.facebook.com/business/insights/tools/holiday-season?ref=alias
https://scontent.fham2-1.fna.fbcdn.net/v/t39.8562-6/116719525_308569290221527_8844362972570267079_n.pdf?_nc_cat=108&ccb=1-5&_nc_sid=ad8a9d&_nc_ohc=3E29g7WplHsAX-ddIj2&_nc_ht=scontent.fham2-1.fna&oh=f4e0f1e606348d28eb5076b74f7f4cc9&oe=613F7A2D
https://news.shopify.com/shopify-merchants-break-records-with-29-billion-in-worldwide-sales-over-black-fridaycyber-monday-weekend
https://hirschtec.eu/kommunikation-im-21-jahrhundert-ist-visuell
https://www.business-schreibkurse.de/kurse/werbebriefe/verkaufstrio/emotion/kaufentscheidung/
https://www.linkedin.com/pulse/how-emotions-influence-purchasing-behaviour-phillip-adcock/
https://www.brandwatch.com/de/blog/instagram-statistiken/