Proven fact: integrating a social wall on your website creates inspiration for potential customers. A social wall or gallery is a full-page photo gallery. It displays a great variety of visual Social Content from your community and, thanks to this diversity, gives plenty of room for identification to all those who visit your website. The majority of our clients rely on embedding Instagram Content on their websites in this way. Are you also interested in social galleries? Here are our top 10 most inspiring integrations of social walls and Instagram galleries on websites.
1. #kindsgut
By implementing a social wall, the family-run company kindsgut really brings toys to life. The visual content creates a lively atmosphere and creates a distinctive brand image.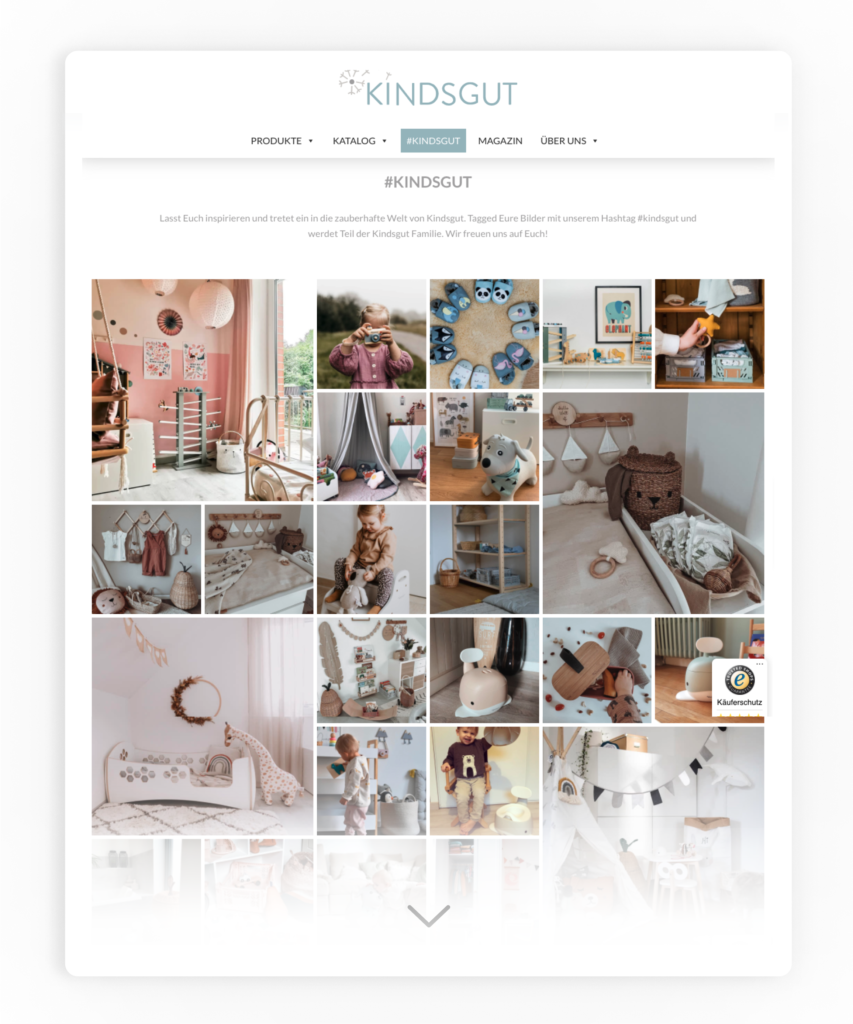 You can read more about how to embed Instagram Content on your website in our blog post on the topic.
2. #fafecollection
Through a social wall, the Cologne-based jewelry brand fafe collection demonstrates the many ways in which its jewelry can be worn and combined. You can read about how product pages benefit from images in our related blog post.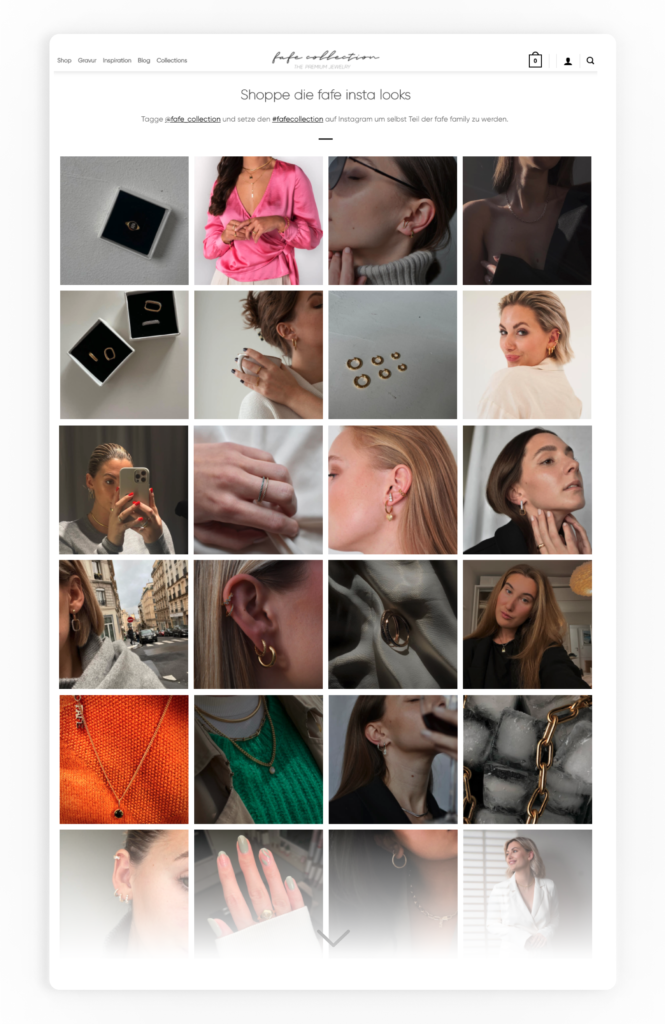 3. #ostseesh
On the website of the official tourism association of Ostsee Schleswig-Holstein, inspiring User Generated Content (UGC) illustrates why a visit to the seaside is definitely worthwhile.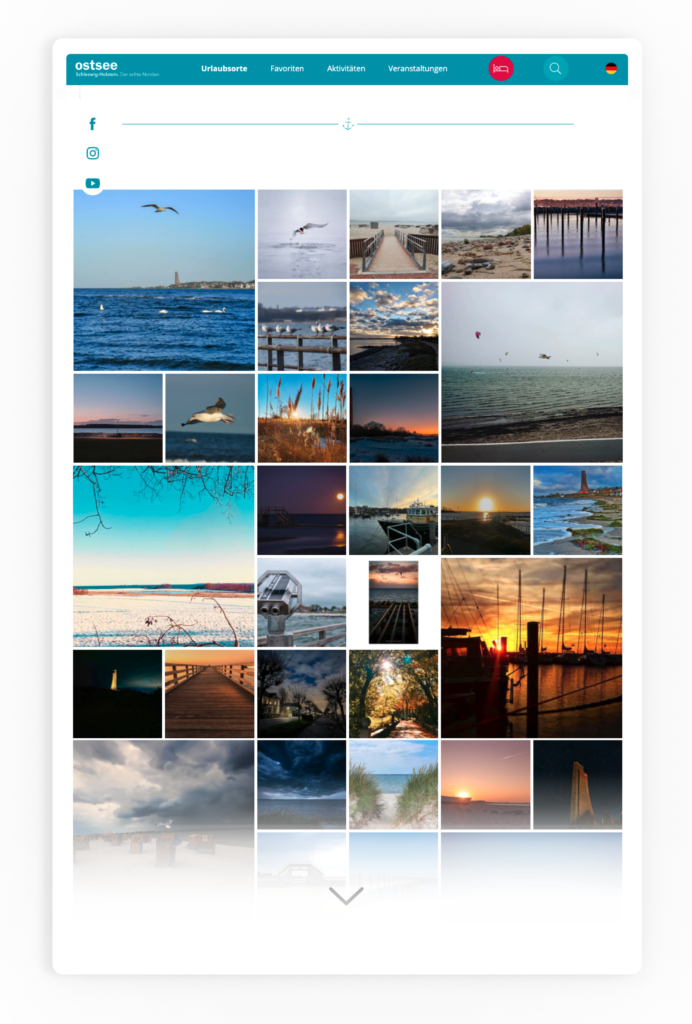 4. #wall_art_de
Wall-Art creates a place of inspiration through its Social Gallery. A place where ideas for the design of your own home can be sought and found.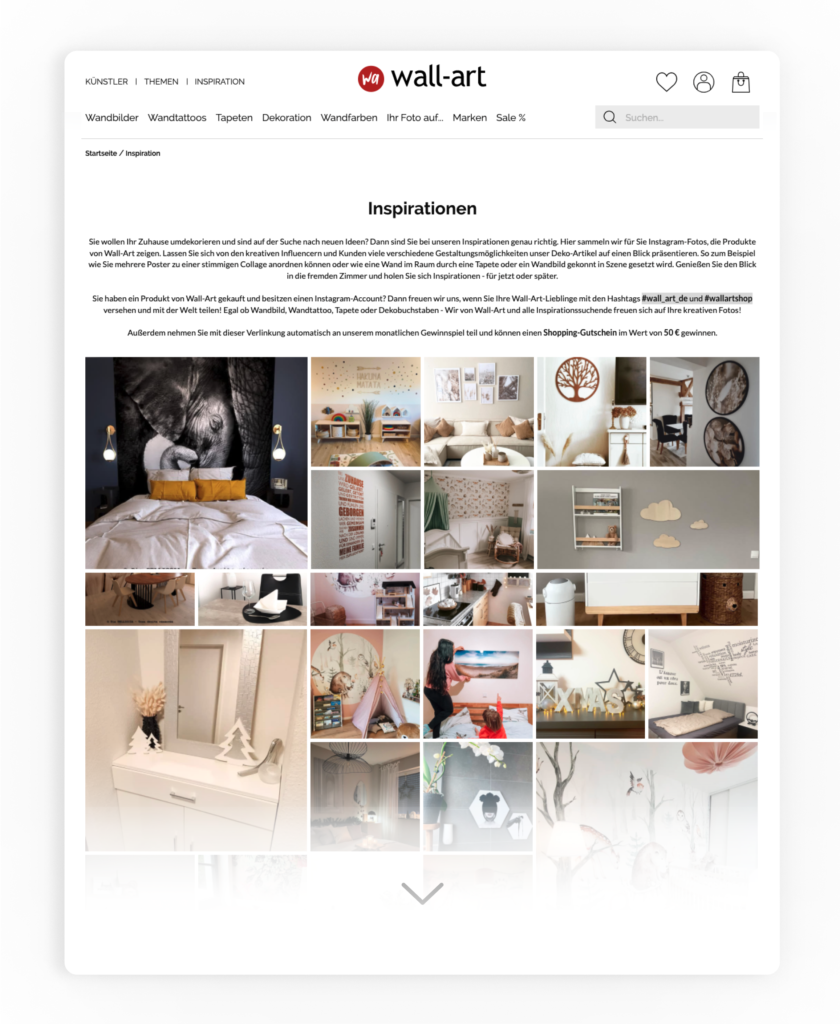 5. #jackwolfskin
Using #JACKWOLFSKIN and #ATHOMEOUTDOORS, the outdoor brand Jack Wolfskin is collecting inspiring visual Social Content to motivate people to get out and enjoy the versatility of nature to the fullest. Check out how Jack Wolfskin has managed to collect more than 300,000 pictures on Instagram to date.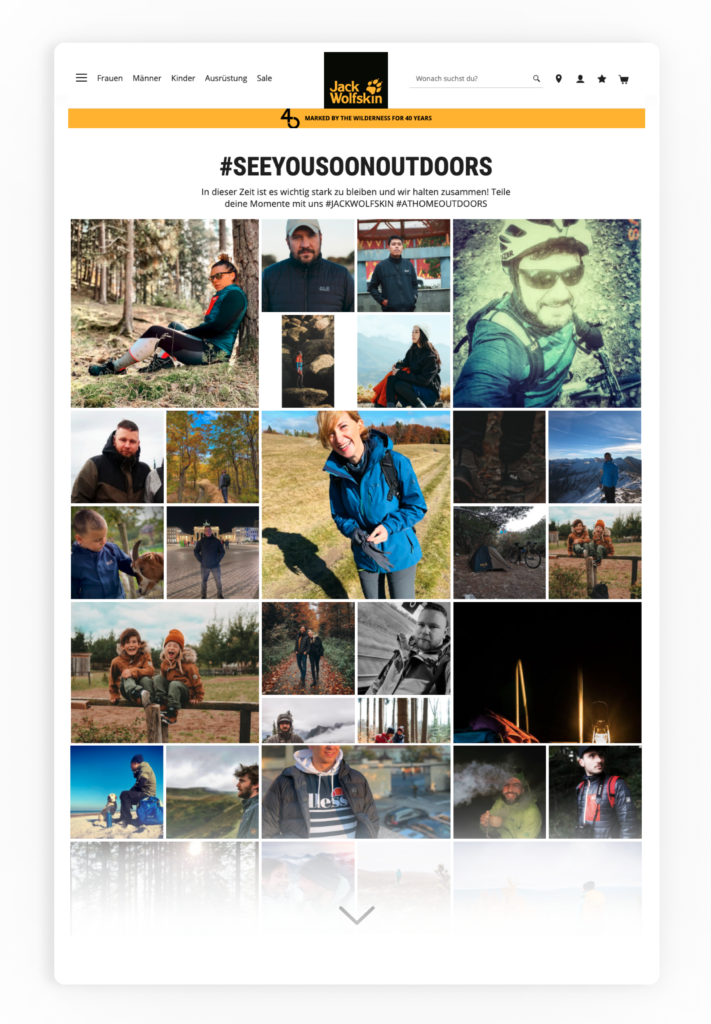 6. #edding
Thanks to a social wall, edding is placing a focus on the creativity of its own community. This way, the creative brand establishes a place of inspiration and provides ideas for edding-enthusiasts. If you'd like to learn more about how your specific industry can provide online shop inspiration to users, feel free to check out our related blog post.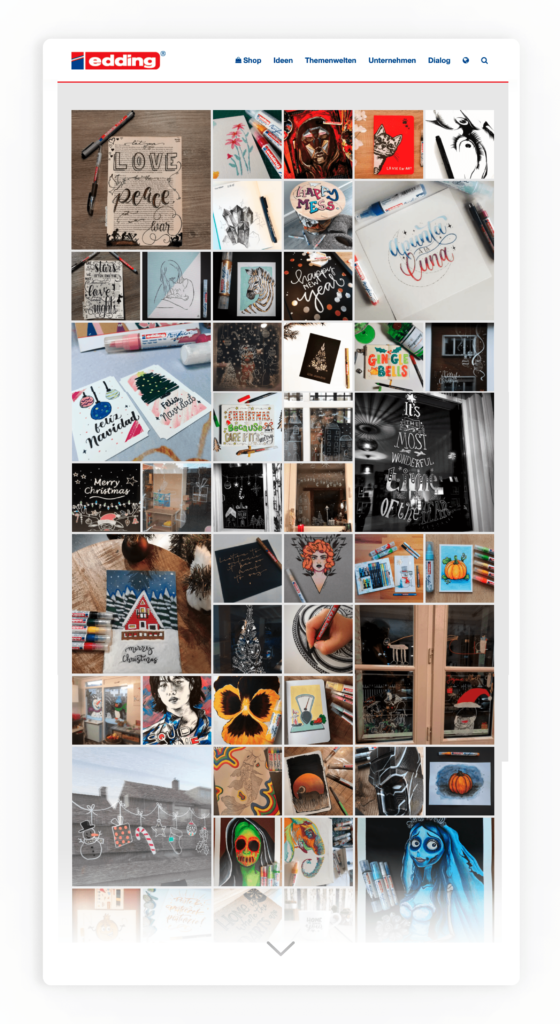 7. #gastwerkhotelhamburg
Through a Social Gallery, Gastwerk Hotel Hamburg showcases the most beautiful corners of its hotel and highlights the most wonderful moments and memories of its hotel guests. Thereby the brand creates a base for brand loyalty.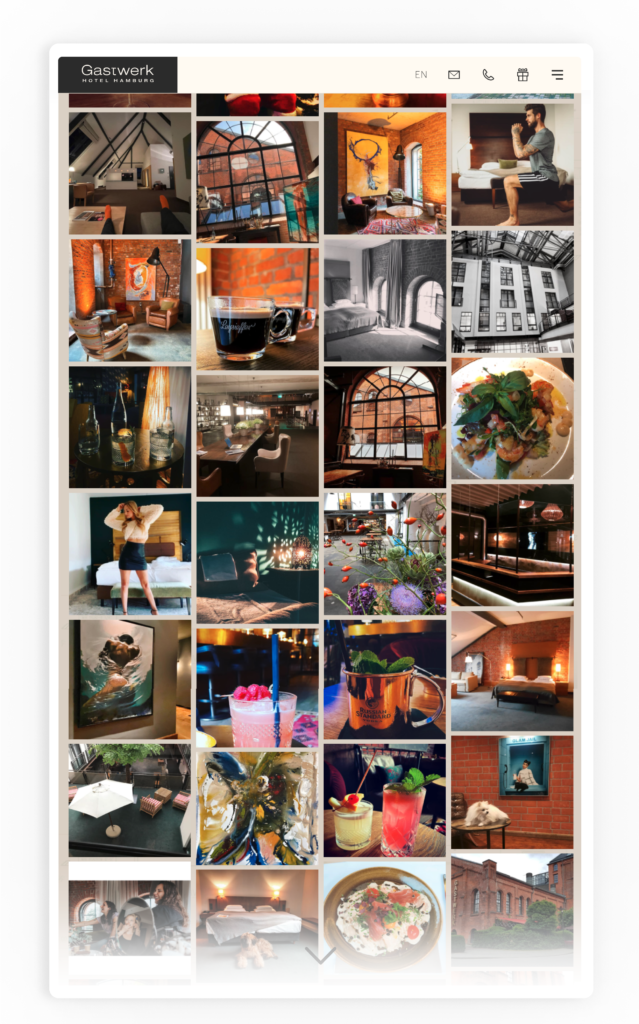 8. #indola
Indola's social media wall creates inspiration by vividly displaying a wide variety of hairstyles, colors and cuts, thereby providing a stage for hairstylists and their creations. Learn how Indola's social media wall increased the average time spent on their website by 118.6% in less than 2 years.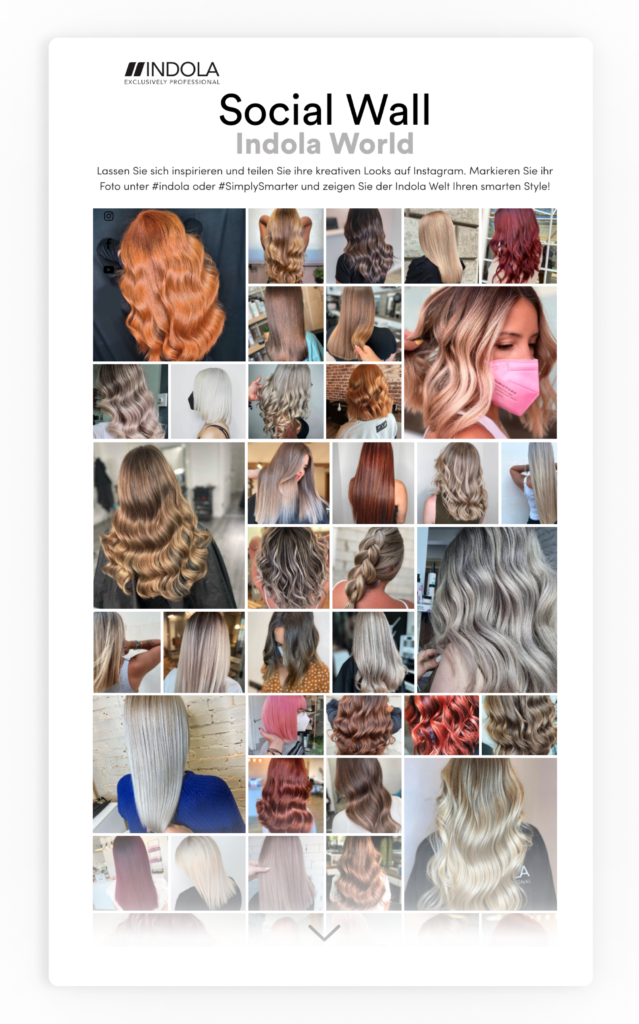 9. #salonwohnlich
The online concept store Salon Wohnlich has the goal to to inspire people and therefore shares the interior design styles of its own community in its UGC Wall #salonwohnlich. In addition, the home furnishings store raises social proof through the content of its enthusiastic customers.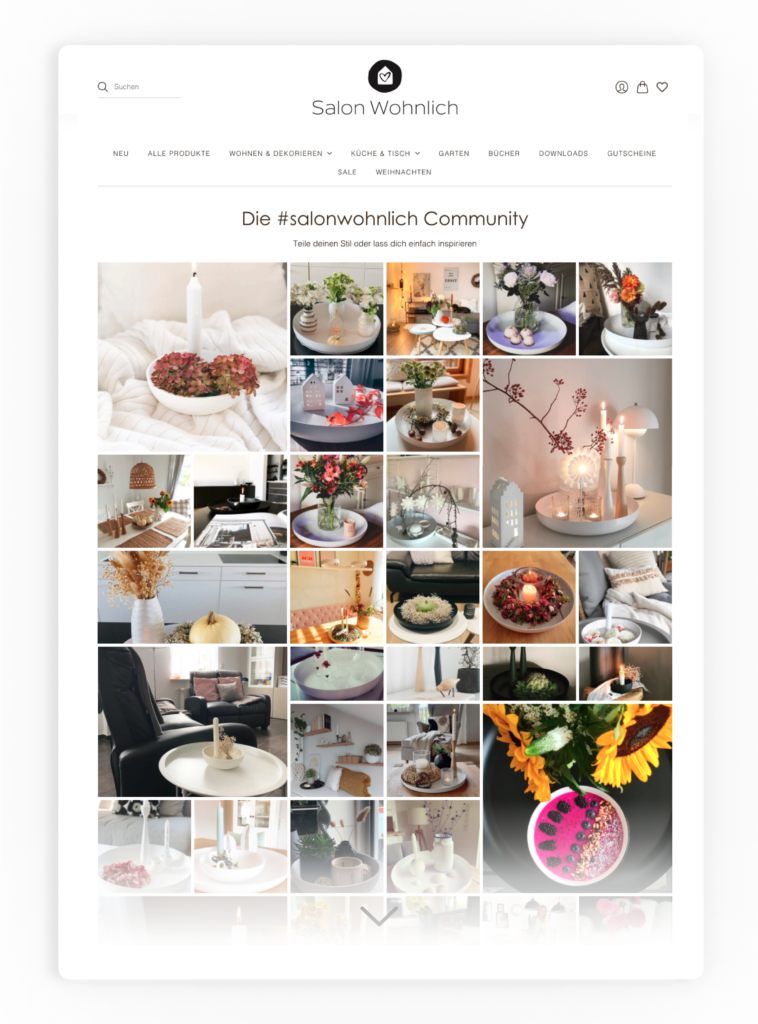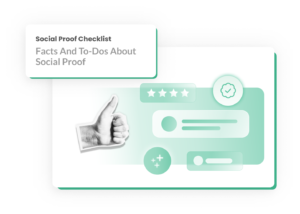 Download our checklist to have the key facts and to-dos about social proof at your fingertips.
10. #fleurop
The flower-retailer fleurop.de is highlighting how diverse and individual flower arrangements really are by displaying the unique content productions of its community on a UGC social wall.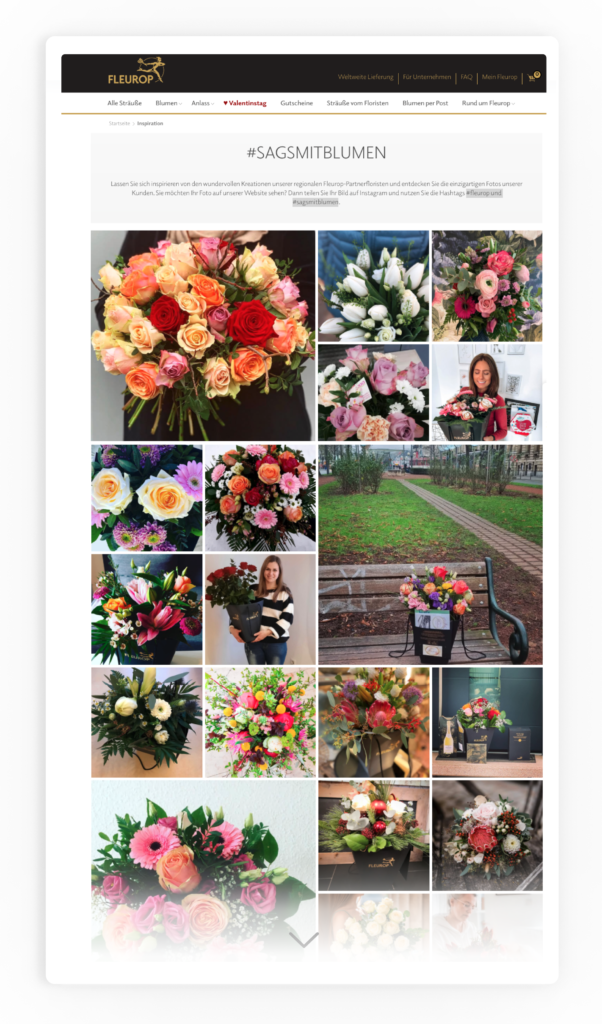 Conclusion
As you can see, social walls are incredibly multifaceted and aesthetically pleasing. Across industries, they create inspiration and provide a more personal approach to a brand for a wide variety of people. Are you already inspired? In addition to social walls, there are many other ways to integrate inspiration into marketing through visual Social Content. Learn how to Make the most of Social Content by reading our blogpost on the topic.