In 2022, there are dozens of brands across industries that all have a similar product range. So it' s all the more important to establish a consistent brand image and create brand visibility. Unique visual content is just the thing for this. The fact that brands should focus on visual content production has also been scientifically proven, because our brain perceives visual information such as images around 60,000 times faster than textual information.
Visual content supports a consistent aesthetic, acts as a teaser to get people to take a better look at products and the brand behind them, and generally creates a good first impression. In addition, a vivid website increases the time users spend on it, which in turn improves your SEO and consequently your Google ranking, including the visibility of your website in search engine results.
Despite this, 60% of marketers say they don't know how to produce high-reach content and 51% say they want to learn how to increase their visual content production. Additionally, many brands don't even know how expensive the content they are currently producing and using actually is. This article will give you an overview of different ways for visual content production and put the pricing of each option in context.
What exactly does content production mean?
Surprisingly content production means the production of content, i.e. any content that is required, for all marketing measures of a company. "Content production" includes a wide variety of media content: the "written word" (e.g., texts such as blog posts), audio formats (e.g., podcasts), audio-visual formats (e.g., videos), and also visual content (e.g., photos and graphics).
Five options for visual content production 
Just as with the content production of texts, your brand should define goals for visual content production in advance. In the course of this your brand should consider which images are needed for marketing in order to create a media editorial plan. There are various ways to produce or generate visuals for your own marketing strategy. The budget, but also expectations play a key role in planning: How much money can your brand spend for the content production of product, image or advertising images? What do you want to achieve with the images?
In 2021, companies invested on average around 25-30% of their total marketing budget in content marketing. (Cf. affde.com) A not inconsiderable proportion of this is spent on the production of new visual content. Spoiler Alert: this article mentions at least one way to save costs for visual content production by using visual Social Content.
Commissioned content production
Roughly speaking, two types of visual content production can be distinguished. One option is for brands to become active themselves and "commission" images. The brand can either have images produced through photo shootings or rely on influencer marketing or have content generated by creators. 
#1 Photoshoots -brand content production
Let's start with the yet most common variant of visual content production: images through photo shoots. Prices vary widely depending on which kind of production is desired. Factors such as product features, quantity of products, type of shooting, number of people involved and usage rights, make the price skyrocket.
A positive aspect of producing your own visual content is the high quality of the photographer's images. Your brand can precisely specify a style and has a strong influence on how the visual content will look later.
However, there are negative aspects worth noting: From the creative idea development to the final approved image, a lot of time and money is involved – production and cost management, design costs, contracts, casting, location scouting, permissions, look development, styling, logistics, set design, catering, travel costs, post-production and so on. This variant is probably the most expensive one. In addition, there is a risk that the pictures will look posed and staged, possibly resulting in the fact that your target group may not relate with them. Models and picture-perfect settings let visuals from photo shoots look less authentic overall.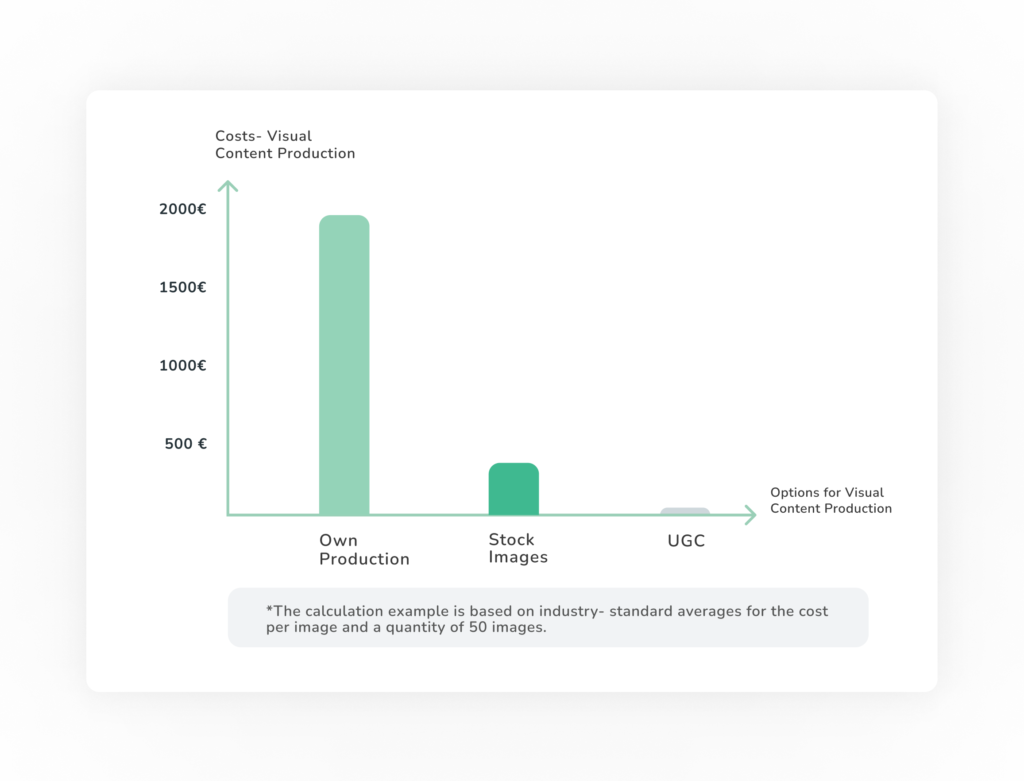 #2 Influencer content – content production with reach
Influencers create for example posts for a brand and distribute them via their social media channels. This version of visual content production is certainly not the cheapest, but your brand will pay for the creation, the influencer's reach, and targeting your key audience. Especially with micro-influencers who have a smaller, more pointed community, it's easy to plan who you want to reach. Micro-influencers often have a close and personal relationship with their followers, are on average more affordable than colleagues with a larger reach and are more likely to cooperate for product seeding campaigns. If content is then also reused via influencer whitelisting, a higher Influencer Marketing ROI can be achieved more quickly. Word-of-mouth creates social proof and thus this target group-specific content is more likely to catch people's interest than pictures from professional shoots. To learn more about micro influencer marketing, feel free to read our related blog post.
The downside of visual content production by influencers is it is quite time-consuming and nerve-wracking to find influencers and then manage influencer campaigns, at least if your brand does it in-house. Running influencer marketing without an agency or tech solution means, among other things, complicated coordination processes and a lot of back and forth between brand and influencer. However, this can be solved quite easily if your brand relies on a management tool that simplifies and facilitates the entire collaboration. In addition to the effort, there are also monetary costs, these are made up very individually.
There are various pricing models according to which the costs for content production by influencers can be estimated. Influencer marketing costs are dependent on factors such as follower count, reach, and brand fit. Additionally, it depends on whether it's a one-time collaboration or if your brand wants to rely on long-term brand ambassadors. If you want to learn more about the strategies and relevance of influencer relationship management, feel free to check out our blogpost on the topic.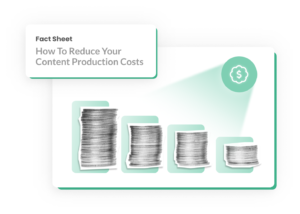 How to reduce content production costs
Download our fact sheet now and learn how to optimize content production for your brand and reduce costs in no time.
#3 Branded Content – Campaign-based content
Branded content is produced by creators for a brand as part of a planned campaign. In most cases, the creators already have experience in content creation and are paid accordingly for their work. In contrast to influencer collaborations, the social media reach does not play a relevant role for the collaboration, as the content created is purchased and used by the brand itself.
Branded content offers the advantage that it is usually cheaper than the brand's own content production and influencer content. In addition, this form of content is more authentic than posed images created during shoots with models. Through branded content, you give your brand a face while maintaining control over your campaigns. The only disadvantage of this type of content is the limited possibilities for content production, as it has to be created anew for each campaign, in contrast to the User Generated Content that is usually already available in large numbers.
Indirect content production
In addition to commissioned content production, your brand can also rely on "externally created" visual content pieces. Visual content that already exists. Of course, it is important to ensure that all content is used in accordance with the law and that copyright on Instagram, Facebook and other social media sites is respected. In the following, you will learn more about two ways to use existing content for your brand.
#4 Stock photographs – pre-produced content
Using stock photography is a relatively cheap way to get content for your marketing efforts. You do not have to produce your own content. You can find images for numerous keywords in online photo archives via Google. Photo platforms like unsplash.com provide royalty-free images completely free of charge. Other photo platforms such as shutterstock.com offer various subscription models that give you access to a certain number of images depending on your plan.
While this solution of "content production" is quite inexpensive and effortless, stock images are usually not very well received by users, as this content seems too interchangeable, slick, and thus often inauthentic. As a result, it's not particularly advisable to use stock photography on a large scale, as it doesn't represent your brand in a personal or unique way, rather potentially drowning it in the competitive crowd.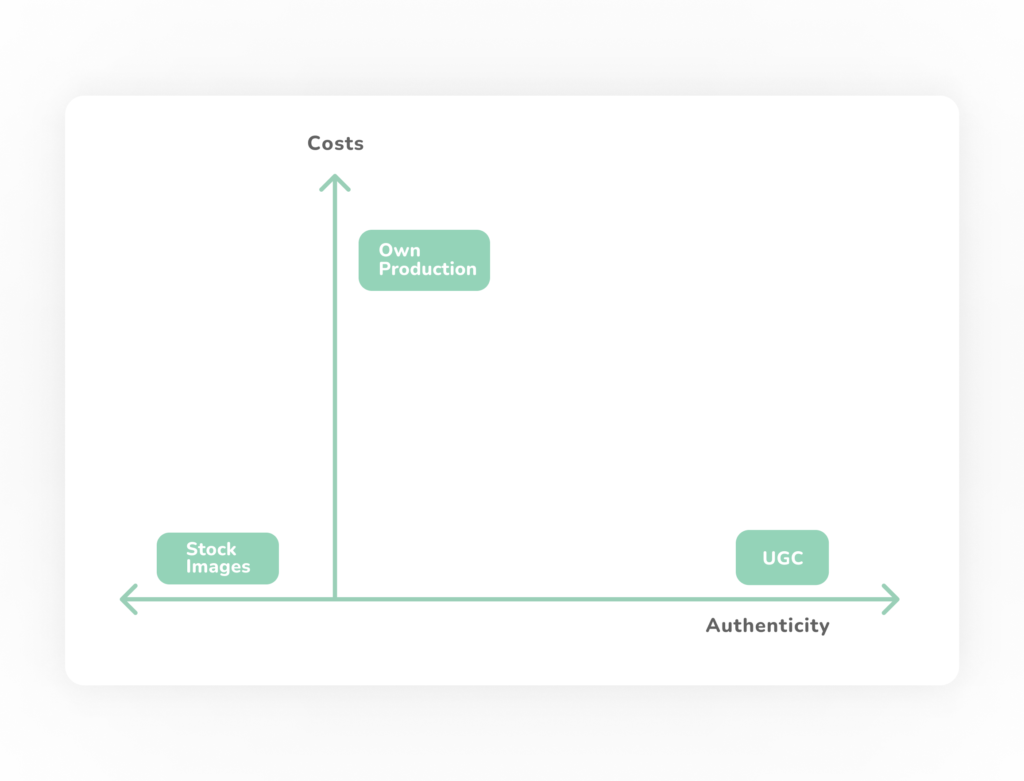 Do you want more details on the topic? Feel free to read our blog post "4 reasons why stock photography shouldn't be used for marketing".
#5 UGC – content production of the community 
Last but not least, you have the option of using User Generated Content (UGC) as visual Social Content. Your customers take over the visual content production for you, as the content comes directly from your community. UGC presents your products in a multifaceted and authentic way. Our top 10 social walls of inspiration show you just how inspiring User Generated Content can be.
Integrating UGC into marketing is also completely free of charge. Users post their visuals on Instagram, link to your brand, and you can make the most of this Social Content without much effort. There are no cost items like photographers, location, etc. as it is the case for other forms of content production. If your company decides to use a UGC Tool to manage the visual Social Content efficiently and automated, there will be costs, of course, but they will be lower in relation and especially in the long run than if you produce your own brand content.
Whether you use community content as a social commerce plugin in your online shop, on posters, or for social ads, your community's visuals personalize the appearance of your marketing channels and eliminate the need for own content production. If you want to know how to embed Instagram content on your website, feel free to check out our blog.
Conclusion
It becomes clear that there are various options for marketers to produce high-reach and authentic visual content, both in the area of "commissioned" content production and when resorting to "externally created" visual content. The brand content production and the use of stock photography come off worse in our comparison, due to high costs and lack of authenticity.
Influencer content impresses with the chance to specifically target your audience by choosing the right creator. UGC is a true all-rounder: authentic, affordable, inspiring and versatile. UGC is cheaper than influencer content, but the latter on the other hand comes with a more predictable production process. Depending on what you want to achieve, how much visual Social Content you need, and how high your budget is, it becomes clear which of the two visual Social Content options is the right variant of content production for you.
However, it doesn't have to be either or: Influencers provide potential buyers with a style that matches your brand aesthetic through visuals. Users can align their Social Content with this model. Meanwhile, branded content supports branding and promotes customer loyalty by creating an emotional bond between your brand and your target group. In this way, influencer content, branded content and User Generated Content intertwine, forming a symbiosis of content production and enabling brand loyalty. 
For even more bundled information on visual content production, download our free factsheet "how to reduce your content production costs".
Sources
https://www.affde.com/de/annual-content-creation-budget-plan.html
https://www.inc.com/sujan-patel/10-statistics-about-content-marketing-in-2016-you-won-t-believe.html
https://hirschtec.eu/kommunikation-im-21-jahrhundert-ist-visuell/
https://onlinemarketing.de/lexikon/definition-micro-influencer