It's not just fashion and music trends from the 80s and 90s that are making a big comeback; in marketing, too, there are evergreens that last for decades. This is also the case with User Generated Content. User Generated Content as visual Social Content enhances the marketing of any company. It makes the brand more tangible, ensures a uniform aesthetic, increases reach and improves how customers perceive a brand.
Marketers are excited about User Generated Content, but what exactly is UGC? What spectrum does this rather broad term cover, what is a User Generated Content platform, and how can companies use this visual content? That's exactly what this article is about: It answers the most important questions about UGC so that you will be completely in the know at the next visual marketing talk.
What is User Generated Content?
User Generated Content (UGC)
UGC is an acronym and stands for User Generated Content. User driven content is used synonymously with UGC. As the name suggests, this content is any content that has been created by users themselves – not by a brand, a website operator or any other institution. The motivation for a user to create content about a product and publish it online is the person's own contribution and is not initiated by brands. Examples of User Generated Content are online reviews, blog articles, video clips or social media content.
Historical background of UGC
The term User Generated Content has been around since the 1970s/80s. Especially in the 1990s, when the first online reviews emerged, the term gained more and more importance. At the beginning of the 2000s, the Internet established itself and, in the following years, social media as well. Parallel to this, the number of media contents grew and, at the same time, the number of User generated Content pieces on the Internet. Through shares, posts, stories, likes, mentions and hashtags, users were given numerous opportunities to create content on any topic and consequently to link it directly to brands and products.
Delineation of UGC
In addition to UGC, there are other visual Social Content formats. In contrast to User Generated Content, there is Branded Content, which is produced by influencers for brands, but not published on social media by the influencers themselves. Instead, it is shared directly on a brand's channels. On the other hand, there is Influencer Content, which is produced as part of paid and clearly defined collaborations and is published on the influencers' social media channels by influencers themselves. Want to learn more about influencer marketing costs? Take a look at our related blog post.
Which types of User Generated Content are there?
There are various shapes in which UGC can occur. Fun fact, even letters to the editor are UGC, although a rather old fashioned type. In today's sense, UGC mostly refers to digital content. An especially relevant form of UGC is visual Content.
UGC in visual form
Visual UGC refers to all images and videos published online by users. Social media content in particular plays a big role. Whether it is @max, who shares a photo of his new outdoor jacket in his feed post and tags your brand – @april, who posts your sustainability campaign in her Instagram Story or @peter, who uses your branded hashtag for his latest Reel to link to your brand … All this is visual UGC that is created by users on their own initiative for brands. Of course, hauls or test videos on YouTube are also a form of User Generated Content.
Enthusiastic users as brand ambassadors
Among the users who publish posts about your brand, you can find fans (aka. brand advocates, enthusiasts of your brand). These are people who not only buy a product from you once, share a photo of it and that's it, but also identify strongly with your brand and your brand image. These people are often an active part of your brand community, have a strong customer loyalty and are true enthusiasts when it comes to creating brand related content. It makes sense to ask these loyal fans for specific UGC for your brand, for example in relation to certain campaigns or product launches.
Insider UGC of your employees (=EGC)
Employee Generated Content (EGC) is a type of insider UGC. It includes small image films of employees as well as inside and behind-the-scenes accounts on social media. Through EGC, brands can visually represent their values or show how things look behind the scenes. This strengthens your brand's credibility and authenticity by providing evidence that your brand really is the way that it presents itself to the public. Maybe your company is looking for new employees. If that's the case, EGC will help with the search, as the content will show your brand from the employee's point of view and highlight benefits in a personal way.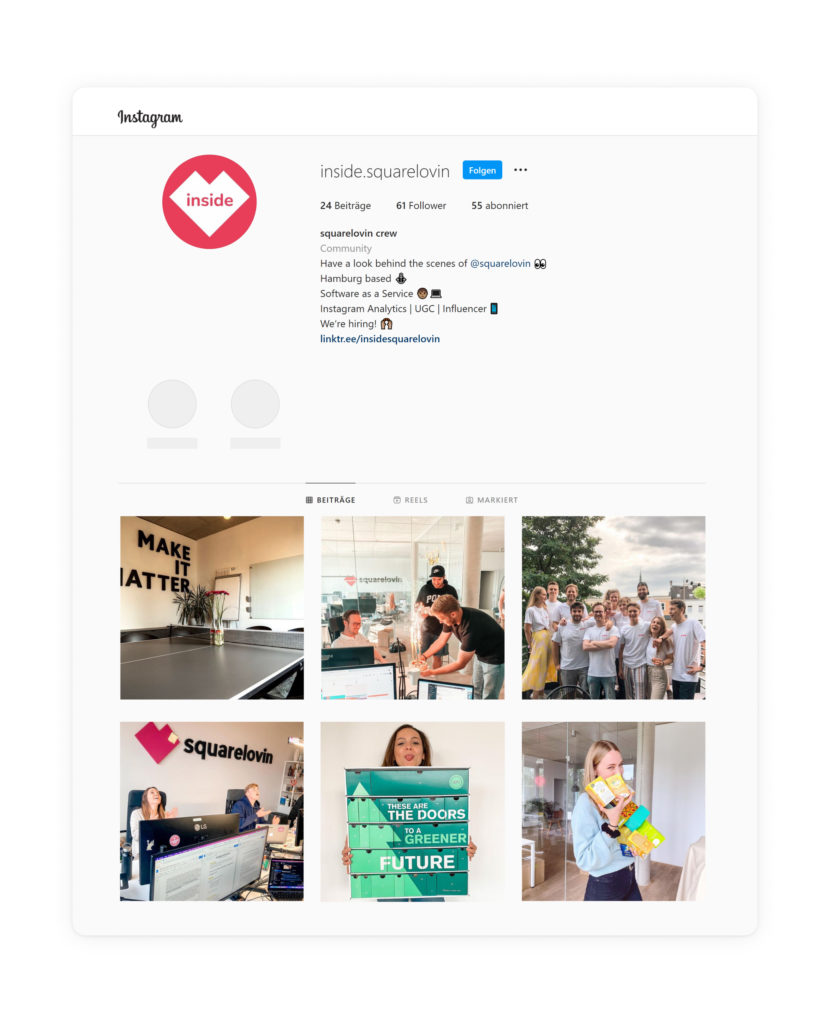 Other UGC types
There are also many other types of User Generated Content. Here is a list of formats that are considered UGC in addition to visual content:
Visual content (e.g. Google images, YouTube videos, Instagram Story, Facebook post)
Customer reviews (e.g., ratings or reviews on Amazon)
Live streams (e.g. on Youtube, Instagram, Twitch)
Q&A forums (e.g. comments on yelp.com)
Testimonials
Blogs
Letters to the editor
Case studies
Customer e-mails
Tweets
Podcast episodes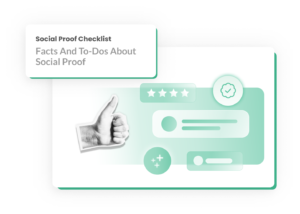 Download our checklist to have the key facts and to-dos about social proof at your fingertips.
What is a User Generated Content platform?
A User Generated Content tool or a User Generated Content platform is a software or, more precisely, a software-as-a-service (SaaS). Such a tool supports brands in collecting images and videos of their customers that are related to the brand (= visual UGC). That way brands can use this authentic content in a variety of ways for their marketing, in order to establish a close brand image with personal and appealing visuals.
In addition to collecting content, a User Generated Content platform also helps you request usage rights, manage content, effectively use UGC, and analyze data. To learn more about the steps involved, check out our UGC Tool Blogpost or download our UGC Tool Basic Guide.
"The tool filters relevant content for us and automates processes that we could no longer manage manually. In addition, the tool takes care of the legal situation concerning usage rights for us, so that we can devote ourselves to other tasks."
Frank Hanauer, Head of Digital Solutions & eCommerce Operations, STABILO International
Short Summary: What makes User Generated Content so valuable?
UGC enables further development and improvement for brands. It allows them to better understand their target group, as it shows which people use the products, when, how and in which context, and what the motivation behind this is.
UGC creates an inviting and inspiring aesthetic. This improves web KPIs. 77% of shoppers say they are more likely to shop with brands that offer a personal shopping experience. So, among other things, UGC lengthens the time-on-page of website visitors and thereby improves SEO. Consequently, it favors visibility in Google rankings and reach.
UGC enables interaction when brands actively invite people to become part of the brand community by posting. Integration shows customers appreciation, enables exchange, promotes a sense of belonging to a brand, fosters customer loyalty, and thereby helps build a strong network.
UGC creates social proof. This builds trust and strengthens the credibility of the brand. For example, interested buyers see visuals, reviews, or ratings, which helps with their decision to buy as it suggests that other customers were already very satisfied and trust the company. This is a good base for brand loyalty.
UGC is also characterized by many other positive attributes: authentic, unique, credible, tangible, inexpensive, diverse as well as providing a high potential for identification.
How can User Generated Content be integrated?
The content from your community is not the only thing that is diverse and great in variety; the possibilities for integrating UGC are also. A detailed description of the different integration options is provided in our blog post on how to make the most of social content. To give you a full overview in short, here is a bare listing:
Websites & online-shops
Social media postings
Social ads
Customer support
Posters
Screens
TV advertising
Print magazines
Packages
E-Mail newsletter
Tips for handling User Generated Content
As you can see, User Generated Content is suitable for use at various touchpoints of the customer journey. With just a few clicks, it can be integrated into your online shop. You'll learn how to embed Instagram Content on your website in our related blogpost. Here we'll give you a few tips on how to work smoothly with Community Content.
Who owns User Generated Content?
Copyright law also applies to digital content. This means that the person who created the image has the rights to the content. Consequently User Generated Content also belongs to the respective user. It is up to him or her to decide who, when and where the content piece may be used.
If brands want to use their customers' UGC, they need to ask for permission beforehand. For legal use of third-party content, it is necessary for brands to obtain the usage rights for each content piece individually. For example, the fact that a user has used your hashtag and associated an image with your brand, does not give you central authorization to use the image for your marketing. If you want to learn more about copyright on Instagram, Facebook and the like, check out our related blogpost as well as our Rights Management Guide.
Value your community
By mentioning who is behind the content production, you don't create the impression that you're taking credit for others, but honoring the effort of your customers. This shows gratitude to your community and appreciates the work of the people who created the visual Social Content. Through direct @mentions you can show who created the images. On your website, you can also refer to the respective social media profiles through external links. This demonstrates a close connection between brand and community and thus ensures a stronger and long-term brand loyalty.
4 User Generated Content examples from our customers
There are many theoretical ways to integrate UGC into marketing. To give you a better understanding of what this theory looks like in practice, here are examples of how four of our clients are integrating UGC into their visual marketing strategy.
UGC in social ads – example Design-Bestseller
The online furniture store Design-Bestseller placed Facebook ads with UGC. On the right side you can see the social ad without User Generated Content. The furniture pieces look much duller and more abstract here. On the left side, the UGC brings more depth to the table and lamp, making them look more vivid and sparking ideas in the user's mind.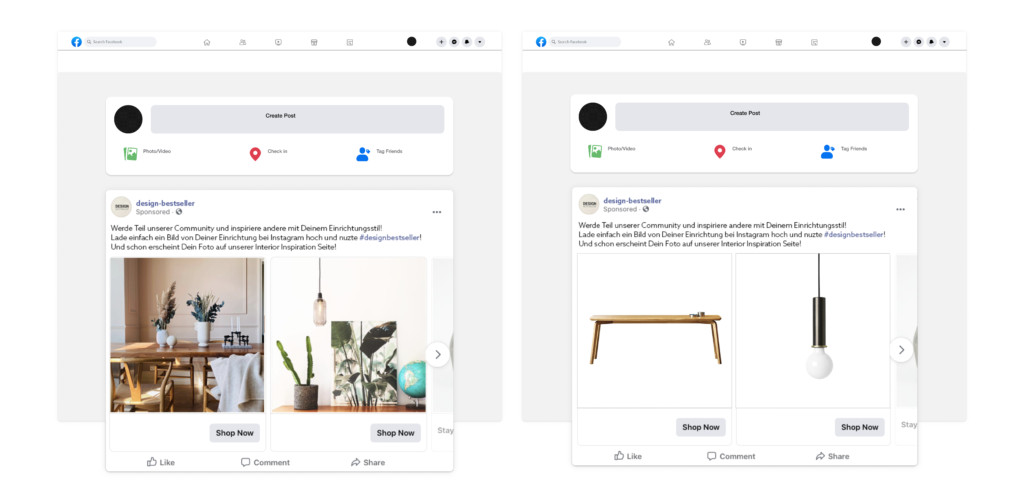 UGC on product pages – example Eddie Bauer
This example shows how the brand Eddie Bauer integrates product page images from its own community on its website. In this way, the clothing brand establishes a natural aesthetic and ensures that its online shop becomes a space of inspiration. To learn more about how to provide online shop inspiration, check out our blog post on the topic.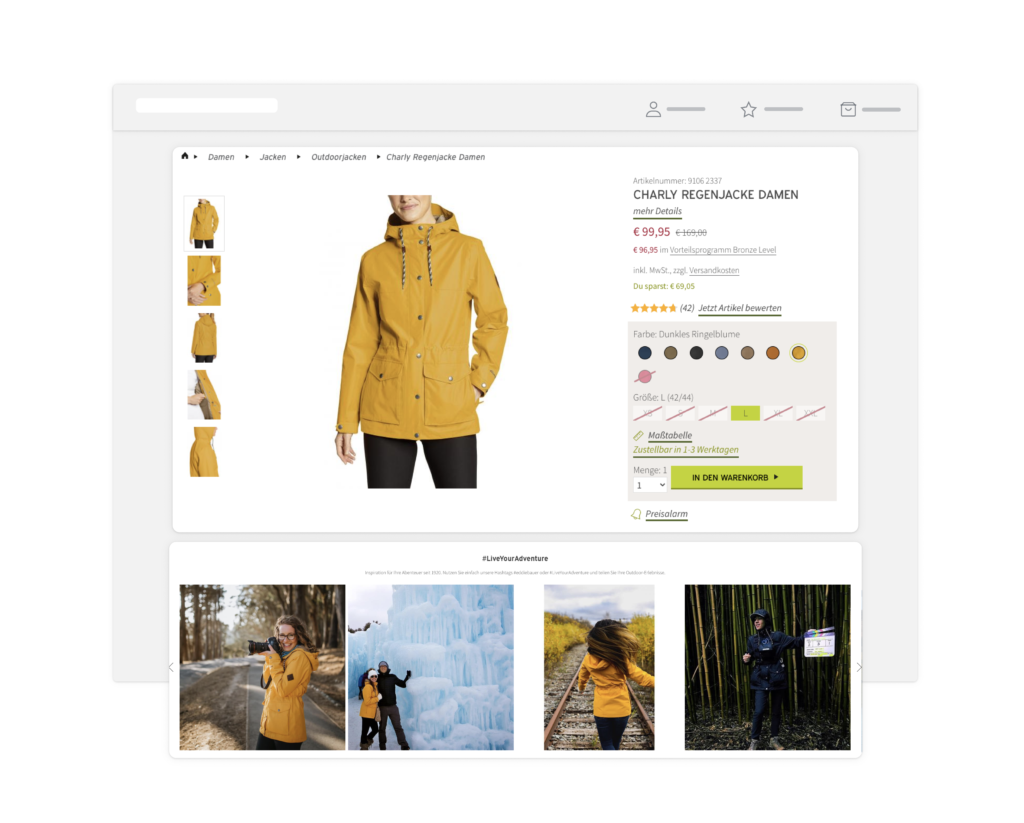 UGC in online shop – example erlich textil
erlich textil uses a teaser to provide inspiration in their online shop. The sustainable textile brand thus places its own community at the center of its marketing and integrates it directly into the purchasing process through social commerce plug-ins.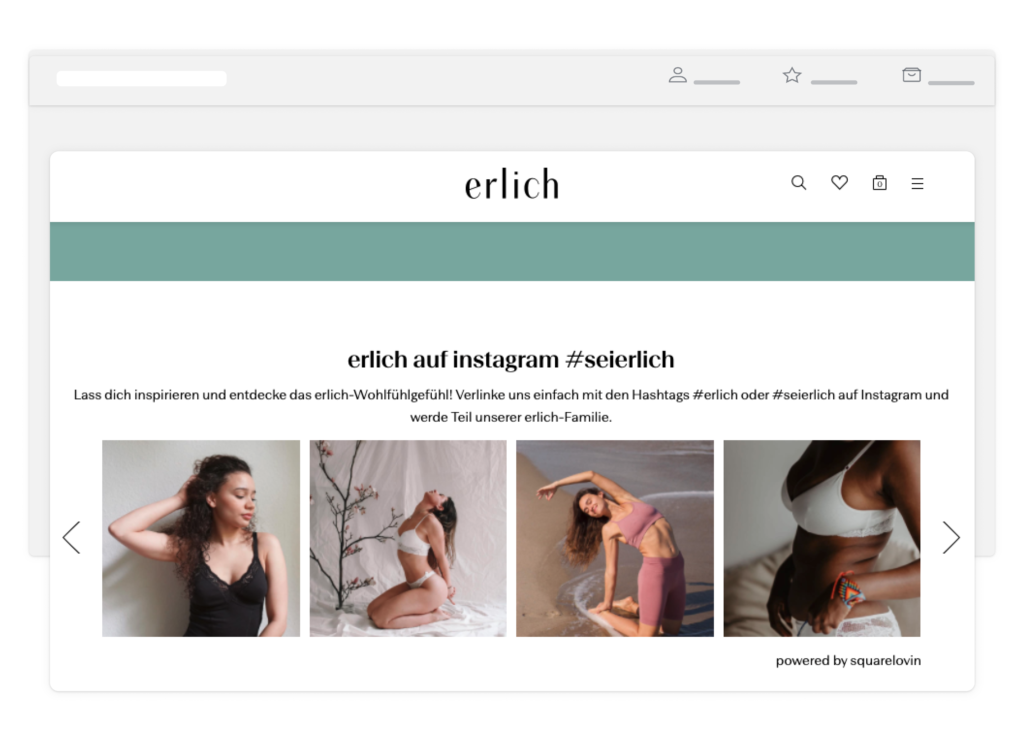 UGC in magazines – example Ostsee SH
In addition to region-specific social walls, the Ostsee Schleswig-Holstein Tourism Association relies on UGC in its annual print magazine. This shows that UGC which has been generated online can be easily transformed into the offline world.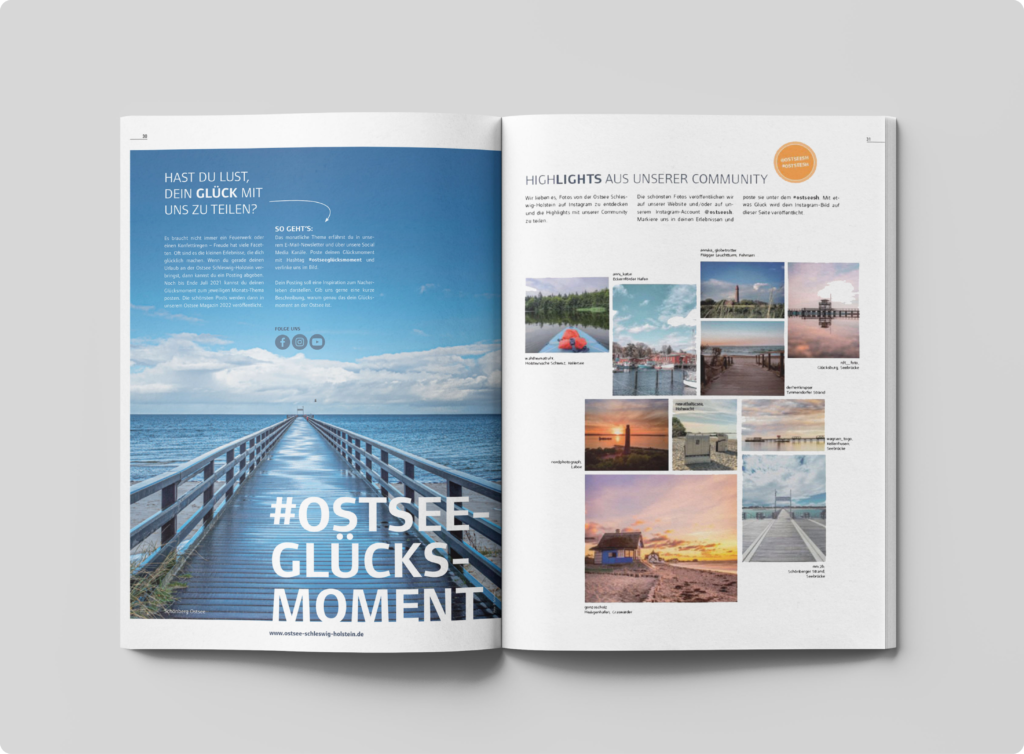 Conclusion
User Generated Content is multi-layered on all levels: It includes a great variety of types, ideally shows the versatility and diversity of your customers through numerous images from your community, and opens up a wide range of possibilities for integration on the most diverse channels.
UGC enhances your marketing through this complexity. It opens a number of doors and provides almost endless visual Social Content. Unfortunately, this flood of available visual Social Content sometimes challenges brands: How to manage all that content, where to find the time and manpower? No problem. Fortunately, there are User Generated Content platforms that can help your company throughout the entire process with User Generated Content and provide ideal support on the path to visual success.