Did you know that User Generated Content (UGC) is now considered one of the most relevant marketing trends? UGC has become a valuable resource that helps companies strengthen their brand presence and reach their target audiences in a whole new way. By actively engaging your customers and sharing their content, you create a deep emotional connection and build trust – and these are just some of the reasons why this visual content is so important for businesses. Find out what other benefits UGC offers your brand, what legal aspects you should consider before using UGC and what a successful UGC campaign looks like in this article.
What is User Generated Content?
User Generated Content (UGC)
User Generated Content (UGC) refers to any content, whether text, images, videos, or reviews, that is created by users rather than by companies or professional content creators. UGC is characterized by its authenticity and diversity, as it comes from a variety of people with different perspectives and experiences. UGC is often generated and shared on social media and other web-based platforms.
What are the different types of User Generated Content?
There is a variety of User Generated Content that can enrich your business on different channels. Whether it's photos, videos, or reviews depends on your needs. We've listed the most common types of UGC below:
Ratings and reviews: Users share their experiences, opinions and recommendations about products and services.
Social media posts: Users create and share content such as images, videos, posts, and stories on platforms such as Facebook, Instagram, Twitter, etc.
Forums: Users participate in online forums and community platforms to ask questions, provide answers, and share their knowledge.
Customer photos and videos: Users share their own photos and videos in which they use products or document experiences with the brand.
User-generated advertising: Users create creative content such as ads, slogans or videos that refer to the brand or products.
What is a UGC marketing platform?
A UGC marketing platform is a software solution that helps you effectively collect, manage, and integrate User Generated Content (UGC) into your marketing strategies. It offers features such as collecting UGC from various channels, moderating and sharing content, analyzing and measuring UGC performance, and integrating UGC into various marketing channels such as websites, social media, and advertising campaigns. With a UGC marketing platform, you as an organization can simplify the management and deployment of User Generated Content and increase brand loyalty and your brand awareness.
What are the advantages of UGC for companies?
UGC is a real gold mine that can help your business in many ways. By engaging and leveraging UGC, you can strengthen your brand's credibility, drive customer engagement and interaction, and increase your reach and visibility. We've briefly summarized the other benefits of UGC in the following bullet points:
Credibility and trust: User Generated Content strengthens the credibility of your brand, as customer reviews and recommendations are perceived as more trustworthy by other users than traditional advertising messages. The social proof gained in this way is a clear advantage for your company.
Personality: 77% of people say they are more likely to shop with brands that offer a personal shopping experience. UGC makes your customers' shopping experience authentic and shows your products or services in everyday life.
Customer engagement and interaction: UGC encourages active participation of your customers, strengthens their loyalty to your company and creates an engaged community. Your customers feel heard, supported and part of the brand experience.
Reach and visibility: UGC can significantly increase your brand's organic reach, as customers often voluntarily share the content with their own network. As a result, your brand gains visibility and reaches potential new customers.
Cost-effectiveness: UGC can be a cost-effective alternative to expensive content production, as you can use your customers' existing content. This saves you time and resources when creating content.
Creative Diversity and Variety: UGC offers a wide range of creative content that represents different perspectives and experiences. This gives you a diverse selection of content to use in your marketing communications.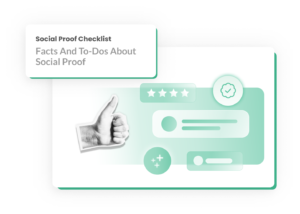 Download our checklist to have the key facts and to-dos about social proof at your fingertips.
What legal aspects should you consider when dealing with User Generated Content?
In order to avoid legal problems and reminders, you should always pay careful attention to the legal requirements related to UGC. Therefore, we have compiled some important information about legal requirements in the following section.
Important: We are not a substitute for legal advice, be sure to consult with legal counsel if you have questions to ensure that your UGC practices comply with applicable laws and regulations.
Copyright: Make sure that the users who create UGC have the necessary rights to the content. Make sure that copyrighted materials are not used without permission.
Rights of use: Clarify which rights the users grant you for the use of their UGC. This can be defined in the terms of use or by explicit declarations of consent.
Privacy: Respect privacy laws when collecting or processing personal information in UGC. Educate users about how you use their information.
Defamation and libel: Prevent the spread of defamatory or offensive content. Establish clear guidelines and moderate the UGC to identify and remove such content.
Trademark law: Make sure that the UGC does not violate any trademark rights of third parties. Prevent the use of trademarks, logos or protected terms without proper authorization.
Age restrictions: Check the age of the users, especially for UGC, which may be inappropriate for certain age groups. Set age restrictions if necessary.
If you want to learn even more specifically about copyright on Instagram, check out our blog post on the topic.
What are some successful examples of UGC campaigns?
Theoretically, there are numerous ways to integrate UGC into marketing. To give you a better understanding of what this theory looks like in practice, here are three examples of how our customers generate UGC within their target group through campaigns.
1. Jack Wolfskin #GOBACKPACK Campaign
To refresh their brand image, appeal to a younger target group and increase interaction on social media, Jack Wolfskin launched their first UGC campaign in 2018. Customers received a flag with the inscription "GOBACKPACK" every time they purchased a product. Users were then asked to take photos with the flag on their next hiking trip and share them with the brand. As an incentive, the company offered a 200-euro voucher or a refund for a recently purchased product.

After the first #GOBACKPACK campaign garnered more than 5,000 posts in less than three months, three years later more than 25,000 posts had been collected under the hashtag. Jack Wolfskin has thus succeeded in increasing its own visibility on social media and interacting with its own target group.
2. Nivea #SHARETHECARE campaign
In the wake of the first COVID Lockdown in April 2020, Nivea launched the #SHARETHECARE campaign to increase its own brand awareness and build an emotional connection with customers. The campaign was not about the brand's products themselves, but rather about sharing moments of closeness and care in the context of the Corona pandemic.

The content that Nivea collected through the campaign was incorporated into a social wall on the brand's website, among other things.
3. Smarties #SMARTIESJETZTINPAPER
In 2021, Smarties launched an impressive UGC campaign in cooperation with Rewe with the aim of generating awareness for their new sustainable packaging. The call went out to children to create works of art from the new packaging. The focus was not on the aesthetics of the entries, but rather on a playful approach to the packaging and the representation of everyday creativity.
The campaign offered participants an incentive in the form of a chance to win prizes in kind and was a great way for children to use their imagination and creativity.

Smarties managed with this campaign not only to draw attention to their sustainable packaging, but also to convey a strong message: Everyone can be creative and create something unique with simple everyday objects.
Conclusion
UGC is a valuable form of content production that strengthens the credibility of your brand and increases both customer loyalty and reach. User-generated content allows you and your brand to benefit from the diversity and authenticity of your customers' content and gain valuable insights into the market.
To fully realize the potential of UGC, it is helpful to use a UGC tool.
A UGC tool like the squarelovin UGC Manager offers you an efficient way to collect, manage and integrate UGC. With features like automated content curation, easy moderation, and seamless integration with various marketing channels, the UGC Manager allows you to use User Generated Content smoothly and effectively. Unlike professional brand created content, UGC enables direct participation from your customers and encourages their active involvement in the content creation process.
FAQ
How can companies actively promote User Generated Content?
Here are four ways you, as a business, can actively encourage the production of User Generated Content (UGC) in your community:
Contests and sweepstakes: Organize UGC contests or sweepstakes that encourage your customers to create and share content with your brand. Offer attractive prizes or rewards to increase their motivation.
Hashtag campaigns: Start a hashtag campaign where you ask your customers to tag UGC with a specific hashtag and share it on social media platforms. This increases visibility and encourages community engagement.
Customer ratings and reviews: Encourage your customers to leave ratings and reviews. Offer them incentives such as discounts or exclusive content to encourage their participation. Show appreciation for their feedback by responding to their reviews.
Community platforms and forums: Create a platform where your customers can interact and create UGC. Set up a forum or community platform where they can ask questions, share experiences, and unleash their creativity.