We have to make 20,000 decisions every day (cf. Pöppel, 2008). Even in the brand and consumer landscape, a sheer unbelievable amount of impressions are raining down on our brains every day. Tons of brands offer similar products, leaving us with the decision of which company we want to take a closer look at – but after all, our time is limited to 24 hours a day. This confronts brands with a challenge. How do they manage to provide informative content in marketing that attracts attention? How do they get people to engage further with the brand and, at best, decide in favor of it?
One solution is visual content. "Talk is silver, pictures are gold" is a well-known saying that applies not only to images but to all visual content. What visual Content is all about and why it's psychologically and scientifically only logical that visual content in marketing appeals to people so much, is what you'll read in this blog post. But first, let's start with the basics: what is visual content?
What is visual content?
Visual content is a collective term for various visual media formats. Visual content does not merely claim to complement a text or provide purely aesthetic added value. Of course, the design of an article also serves to draw attention to the content. Beyond that, however, visual content underpins the message, the statement that is to be made. It helps readers to understand content better, faster and more sustainably.
Which visual content formats are suitable for marketing?
There are different forms of visual content that marketers can use to engage their target audience. For example, there are types of visual content that can stand alone (e.g. infographics), those that summarize what is being said (e.g. charts or graphs), or those that visually complement textual content (e.g. images and illustrations). Here is a list of possible visual content formats that can be integrated as elements into marketing:
Pictures
Videos
Charts
Infographics
Graphics
Visuals/ Illustrations
Downloads (PDFs, presentations)
Memes und GIFs
Why does visual content work so well? – 7 reasons why
Visual content is particularly well-suited for providing people with a lasting memory of information. This is mainly due to the fact that visual content is particularly brain-friendly, i.e. it is structured in such a way that the human brain can optimally receive it. In addition to this fact, there are other points that substantiate why visual content works so well. Seven of them follow now:
#1 Visual content is absorbed quickly
Visual information is absorbed and processed by the human brain around 60,000 times faster than speech or text content (cf. hirschtec.eu). On average, the brain needs 0.1 seconds to understand a simple picture, whereas a short paragraph of 200-250 words takes about 600 times as long, approx. 60 seconds. In addition, visual content is usually designed in color, which in addition helps people to absorb information better (cf. allg psych.uni-giessen).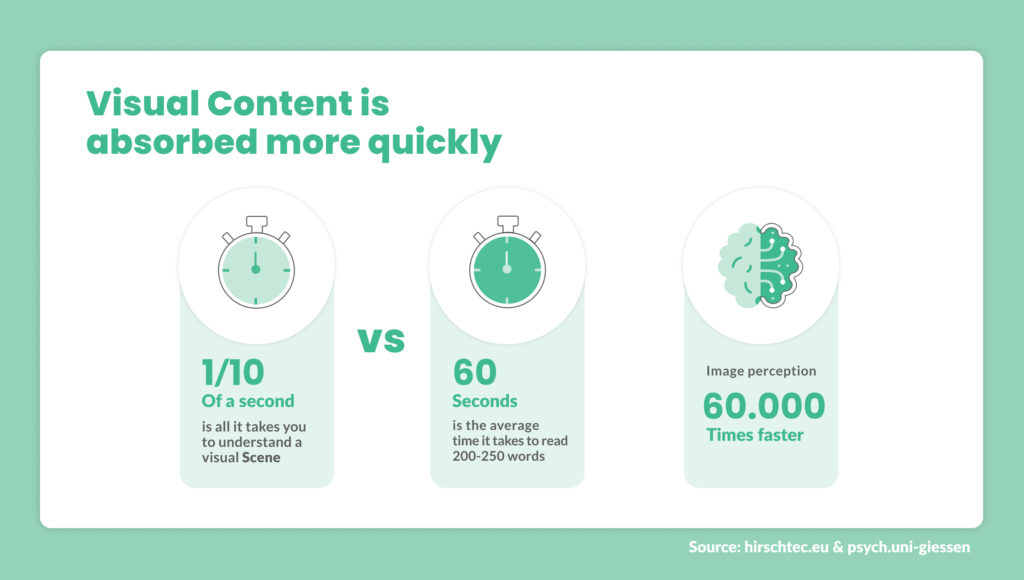 #2 Visual content is stored in the brain longer
Visual information is stored in the brain longer than written or spoken language. This has been scientifically proven. The fact that the visual is superior to the textual in this respect is what scientists call the Picture Superiority Effect. It is based on the fact that pictures stimulate other areas in the brain than written texts or spoken language.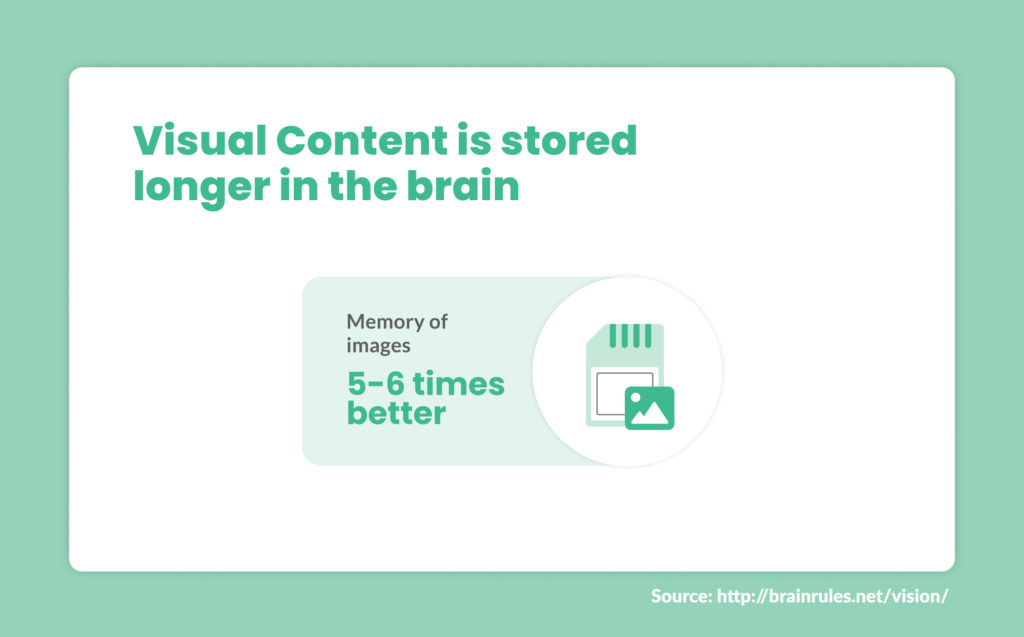 Due to the image superiority effect, the memory of images is still five to six times better after three days than that of texts that we have read once. Of course, this only works if the image and content of the visual content fit together, i.e. if you don't use images at random, but rather in a way that matches your brand image, because this is the only way to build brand loyalty. But that's another story, which you can read more about in our blog post on the topic.
Research shows that 65% of us still remember information presented in a combination of text and images after 3 days. Pure text or audio content, on the other hand, is only remembered with a 10% probability. These figures show that visual content significantly supports the absorption and retention of information. This is especially useful if you want to stay in the memory of your target group despite competition.
#3 Visual content is an efficient teaser in marketing
In order to perceive something in the first place, we have to concentrate on it. The attention span in which people are able to absorb new, detailed information is just eight seconds (cf. Microsoft Kanade study, 2017). This is primarily due to information overload, the oversupply that comes with the digital age of social media.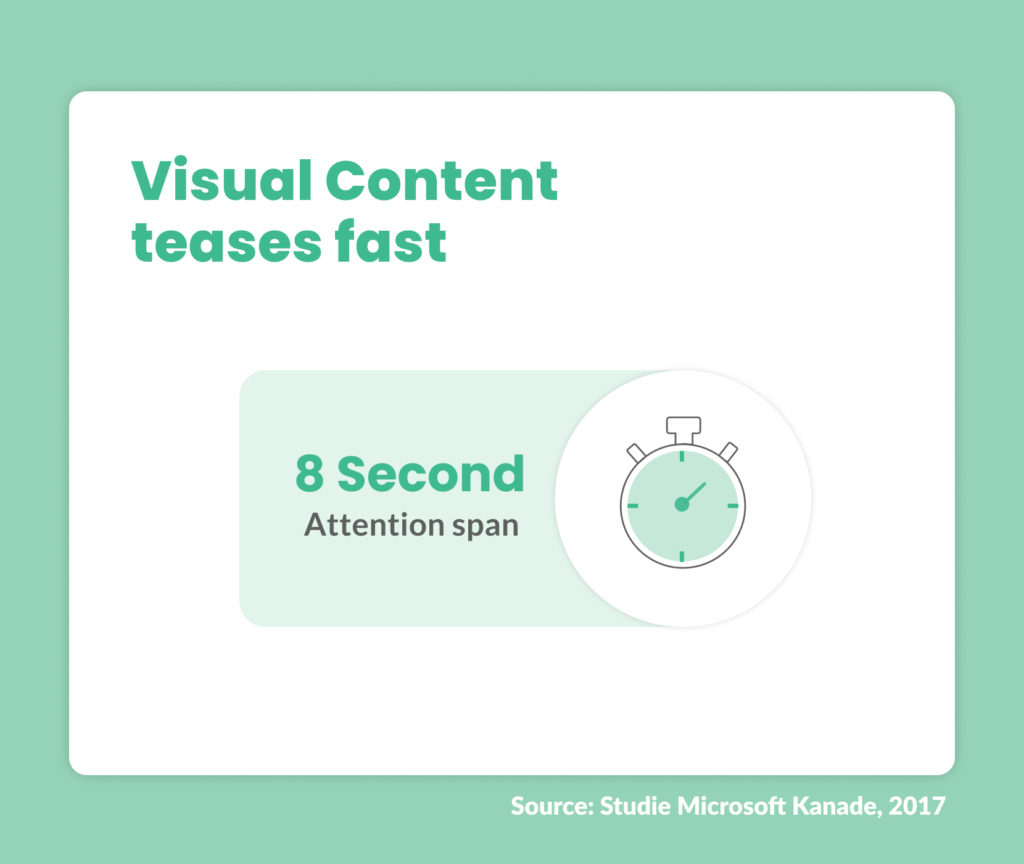 This means that users decide within seconds what is relevant to them, which content is useful and which is not. To ensure that a statement really reaches the other person, it is more efficient to rely on visual impulses. Because, as proven above, they are understood more quickly. In a visual way, you convey the content to users and make it palatable for them to engage further with your content. Especially on the Internet, where people are flooded with impressions, information and purchase recommendations, visual content as a teaser is highly recommended.
#4 Visual content helps to increase the understanding
Text content has to be read, understood as an individual element and then put into a larger context. Visual content helps to simplify even complex issues through a structuring design, so that the big picture can be seen better. Studies have shown that the comprehension of information increases from 70% to 95% when images are included. It structures content in an appealing way, for example on social platforms or in the blog.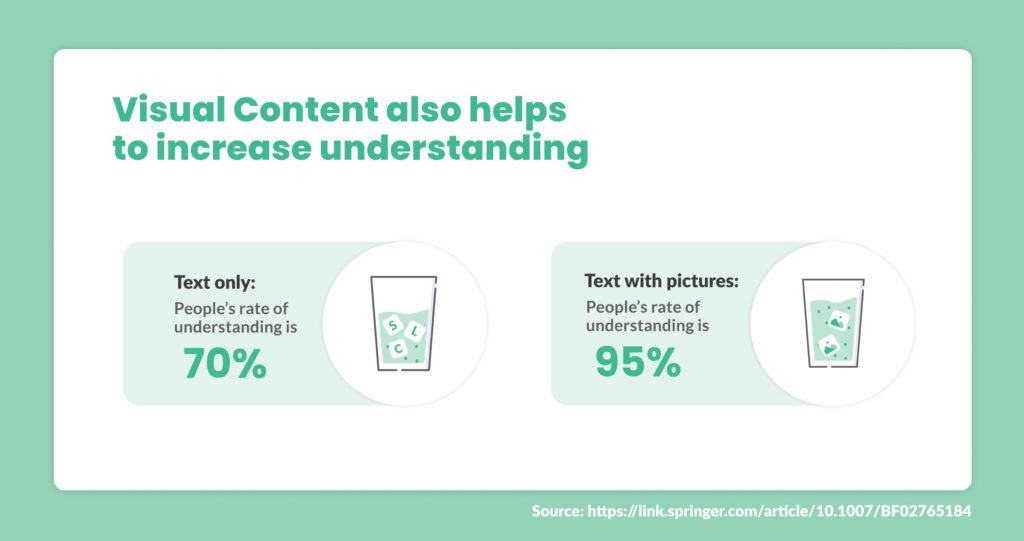 Users get a clearer idea of brands, their values and their products through visual content. With graphics or infographics, you can inform users and inspire them to engage further with your brand. Read more on our blog about how you can further accompany the customer journey and offer online shop inspiration to users in the next step.
#5 Visual content triggers emotions
Images arouse emotions. They make it easier to communicate and convey feelings and values well. Visual information is absorbed in the part of the brain where also emotions are built up. The production of emotions is elementary and enormously supportive when it comes to people classifying content as relevant and worth remembering, since many of our decisions are made emotionally and not rationally (cf. textbroker). If emotions are triggered, this is a good prerequisite for information to remain in the memory in the long term.
#6 Visual content increases credibility
As the phenomenon of social proof shows, people are social beings who look for credible and trustworthy information. Visual content increases credibility and thus pays into trust towards a brand. It is scientifically proven that people are more likely to believe information and sources when the facts are backed up with visuals.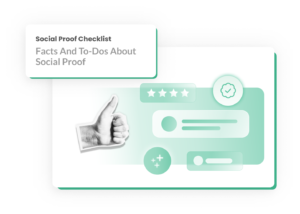 Download our checklist to have the key facts and to-dos about social proof at your fingertips.
#7 Visual content is our daily business
In the 21st century, we humans are used to visual content. In the age of social media, it is common to constantly see visuals on all platforms on the smartphone screen and derive information from them. Visual content is well suited because images, videos and infographics are very easy to share and thus spread on social networks. It's not without reason that images are the most shared post type on social media. Studies of Twitter show that users share image-based tweets significantly more than text-only tweets. On Facebook, images are shared significantly more than links or text-based status posts. This shows that providing visual stimuli is also of great benefit on social networks.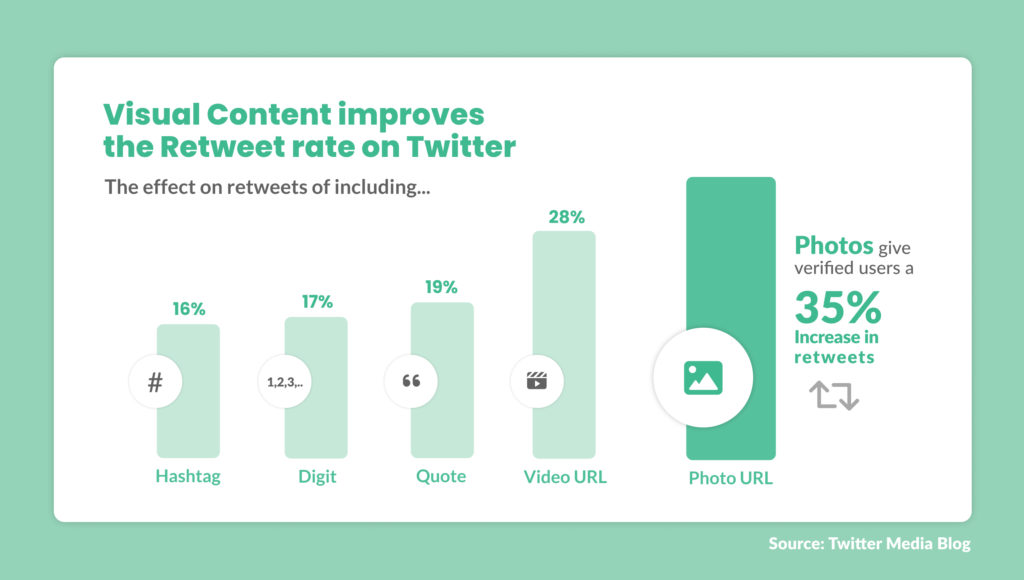 To learn more about which options and tools are available to embed Instagram on your website, check out our blog post on the topic.
The advantages at a glance
Visual content …
is absorbed quickly
is stored longer in the brain
is an efficient teaser
helps to increase understanding
triggers emotions
increases credibility
is our daily business
Conclusion
Visual content is ideally suited to the human brain. It presents information in a clear and credible way and leads to people absorbing and retaining relevant facts faster and more sustainably. Consequently, if visual content is authentically integrated by your brand into marketing and copyright on Instagram, Facebook, etc. is respected, it increases the likelihood that potential customers will pick out your brand to take a closer look at.
For consumers in the brand jungle, "to be spoilt for choice" is on the daily agenda. But brands have the choice to ensure that it is not an agony for users to engage with their content. You can do this, by presenting content and information to your target audience through visual content in an easily digestible way. To learn more about what visual content production options are available for brands, check out our related blog post.
Sources
https://hirschtec.eu/kommunikation-im-21-jahrhundert-ist-visuell/
https://www.spektrum.de/lexikon/psychologie/bildueberlegenheitseffekt/2379
https://www.sciencedirect.com/science/article/abs/pii/S0885201409000471
https://link.springer.com/chapter/10.1007/978-3-319-40355-7_65
https://about.ads.microsoft.com/en-us/insights/stories/marketing-with-purpose
https://www.allpsych.uni-giessen.de/karl/teach/aka.htm
https://animoto.com/blog/business/small-business-video-infographic
https://animoto.com/blog/business/small-business-video-infographic
http://brainrules.net/vision/
https://link.springer.com/article/10.1007/BF02765184
https://www.omnicoreagency.com/instagram-statistics/
https://pubmed.ncbi.nlm.nih.gov/22869334/
https://neomam.com/blog/13reasons
https://blog.twitter.com/official/en_us/a/2014/what-fuels-a-tweets-engagement.html
https://www.textbroker.de/neuromarketing
Pöppel, E. (200): Zum Entscheiden geboren: Hirnforschung für Manager. München: Carl Hanser Verlag GmbH & Co. KG.