The market is saturated. This term is more than apt when it comes to the number of brands existing in 2022 that offer the same product or service. Let's think for example of protein powders. A dozen different brands immediately come to mind, whose it-piece is protein powder. Due to this huge oversupply, the customer need for protein powder has long been saturated and the competitive pressure among brands has grown simultaneously. For this reason, it happens that people change brands more frequently and it becomes more difficult to get them to build brand loyalty.
More than half of young Germans confirm that they regularly change their favorite brand, for example when the quality of the products declines. The prefix "favorite" does not necessarily seem to be a guarantee of brand loyalty. What is clear is that the risk of switching is increasing due to the growth of the brand landscape. I might buy here today, maybe there tomorrow – it's precisely this mentality that puts brands under enormous pressure. Which role good content plays and how you manage to create it in such a way that it evokes loyalty, that's what this article will be about.
What is brand loyalty?
Brand loyalty is the term used when people consciously buy from a brand several times. (cf. Gabler) In addition, the term implies a generally positive attitude toward the company and the willingness to make repeated use of the brand's services despite possible shortcomings, oversupply or better offers from competitors. Product selection is not random, but focused. Sufficient conditions for this are, in the first instance, trust in the brand and customer satisfaction. Brands have to earn the status of customer loyalty, and quality, values, and feedback channels play into their hands.
The power of content – Why does content build brand loyalty?
With the amount of brands out there, it's hardly surprising that strong content and the accompanying customer journey are usually more important than the brand itself. The specific content is what differentiates brands from one another. It has to be used as a tool to create a meaningful and consistent brand image that stays in people's minds and helps a brand to stand out from the crowd.
Bad content limits brand loyalty
Content, especially visual Social Content, shapes the brand image – product images in the online shop, videos on YouTube, posts on Instagram – every single piece of content influences consumers in the process of forming opinions regarding brands and their products. Consumers evaluate brands by checking how useful and relevant this content is for them.
More than 60% of people in Germany say they cancel a purchase from a brand if they don't like the content. Around 30% say they switch brands if they don't like the online presence. Content shapes how a brand is perceived and evaluated and has a fundamental function when it comes to establishing loyalty. Content molds the brand image.
The Adobe Content Study reveals interesting facts about the interplay between content and consumer buying behavior. More than two-thirds of all consumers cancel a purchase process because they don't like the content. For every other person, appealing content is the decisive reason for making a purchase.
For 24% of consumers, bad content leads to a decline in brand loyalty, which shows that not only potential customers form an image of a brand for themselves, but also existing buyers constantly update their own brand image. Another advantage is that content enables a dialog between brand and consumers, which has a positive effect on buying behavior. This feedback channel is enormously important for people when making a purchase decision. Would you like to learn more about visual Social Content as part of social commerce? Then check out our blog article about the topic.
Value alignment as base for brand loyalty
People evaluate brands in order to be able to make a decision regarding a purchase. In doing so, they consult all the information they can find about a company in order to put together a brand image. In this way, it is possible to compare one's own values with those of a brand on the basis of the content. This is to be understood as a mirror image, as a portfolio of values of the brand. The process takes place again and again when people encounter brands via the touchpoint "content" . From this experience, they derive their attitude towards a brand, as well as a brand image or update of an existing one. If the evaluation is positive, a firm brand bond with accompanying brand loyalty can develop.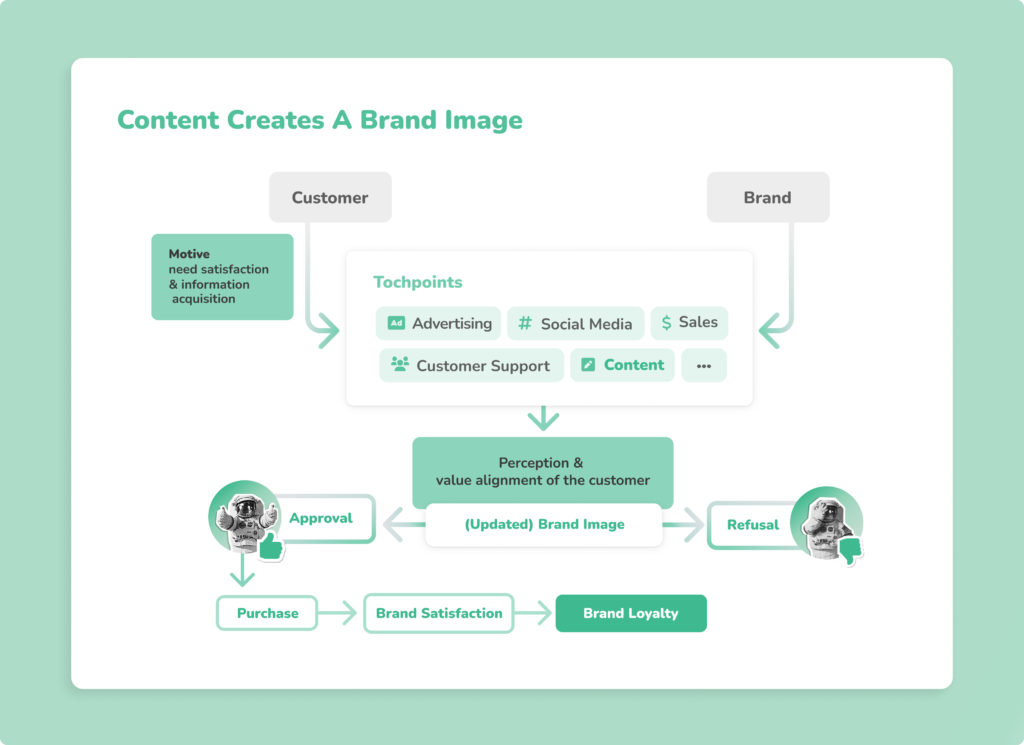 It is important to realize that people do not just buy a product from a brand. Customers always buy a message, a feeling. They buy values that create cognitive consistency. This means that a person looks to see whether the values represented by the brand are consistent with his or her own canon of values (cf. cognitive dissonance theory, Festinger). The shoe brand TOMS can be used as an example here. People do not merely buy shoes here, but they buy the feeling that they are improving other people's lives by purchasing from this brand.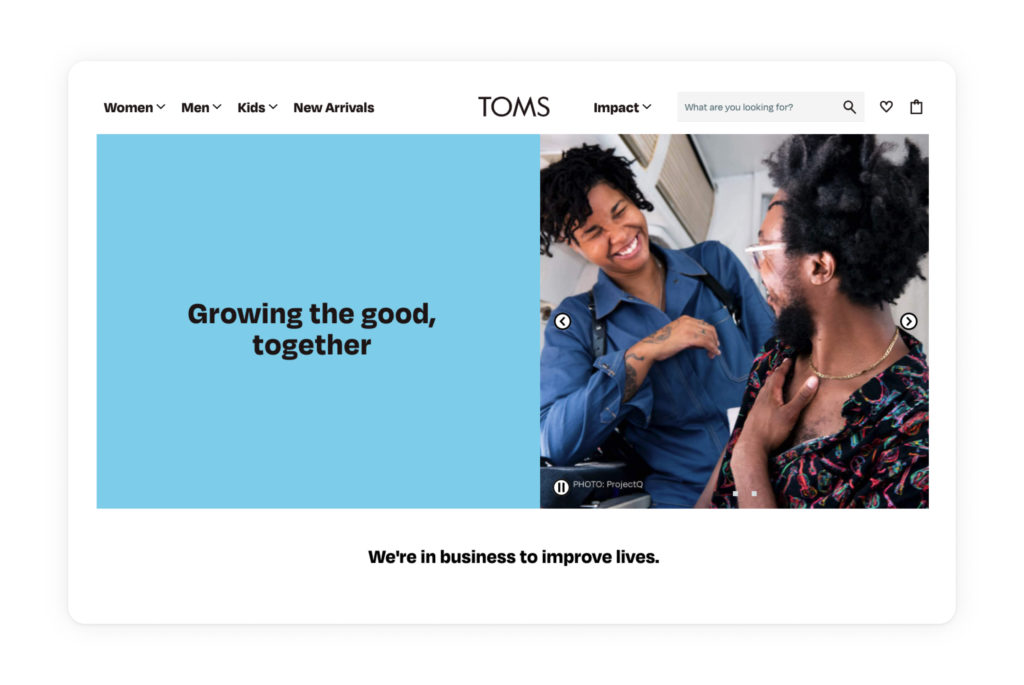 Customer satisfaction as base for brand loyalty
One in four Germans fully agrees with the statement "If I am satisfied with a brand, I will stick with it". This result of a representative survey underlines the fact that customer satisfaction is an essential building block when it comes to establishing brand loyalty.
In addition, we know that people learn from the behavior of others. If others show that they are satisfied, this influences me and my purchase decision and enables brand loyalty. Social proof is the keyword here. It is a good idea to present positive customer experiences in order to encourage people to also buy from your brand and to develop loyalty and fidelity.
"90% of brands will practice at least one form of marketing personalization, but content will be the bottleneck and cause of failure [...]."
Quote – Gartner Top 5 Marketing Predictions for 2018
What does good content as a base for brand loyalty look like?
People are looking for content that is useful to them, and this is reflected in their expectations of the brand's content. 9 out of 10 consumers expect useful content. They only let content get to them and engage more closely with brands if the content is "useful" and stimulates them. The quality and relevance of the content decides whether people choose your competitors or you.
According to the Adobe study mentioned above, consumers want informative content (82% of respondents), accurate and precise content (74% of respondents), and simple content (53% of respondents). It also doesn't hurt if the content is entertaining and engaging. Brands should therefore pay explicit attention to offering informative, precise and simple content in order to retain customers and remain relevant on the market.
To provide relevant content, it is advisable to pepper it with customer information and detailed impressions. If people feel that the content is also a customer service, it offers them added value. If they experience the reception of the content as bad, if they think it is too long or unaesthetic, they are particularly annoyed and willing to cancel a purchase (cf. Adobe Consumer Content Survey). From a psychological perspective, it additionally makes sense to integrate visual content into marketing.
Key Takeaways – Content meets brand loyalty
Your brand needs unique, high-quality and compelling content. Medium and bland content serves no purpose and is more likely to drive people into the open arms of numerous competitors.
Quality over quantity. A little of this, a little of that is not an advisable motto. The concept of mainly generic content does not make you look like an expert and thus does not contribute to brand loyalty.
High quality and authenticity should be the standard for your brand content.
Why visual Social Content from the community?
Visual Social Content refers to all content created by a brand's community; i.e., User Generated Content (UGC) as well as Influencer Content and Branded Content. The focus is primarily (but not exclusively) on social media content. In addition, content that is created by buyers and sent directly to a brand (e.g., by email) also counts as visual Social Content.
Visual Social Content is authentic and versatile content from your community. It comes from your fans, is unique and not interchangeable. This makes you stand out from the market. Images from your private and personal community convey real values and feelings. In a vivid way, you show what your brand stands for and present customer satisfaction. Visual Social Content does not embellish or abstract, as other posed or heavily edited forms of visual content production do.
UGC, Creator Content or Branded Content – content from your community is a powerful asset. You generate content that conveys the values of your brand and is therefore suitable as a base for loyalty and brand engagement. It shows what differentiates your brand from others – your very own community. In addition, User Generated Content (UGC) is completely free and the price of Creator Content is very scalable and can be positively influenced by product seeding campaigns and by the reuse of content, for example via influencer whitelisting. However, when using third-party content, make sure to comply with all copyright on Instagram, Facebook, etc. in order to avoid legal pitfalls. To learn which pricing models are available to calculate influencer marketing costs, read our blog post on the topic.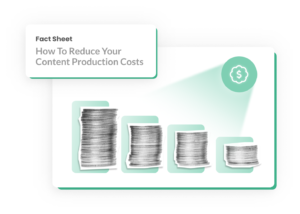 How to reduce content production costs
Download our fact sheet now and learn how to optimize content production for your brand and reduce costs in no time.
Visual Social Content, whether UGC or Creator Content, highlights different sides of a product. These insights are very helpful when it comes to purchasing behavior. As a result, consumers rate it as desirable and useful, so that they take a closer look at the brand and the products. This is a good starting point for the evolution of brand loyalty.
Learn all about how to make the most of Social Content in our blog article on the topic.
Conclusion
There are countless brands offering almost the same products. The consequence is: brands have to create a strong brand image in order to build trust and emotional bonds. This is the only way that initial brand satisfaction can lead to brand loyalty.
Bad and interchangeable content does NOT lead to a characteristic brand image. It offers neither emotional nor informative added value and therefore does not meet the expectations of buyers. As a consequence, they prefer to look at other, more meaningful brands to find their desired products f and do not build long-term brand loyalty. Your brand gets lost in the noise.
Brands may sell the same product as others, but can authentically present their brand aesthetics through visual Social Content and stick in the minds of consumers. To see how the abstract product of protein powder is represented in an entirely different way by three brands through UGC, feel free to read our Sports Nutrition Case Study.
Sources
https://wirtschaftslexikon.gabler.de/definition/markentreue-40757/version-264135
https://www.gartner.com/en/marketing/insights/articles/gartner-top-5-marketing-predictions-for-2018
https://www.adobe-newsroom.de/2018/02/08/studie-schlechter-content-ist-marken-killer-nr-1/
https://www.pwc.de/de/handel-und-konsumguter/pwc-studie-markenvertrauen.pdf
https://de.statista.com/statistik/daten/studie/172163/umfrage/einstellung-markentreue-bei-zufriedenheit/
https://www.brand-trust.de/de/glossar/markenloyalitaet.php https://www.wiwo.de/unternehmen/handel/markentreue-warum-junge-leute-die-lieblingsmarke-wechseln/
Festinger, Leon (2012): Theorie der Kognitiven Dissonanz. Bern: Huber Verlag Bern, (ISBN 978-3-456-85148-8), unveränderter Nachdruck der Ausgabe von 1978 (ISBN 3-456-80444-X).