Branded content, UGC, influencer content – there are a thousand ways in which you can successfully shape your content production as a brand. However, in this content jungle, it's often not easy to keep track and figure out which content converts for your brand. This is especially true for relatively new forms of content marketing, such as branded content.
That's why in this article we'll go into the meaning of branded content, highlight the subtle differences between branded content, UGC, and influencer content and present the individual advantages and disadvantages of each type of content.
What is Branded Content?
Branded content is content that is commissioned by a brand, but where the focus is on informing or entertaining the target audience. The aim of branded content is to make brands tangible and to present them in a positive light without being directly promotional. To achieve that, this type of content is placed at various touchpoints with the target group in order to increase the chance of interaction and promote customer loyalty in the long term.
Branded Content at squarelovin
When we talk about branded content at squarelovin, for example in context of our Branded Content Manager, the definition is even a bit more specific. Here, branded content describes content that is produced by creators for a brand as part of a planned campaign.
In most cases, these creators already have experience in content creation and are paid for their services. Unlike influencer collaborations, however, social media reach is not a relevant criteria for the collaboration, as the content is purchased by the respective brand and used by the brand itself.
When we talk about branded content in the following, we always mean the definition of squarelovin.
Which benefits does Branded Content have?
With the help of branded content, you increase your brand awareness and offer your target audience inspiration and context through authentic product photos and videos. In the following, we have summarized the other advantages this form of content has for your brand:
Brand Awareness: According to a Nielsen analysis, users are more likely to remember branded content (86%) than pre-roll ads (65%), such as ads before YouTube videos.
Inspiration & Authenticity: Branded content shows how your products can be used in different ways and gives your brand a face. Thus, this type of content offers more inspiration and is more authentic than content that shows your products in a sterile, impersonal setting.
Control & Quality: Within the campaign, you can choose creators that fit your brand and brand image. By specifying type, tone, and style of content, you ensure that the final product meets your expectations and quality standards.
Variety of content: Branded content can be used in a variety of ways, including ads, feed posts on social media and embedding on product detail pages, to promote your business on different channels and increase your visibility. You can find out more about different uses of social content in our blog post on the topic.
What is the difference between Branded Content, UGC and Influencer Content?
After we have explained what branded content is and what advantages such content offers your company, the next question is how exactly the various content formats differ from each other.
Influencer content at first glance is very similar to branded content and is also created as part of planned campaigns. The biggest difference lies in the goal of campaigns: while branded content campaigns usually aim to generate suitable content for brands, influencer campaigns are often about reaching a relevant target group and using influencers as a voice to their community. This is why, in most cases, the cooperation here is also linked to a social media post, whereas branded content is only about pure content creation.
User Generated Content is content that is not created and published by a brand or on its behalf, but by users themselves and on their own initiative. Accordingly, users do not receive anything in return from the brand for creating content.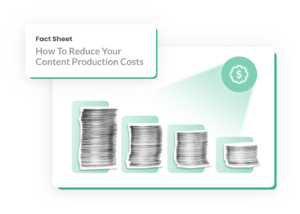 How to reduce content production costs
Download our fact sheet now and learn how to optimize content production for your brand and reduce costs in no time.
Advantages and disadvantages of Branded Content, UGC and Influencer Content in comparison
Depending on your budget and the goal you are pursuing with your content strategy, a different type of content will be useful for your business. Visual content in the form of UGC offers inspiration to your target audience and is more credible than influencer content, as users are not paid to create content and rate products or services. In addition, User Generated Content is widely available, inexpensive, and fits naturally into your target audience's feed. However, this content tends to be snapshots and not as thought through images and videos.
Influencer content, on the other hand, is created by professionals who often already have a lot of experience in content creation. As a result, this content is of a high quality, but also more expensive than UGC or branded content. Apart from that, influencers have a large reach and can ideally draw attention from their own community to your brand through a positive review of your product or even persuade them to make a purchase. However, your target audience is aware that influencers receive compensation for creating content. This can make content seem unnatural and not authentic. In addition, there is a high manual effort, at least if you do influencer marketing in-house, as you have to find influencers yourself, coordinate the entire campaign with them and handle the payment.
Branded content combines the advantages of UGC and influencer content. On the one hand, like UGC, it is authentic because this type of content is not created by public figures. On the other hand, creators already have experience in content creation and are paid for it, which is similar to influencer content and makes this type of content more thought through than UGC. However, since creators themselves don't have reach, you don't increase your brand awareness as much as with influencer campaigns.
In the following table, we have summarized the individual advantages and disadvantages of branded content, UGC and influencer content: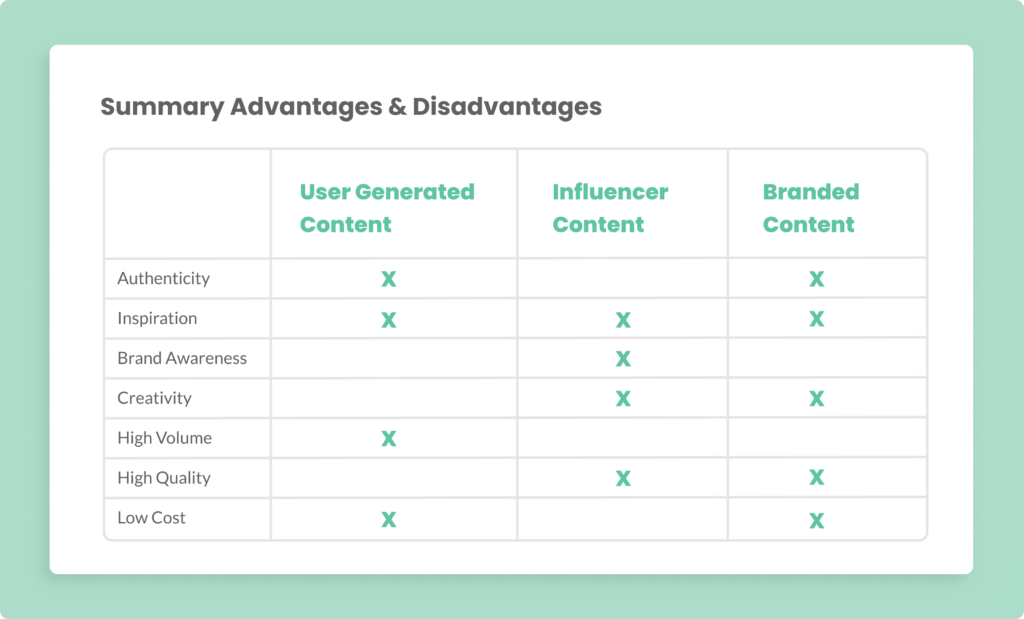 Conclusion
Compared to classic, sterile-looking product images, you can create an authentic, personal brand image with branded content. When it comes to the question of which content format you best use as part of your marketing strategy, it depends primarily on your budget, the goal of your campaign and the brand image you are aiming for. If you have a small budget and your primary goal is customer retention, UGC is best for you. Branded content is the right content format for you if you want to present your products authentically and have more financial flexibility. If you have a high budget and the primary goal is to increase your brand awareness, you should focus on working with influencers.
No matter which content format you ultimately choose, the content should always be unique, informative and entertaining. This will increase brand loyalty among your customers and set you apart from the competition.
FAQ
What is Branded Content on Instagram?
Depending on context, branded content is defined quite differently. Branded content on Instagram is made visible through the Branded Content Tool. With this tool from Instagram, Creators can indicate an ad partnership with a company. The tag shows that creators have received compensation from the brand for the published content, usually in form of products or money. As a Creator, before publishing a new post, you can select the company directly in Instagram's interface to mark them as an advertising partner. More info is available in Instagram's Help Center.
What are Branded Content tools?
In addition to Instagram's Branded Content Tool, which allows creators to mark paid advertising partnerships, there are other content management systems for brands that offer much more comprehensive functions. With squarelovin Branded Content Manager, for example, you can build an individual creator pool for your brand and use various content campaigns to make your photo and video content creation process efficient and scalable.
Sources
https://www.nielsen.com/de/insights/2016/quality-branded-content-outperforms-pre-roll-advertising/