It is hard to imagine online shops without visual Social Content. Visual Social Content creates an appealing aesthetic, enables brand loyalty and invites people to stay and linger. As a result, potential buyers spend more time looking at the products and the respective brand, which in turn has a significant influence on purchasing decisions (cf. iprospect, hubspot). Visual Social Content includes everything from social media posts and influencer content to branded content, i.e. images and videos that are directly provided to your brand. Just as manifold as the content is, so are its possible applications.
Ways to integrate visual Social Content
It is not only possible to place visual Social Content profitably in your own shop. There are many other ways to use Social Content for marketing purposes. In this article, we bundle up the options to integrate visual Social Content like User Generated Content (UGC) into your marketing strategy in versatile ways.
Website & online shop
As the brand's flagship, the website or online shop is a great place to embed visual Content to appear more inviting. There are three forms of embedding:
Teaser
Teasers are often integrated on the homepage of an online store to give a little taste of the products available for purchase. As the name suggests, this stream form only teases a few visuals, but does not show an all-encompassing big overview. The small appetizer is mostly displayed in a single row or in mosaic form. Our client ehrlich textil embeds a single-row teaser at the bottom of the homepage of their online store.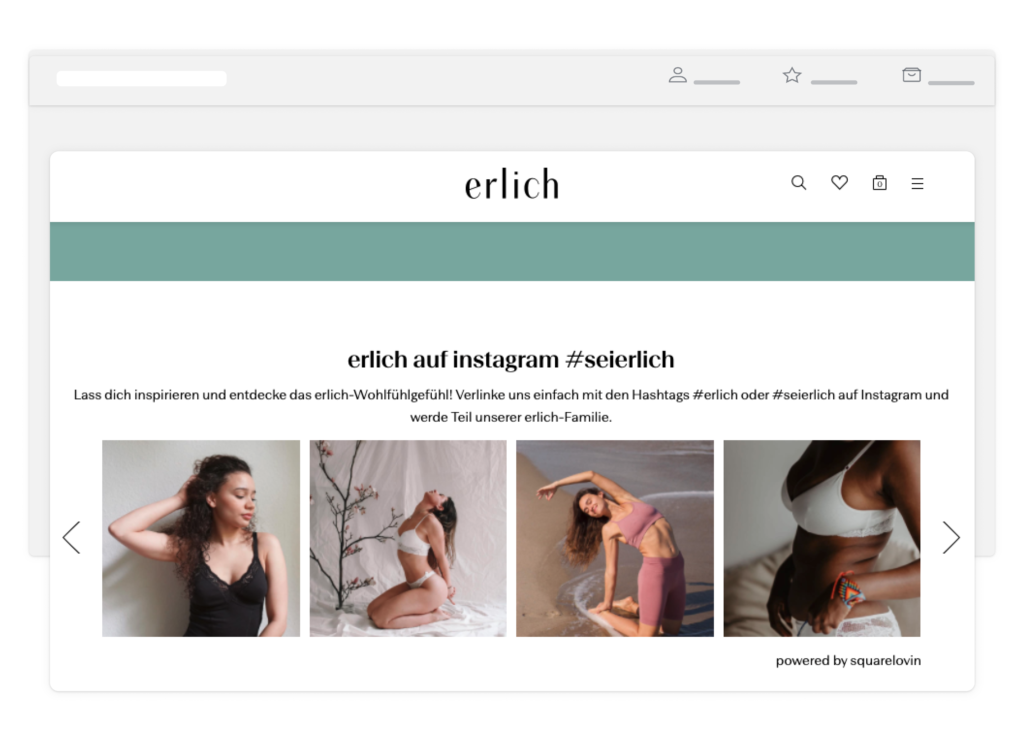 Gallery (aka. Social Wall)
The gallery or social wall is a full-page photo gallery. If you scroll down the page, this stream form will automatically continue to load. The function of this infinite scroll is to show almost endless impressions of how the products are used and set in scene by different customers in various ways. A gallery is a great way to create a community page and exclusively include your customers' content from Instagram on your website.
Our client fafe collection embeds such a gallery. The inspirational social wall can be seen in its own tab and also offers an InstaShop option. Under the motto "Shoppe die fafe insta looks", the social wall invites visitors of the website to buy the looks of the fafe Instagram community or to get inspiration for styling options on Instagram. We serve you more inspirational website galleries in the Top 10 Social Walls of Inspiration article on our blog.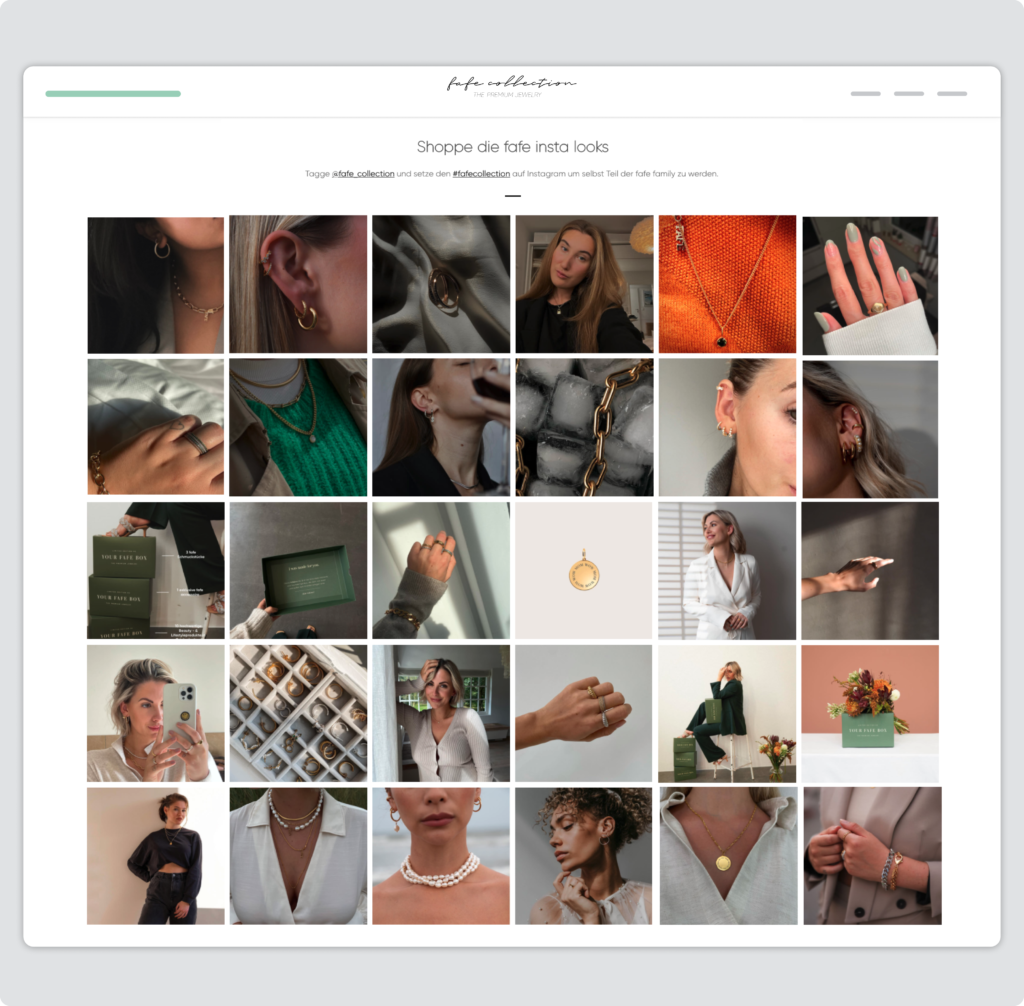 Product-stream
In terms of design, the product stream is very similar to the teaser, but this stream form is predestined to put a single product in the spotlight. Only Social Content that actually shows the respective product is displayed here. The product stream is always embedded on a product detail page (PDP). Social Content plug-ins are a practice of social commerce and significantly enhance buying experience by providing insights directly from the everyday lives of other customers. If you want to know why product page images are important read through our blog.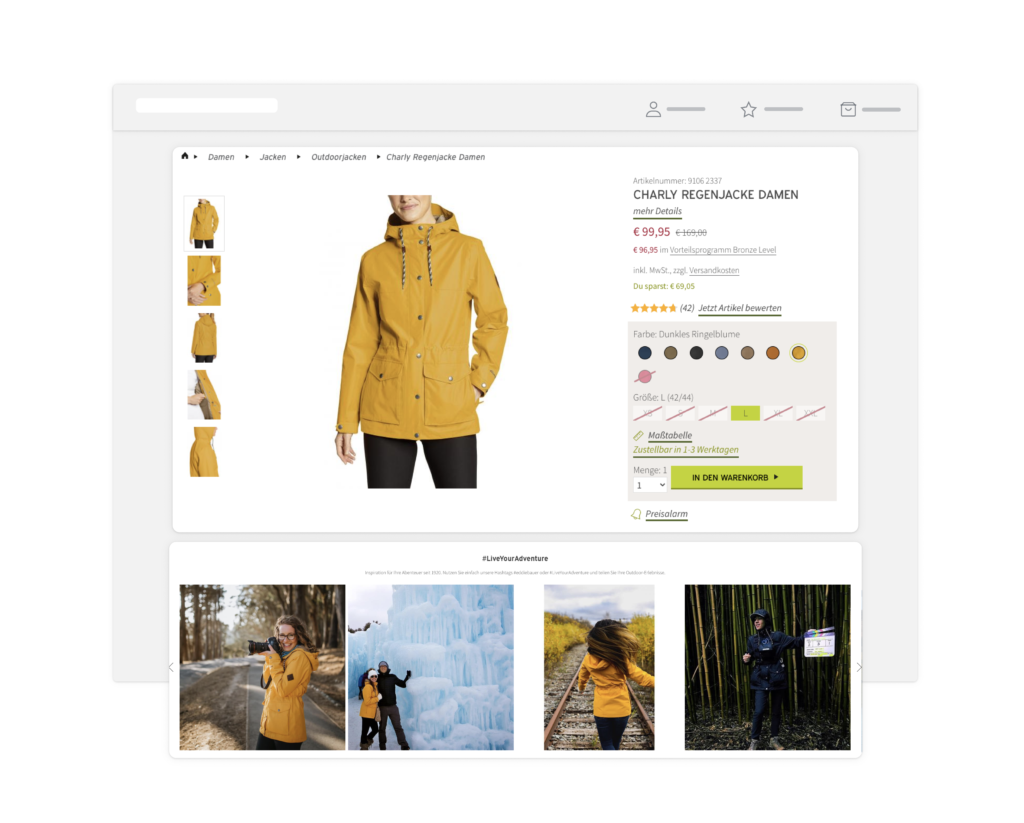 This example shows how the presentation of Eddie Bauer's yellow raincoatehnanced through social content. The entire product stream shows how the community sets the coat in the scene. Social Content gives a lot of room for identification and consequently creates inspiration among website visitors.
In addition to product-specific implementation of visuals, product streams can also fulfill the function of displaying topic-specific visuals. For example, a stream can be created that only displays Christmas content. In our Case Study Kleiner Feigling, you can see how the liquor brand uses various topic-specific streams.
In our blogpost How to embed Social Content from Instagram on your website, you can read about all the ways you can embed content from the Instagram feeds of members of your community in your online store or website.
Social media
Often, Social Content comes from fans of your brand posting images and videos with your branded hashtag on Instagram. You can integrate your community's content in your own social media strategy by simply recycling it on your social media feed. Learn how to use this content in a legally compliant way and make it usable for your brand in our blog post on the topic of copyright on Instagram.
Postings & Storys
By doing so, you add value to your brand account on Instagram and make it more versatile by reusing UGC for feed posts or for Instagram stories. You can also create direct links that lead to the product detail pages of the respective products on your website. The buzzword is social commerce. You can get further information about social commerce in our blogpost on the topic.
Apart from that, working with influencers is a great way to increase the authenticity and credibility of your company. With the help of influencer content, product seeding and influencer whitelisting, you can make your brand account more diverse, have a direct influence on the purchase decisions of your target group and and increase the effectiveness of your marketing campaigns. To learn how to find influencers that fit your brand, measure the success of influencer campaigns and positively impact Influencer Marketing ROI, read our related blog posts.
Social ads
If your company runs social ads on Facebook, Instagram or another social media network, you can include visual Social Content here as well. It adds an authentic touch to yourads through social proof, attracts more attention and entices people to click on them to learn more about your products.
Our client Design-Bestseller used UGC for Facebook Ads. As a result, the online furniture store was able to significantly improve its social ad KPIs. On average, the click-through rate improved by 5%, proving that content from their own peers makes people more likely to click on the ad. In addition, the brand was able to generate 4x more website clicks. The time customers spent on the website also increased three times compared to customers who came via branded content ads. Read our Essential KPIs for E-Commerce whitepaper to learn more about relevant e-commerce KPIs.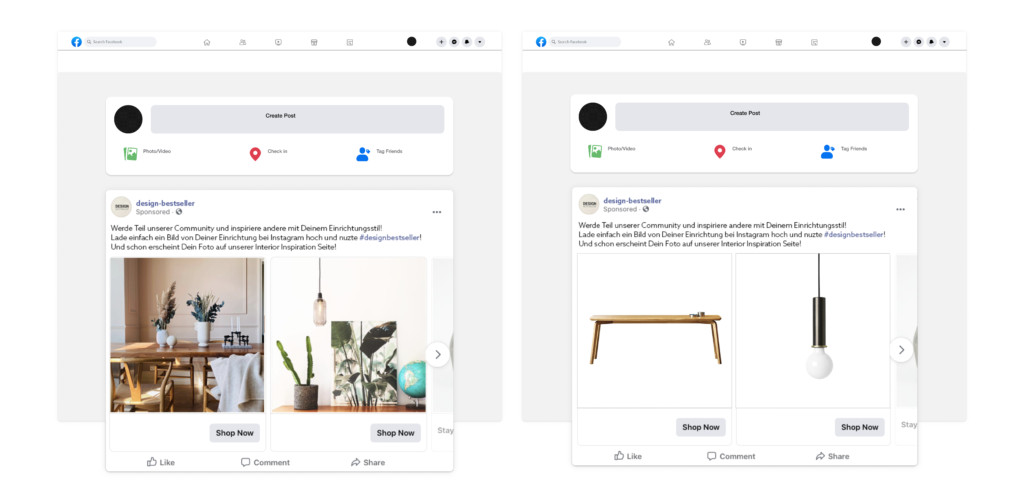 Customer service
You can also integrate authentic visual Social Content into the direct communication with customers. Embed it in newsletters, support requests, or even shipping confirmations. This enhances the aesthetics of your mails, shows that you value your community and portrays your brand personally. In addition, you can creatively present other products from your range and thereby achieve that customers may purchase again and become loyal to your brand in the long term.
Offline integration
Visual Social Content can not only be used for your online marketing strategy. There are different ways to integrate it into offline marketing campaigns:
Posters and screens
Social Content can also be used in real life, outside the digital world, to strengthen the brand and product message. For example, through screens in store that display Social Content, i.e. pictures and videos of real customers. Alternatively, posters can be printed with Social Content. Our customer Adina Hotels uses this method by placing inspirational UGC posters in the elevators of the apartment hotels.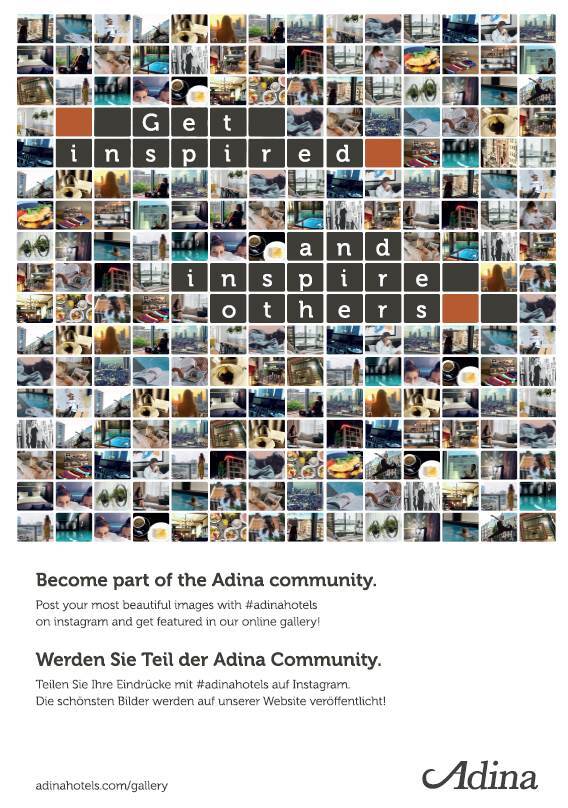 Print
You can also print Social Content from your community in newspapers and magazines to add a personal touch. Our client Ostsee SH uses this kind of integration for an annual print magazine. Using the headline #ostseeglücksmomente, the Schleswig Holstein tourism association features a best-of-UGC of people who have vacationed in the north German region and have shared their travel memories with the tourism association via the hashtag.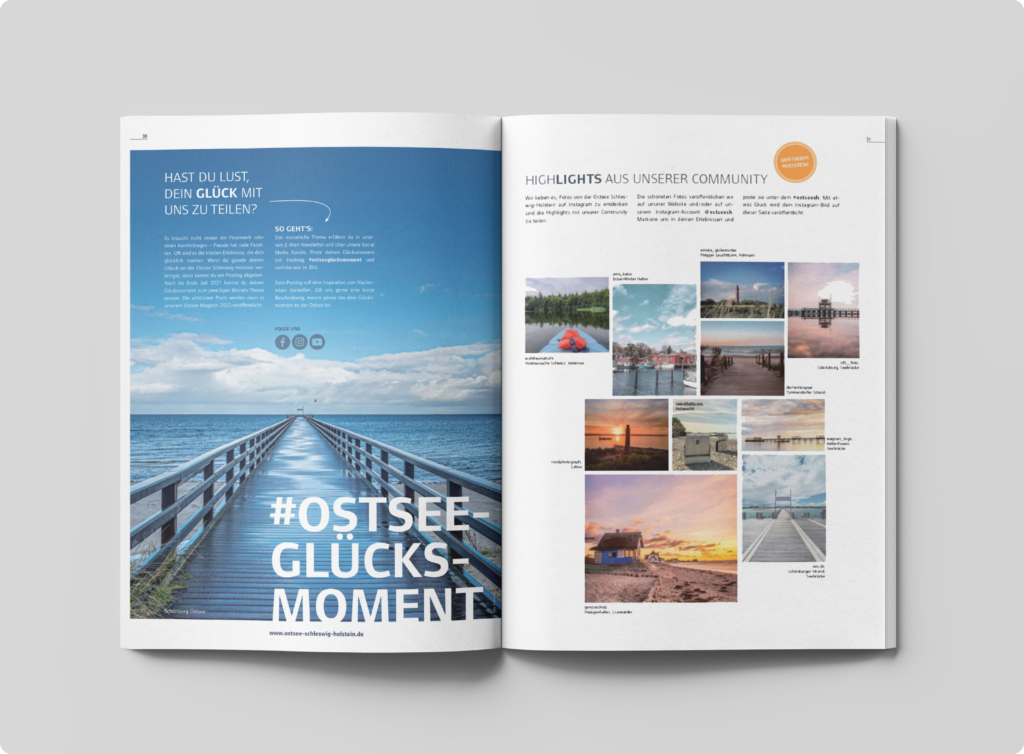 Packaging
Even in packages that are shipped to customers, Social Content can be integrated. For example, you can put a card with Social Content printed on it in every package your brand sends out. This form of content integration has another added value: Your branded hashtag can be displayed on the card, under which customers can upload their UGC. This way, customers publicly show a relationship with your brand. It creates social proof and at the same time it generates more Social Content that your brand can use for it's marketing. Learn more about branded hashtags in our blog.
When using visual Social Content, no matter on which channel, it is always necessary to obtain permission of usage of the person who created the content. A tool can help you to do this safely. If you want to learn more about our UGC management tool, take a closer look at our squarelovin UGC Tool Basic Guide.
Conclusion
There are numerous ways to utilize Social Content to enhance the user experience – to make it more personal and colorful. Integrate visual Social Content into your marketing to give your brand an individual and nuanced face instead of drowning in the flood of competitors by only using basic forms of visual content production. UGC, influencer content and the like are not only outstanding for growing online sales and social media engagement, but also give emails and elevators a new shine! See why you shouldn't use stock photography for your marketing in our blog post on the topic.
Sources:
https://www.iprospect.com/de/de/news-and-insights/news/die-beeinflussung-der-unterbewussten-kaufentscheidung-durch-emotionale-bilder/
https://blog.hubspot.de/sales/kaufentscheidung