From beauty gurus to gaming kings and cooking experts, influencers come in all shapes and sizes. However, it's not just their reach that makes these personalities interesting to you and your brand, but also the opportunity to appeal to their target audience in an authentic and creative way. If you want to work with influencers, you have a lot of options: from gift campaigns to influencer events and long-term collaborations, anything is possible, it just depends on your budget and your goal. In this post, we'll give you an overview of the 8 most popular types of influencer campaigns on Instagram, with examples of each.
1. Product Seeding
With product seeding, a company sends its own products to influencers, who show or rate them on their social media channels in exchange. This type of influencer campaign is mostly used in micro influencer marketing, as larger influencers often demand additional payment in addition to the product. With product seeding you only bear the costs for the product and its shipment, which makes this type of influencer campaign an efficient method to increase your brand awareness and arouse the interest of potential customers. This makes product seeding especially interesting for brands with limited budgets.
| Advantages | Disadvantages |
| --- | --- |
| Cost efficiency | Possibly additional payment of the influencer |
| Increased brand awareness | |
| Authentic reviews | |
Pros and Cons of Product Seeding
Example Product Seeding Campaign
Imani Randolph (@champagnemani) shows in one of her posts how @jins.usa glasses can be styled with different outfits, generating authentic, informative content for the brand. At the same time, the company's brand awareness increases.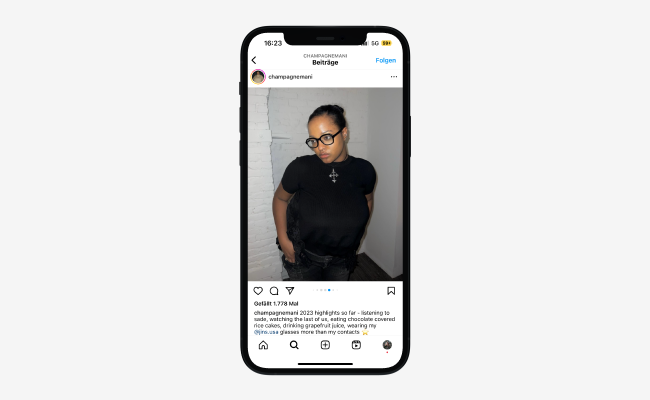 2. Sponsored Posts
Sponsored posts are another type of influencer campaign on Instagram. Here, the influencer is paid by a brand to promote a specific product or service. In order to be able to track the success of the campaign, the influencer places an individual link to your brand's store in the story or in their own profile. In contrast to influencer whitelisting, the content is created and published by the influencer. Sponsored posts offer you the opportunity to specify the exact style of content you need and increase the awareness of your brand.
In order to be able to evaluate your influencer campaigns accurately, all your links should also contain a UTM parameter so that the traffic to your website or online store is precisely assigned to the respective influencer. There are different models for paying your partners, but most of the time you pay either a flat fee, i.e. a predefined, one-time amount, or via a pay-per-click program, where you pay the influencer a predefined commission for each click on the link. You can learn more about influencer marketing costs and the various options for compensation in our related blog post.
Important: According to the decision of the German Federal Court of Justice, sponsored posts must always be clearly marked as advertising by the influencer.
Pros and Cons of Sponsored Posts
| Advantages | Disadvantages |
| --- | --- |
| Control over content | High cost for influencers with greater reach |
| High quality content | Less authenticity than other types of influencer campaigns |
| Increased brand awareness | |
Pros and Cons of Sponsored Posts
Example Sponsored Post
Influencer Carmen Kroll (@carmushka) promotes the sunscreen of natural cosmetics brand @baybies_official in a reel. Her channel has a wide reach, making it more expensive for brands to get a placement on her channel compared to working with micro influencers. However, the brand also pays for the creator's experience and knowledge of how to best showcase products and appeal to their own target audience.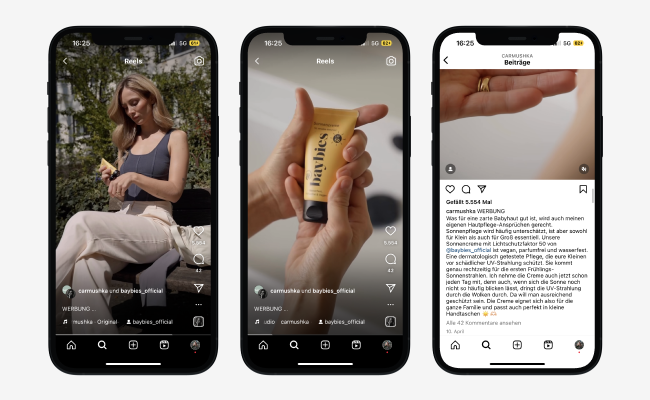 3. Affiliate Marketing
Another popular form of influencer campaigns is affiliate marketing, where an influencer is paid a pre-agreed commission for each successful conversion or product sold. To measure the success of your campaign, you can use a personalized link placed either directly in the post or on the influencer's Instagram profile. Affiliate marketing campaigns are popular with many businesses and influencers because they are cheaper, more scalable and deliver measurable results compared to other influencer campaigns.
| Advantages | Disadvantages |
| --- | --- |
| Measurable results | No assured success |
| Low cost | No close relationship with customer |
| Scalability | |
Pros and Cons of Affiliate Marketing
Example Affiliate Marketing
Online fashion store @trendyol partnered with influencer Laura Maria (@lauramaria.rpa) for an affiliate marketing campaign to increase awareness of their brand and attract potential new customers. During the campaign, the influencer placed affiliate links in her Instagram Stories, taking followers directly to the online store's website.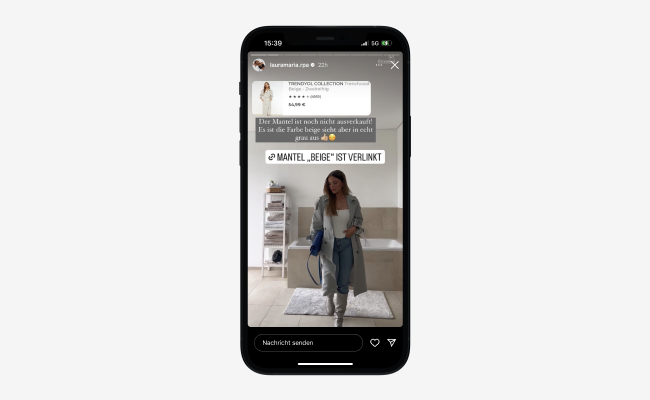 Electronics manufacturer HP collaborated with artist and influencer Amanda (@amandarachlee) as part of an affiliate campaign for its mobile printer (@hpsprocket), showing the printer's various functions in her reel. The individual affiliate link and discount code in the caption allows the brand to accurately track the influencer's individual conversions. While the content creator benefits from the commission, HP gains new, authentic content that showcases the printer and clearly illustrates the various application options.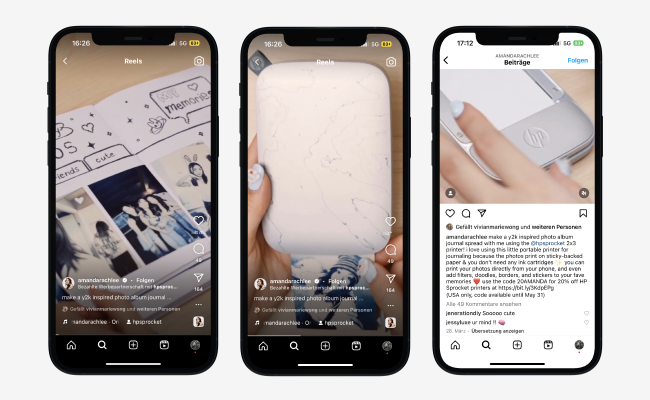 4. Giveaway
In a giveaway, the influencer collaborates with a company to give away products or services to their followers. In exchange, the follower performs an action for the company, such as liking and commenting on the post, following the brand's social media account, or creating a customer account on the company's website. The goal of such an influencer campaign is to increase the brand's reach and interaction with the target audience.
Because giveaways are low cost and the campaign always adds value to the influencer's community, they are particularly suitable for first-time collaborations between your brand and influencers.
| Advantages | Disadvantages |
| --- | --- |
| Increased brand awareness | No long-term success (unfollow after a completed campaign) |
| Benefit for the influencer's community | |
Pros and Cons of Giveaways
Example Giveaway
In cooperation with influencer and fitness online coach Molly Ava (@mollyavafit), the clothing brand Fitjeans (@fitjeans) ran a giveaway campaign where participants could win a new pair of jeans. To enter, users had to follow both the influencer and the brand and tag one person in the comments, which increased engagement and followers.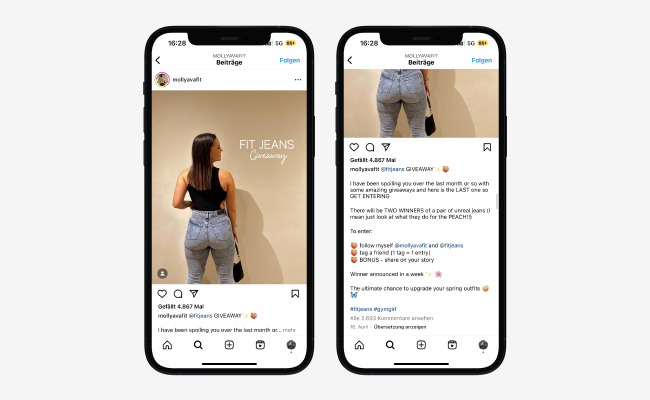 5. Brand Ambassadors
One form of influencer campaigns that pays off, especially in the long run, is establishing lasting relationships with influencers. These brand ambassadors represent your brand as part of their lifestyle and regularly promote your products and services through their accounts. Participation in influencer events or a take-over of your brand's social media account is also possible with such collaborations. If you operate an efficient influencer relationship management, not only your brand awareness will increase, but also the trust of the target group in your brand.
| Advantages | Disadvantages |
| --- | --- |
| Long-term increase in brand awareness | High cost |
| Increased credibility and trust in the brand | |
| Strong relationship with influencers | |
Pros and Cons of Brand Ambassadors
Example Brand Ambassadors
The singer Park Ji-min (@j.m) and rapper Kim Nam-joon (@rkive), both members of the South Korean K-pop band BTS, are Brand Ambassadors for the luxury jewelry brand Tiffany & Co. (@tiffanyandco) and for the fashion company Bottega Veneta. By collaborating with the K-Pop stars and their very active community, both brands increase their brand awareness as well as their positive reception tremendously.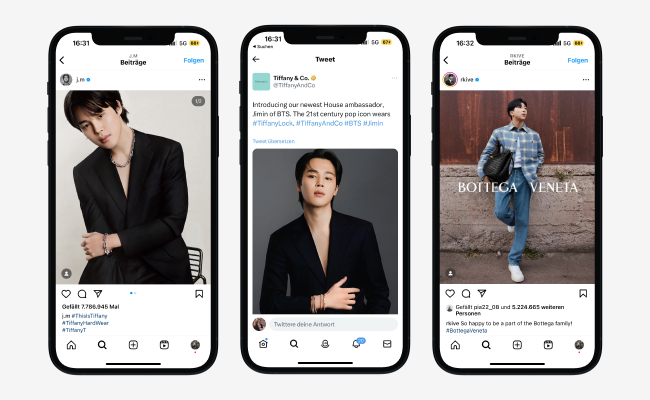 At the annual Coachella music festival, fashion and accessories brand Kapten & Son (@kaptenandson.de), in cooperation with hair care brand feschi (@feschi.store), invited various influencers to the festival and handed over its own Instagram account to influencer Nele Wüstenberg (@nelipies).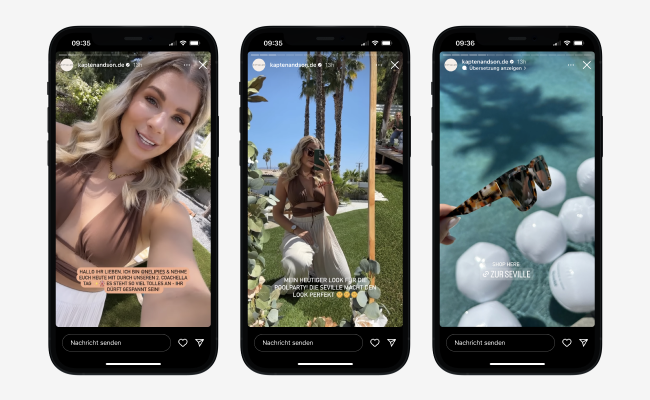 She took the brand's followers with her throughout the day, presenting different styling options for Kapten & Son's accessories. With these stories, she offered inspiration to users, while the direct link to the brand's online store facilitated access to the products.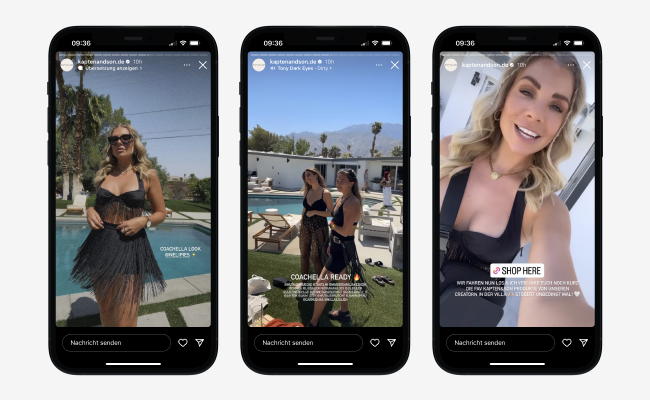 6. Product Collaboration
Another type of influencer campaign is product cooperation, in which an influencer and a brand jointly develop a product. In this case, both sides contribute their respective expertise: the influencer's personal style as well as expertise and experience with the target group, and the company's own resources and product development know-how. The advantages of such an influencer campaign are increased awareness and authenticity of the product, since it was co-developed by an influencer with high reach and influence on the target group.
Tip: Since a product cooperation usually means a higher expenditure of time and money, you should rather cooperate with influencers with whom you have already cooperated in the past. This way you avoid frequent conflicts of interest and continuous feedback loops.
| Advantages | Disadvantages |
| --- | --- |
| Increased product awareness & authenticity | High cost |
| Increased brand awareness | Conflicts of interest between influencer and company |
Pros and Cons of Product Collaboration
Example Product Collaboration
In cooperation with influencer Farina Opoku (@farinaopoku), natural cosmetics brand Annemarie Börlind (@annemarieboerlind) added a lip mask to its previous series of joint skincare products, which has become a bestseller for the brand. The success of the care series and especially the lip mask shows how a product cooperation with influencers increases brand awareness and how the buying power of the community can be activated.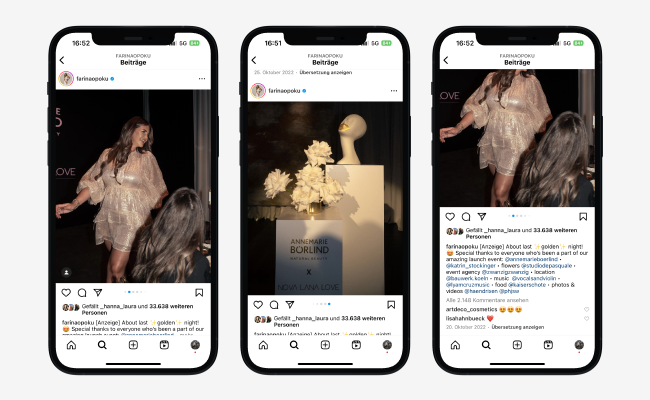 7. Influencer Events
Influencer events are a great way to introduce your products and services and create the base for long-term cooperations with opinion leaders. This form of influencer campaign can range from exclusive product launch parties to workshops and VIP events where influencers have the opportunity to interact with each other and the brand. The goal of such an event is to create a unique experience that inspires influencers to share about the event on their channels, increasing your brand awareness.
| Advantages | Disadvantages |
| --- | --- |
| Building long-term relationships with influencers | High cost |
| Increased brand awareness | Difficulty to measure success |
Pros and Cons of Influencer Events
Example Influencer Event
Cosmetics chain Sephora (@sephora) hosted an event in 2021, inviting a wide variety of perfume manufacturers and various influencers. By sharing content on Instagram and other social channels, the brand achieved tremendous reach and was able to engage its target audience in an authentic and fun way.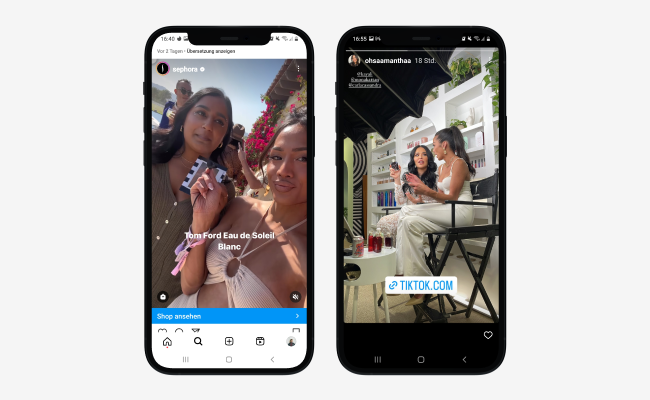 8. Seasonal Campaigns
In contrast to long-term influencer campaigns, such as the already presented Brand Ambassador programs or product collaborations, seasonal campaigns refer to specific holidays and celebrations, such as Christmas, Easter or Mother's Day.
The advantage of such collaborations is that you can showcase your seasonal product line and also align your already existing products with the current event, keeping your brand image up to date and achieving greater relevance with your target audience.
| Advantages | Disadvantages |
| --- | --- |
| Short-term increase in sales | Possibly no long-term success |
| Up-to-date image | |
| Increased brand awareness | |
Pros and Cons of Seasonal Campaigns
Example Seasonal Campaigns
For Mother's Day, jewelry brand Pandora (@theofficialpandora) runs a seasonal campaign every year, activating different influencers and showcasing its own products in a new way. In 2023, the brand collaborated with Japan-based influencer and mother Rui (@dearruigallery) to boost its own brand presence in the East Asian region.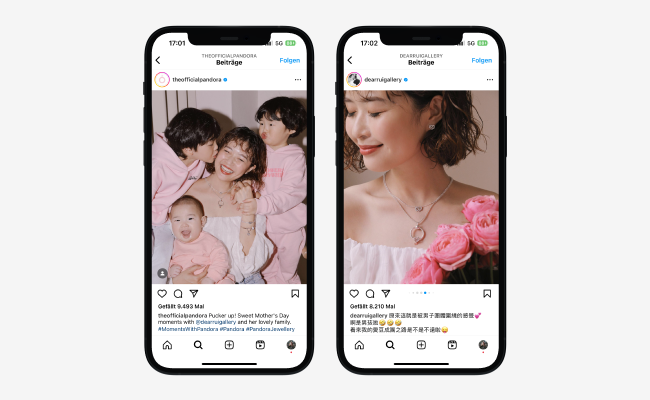 Conclusion
Influencer campaigns come in many different forms, depending on your goal and budget, different types of campaigns are suitable for your brand. While affiliate marketing and product seeding campaigns are cost-effective and therefore ideal for smaller companies, influencer events and product collaborations are more suitable for building long-term relationships with opinion leaders and sustainably increasing your brand awareness.
For a successful influencer campaign, make sure that the goal of your campaign as well as the budget and your marketing strategy are clearly defined. Also, consider whether you have the capacity to run your influencer marketing in-house or whether you need additional support in the form of an agency or tool. If you follow these tips, you'll be well on your way to a successful influencer campaign on social media!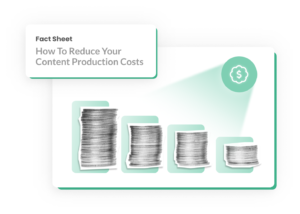 How to reduce content production costs
Download our fact sheet now and learn how to optimize content production for your brand and reduce costs in no time.
Sources
https://www.facebook.com/business/help/31708307214860
https://influencermarketinghub.com/influencer-marketing-statistics/
https://support.google.com/analytics/answer/1033863?hl=de#zippy=%2Cthemen-in-diesem-artikel
https://www.bundesgerichtshof.de/SharedDocs/Pressemitteilungen/DE/2021/2021170.html?nn=10690868
https://twitter.com/TiffanyAndCo?ref_src=twsrc%5Egoogle%7Ctwcamp%5Eserp%7Ctwgr%5Eauthor