Around three-quarters of advertising agencies and marketing companies worldwide conduct their influencer marketing in-house, as a recent survey by Influencer Marketing Hub shows. This means that the majority rely on their own team, which looks after the recruitment of influencers, manages communication with them and evaluates the success of collaborations. Alternatively, influencer management can be outsourced and handed over to an agency. So which is the better option for your company? In this article, we will present you with the respective advantages and disadvantages of influencer marketing in-house vs. influencer management via an agency, as well as a third, software-based approach.
Influencer Marketing In-House
Managing your influencer marketing in-house means that your team is responsible for all tasks related to influencer management. On the one hand, this allows you to communicate directly with influencers and maintain full control over influencer campaigns. On the other hand, if the number of collaborations increases, you can quickly lose track of all the details. In addition, communication with influencers is often time-consuming. Therefore, you should consider the following pros and cons when deciding whether to do influencer marketing in-house or rather hire an agency:
Advantages of Influencer Marketing In-House
Knowledge of the target group: You know your brand's target group best. This makes it much easier for you to ensure a good brand fit and find influencers that fit your business.
Direct communication: In-house, you exchange information directly with the influencers during a campaign and can thus communicate problems and feedback immediately. This shortens otherwise lengthy feedback loops, as is often the case with agencies. It is also much easier internally to maintain contact with influencers after a cooperation and to build long-term relationships.
Budget friendliness: Managing influencer marketing campaigns internally is often more budget friendly than working with an established agency. This is especially advantageous for smaller companies and startups with less financial flexibility.
Full control: In-house, you have full control over your marketing campaigns and ensure that collaborations meet your brand's needs.
Build knowledge: With each influencer campaign, you gain valuable knowledge and experience that you can use for future collaborations. In this way, you increase the effectiveness of your campaigns and optimize communication with influencers.
Disadvantages of Influencer Marketing In-House
Required expertise: If you manage influencer marketing in-house, your team must be familiar with all the processes and guidelines: From strategy development to choosing the right influencers to legal topics. Finding the right people with expert knowledge for this is not always easy.
Campaign management: Searching for and communicating with influencers and maintaining data can be very time-consuming and resource-intensive. That's why it is important for long-term success to clearly assign responsibilities and regularly update data.
Fraud and fake metrics: If you're working with new influencers and haven't yet established a relationship of trust, there is always a risk that not all followers are genuine, or that campaign KPIs are being glossed over. This, in turn, has a negative impact on your Influencer Marketing ROI and makes it difficult for you to properly evaluate campaigns.
Overview: If you need to keep track of multiple influencer campaigns at the same time, it can be difficult to regularly maintain data in Excel lists and be aware of the different status of each campaign at all times.
Scalability: influencer marketing can only be scaled to a certain extent due to limited in-house personnel. Without a tech solution, even the best marketing team will eventually reach its limits.
Overview Pros and Cons Influencer Marketing In-House
| Pros | Cons |
| --- | --- |
| Knowledge of the target group | Required expertise |
| Direct communication | Campaign management |
| Budget friendliness | Fraud and fake metrics |
| Full control | Overview |
| Build knowledge | Scalability |
Pros and Cons Influencer Marketing In-House
Influencer Marketing Agencies
If you decide against conducting influencer marketing in-house and prefer to rely on an external agency, this also entails opportunities and risks. Appropriate agencies specialize in influencer marketing and have a network of suitable influencers. However, this expertise and the handling of the campaigns often costs more than running influencer marketing in-house. In the following, we present the pros and cons of influencer marketing agencies in detail:
Advantages of Influencer Marketing Agencies
Expertise: Influencer marketing agencies that specialize in your industry have the necessary expertise (influencer briefings, contracts, etc.) and the right creator pool to make your campaign successful.
Full service: An agency takes care of everything concerning influencer relationship management – from the influencer search to consultation during implementation and campaign evaluation.
Keeping an eye on trends: For an agency, influencer marketing is daily business. This includes staying up to date and following new developments in the industry to identify appropriate trends for your brand and generate as much reach as possible in campaigns.
Customized marketing strategies: The right agency will develop customized strategies based on your company's specific needs and goals.
Scalability: Depending on the size of the agency, you can often scale campaigns better than if you run them in-house. Plus, your marketing team will have more time for other important tasks when you outsource influencer marketing.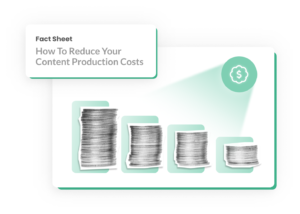 How to reduce content production costs
Download our fact sheet now and learn how to optimize content production for your brand and reduce costs in no time.
Disadvantages of Influencer Marketing Agencies
High costs: For startups or smaller companies, the costs of an agency taking care of influencer marketing campaigns are often not within the realm of possibilities.
Distance from influencers: When an agency stands between a business and influencers, it's difficult to build authentic, long-term relationships with influencers, which in turn hurts the performance and ROI of your campaigns.
Choosing the right agency: Finding the right agency for your business is often a big challenge. After all, they need to fit your budget and brand image, have the necessary expertise for your industry, and ideally have run campaigns with similar companies before.
Limited control: When you work with an agency, they always represent their own interests and opinions, which may not always match your ideas. This makes communication with influencers more difficult, and agreements on campaigns can be drawn out as a result.
Short-term profits: If an influencer marketing campaign ends, not only the cooperation with the influencer but also the cooperation with the agency ends. This often guarantees short-term profits for you, but in the long run, the usually higher costs of the agency and the lack of relationships with influencers have a negative impact on your ROI.
Overview Pros and Cons Influencer Marketing Agencies
| Pros | Cons |
| --- | --- |
| Expertise | High costs |
| Full service | Distance from influencers |
| Keeping an eye on trends | Choosing the right agency |
| Customized marketing strategies | Limited control |
| Scalability | Short-term profits |
Pros and Cons Influencer Marketing Agencies
The solution: Combine In-House Resources with Influencer Marketing Software
A cost-effective solution, especially for smaller businesses with limited budgets, is to use influencer marketing software. With this, you bring in your expertise about your target audience and products while still maintaining full control over campaigns. Unlike working with agencies, you can communicate with influencers directly through the tool and build long-term relationships, which in turn has a positive impact on your brand image.
Apart from that, with a software solution you simplify campaign management. A tool replaces laborious Excel lists and takes over the evaluation of campaigns for you. This makes working with influencers scalable, since the influencer search and the management and evaluation of campaigns are no longer tied to manual resources.
Influencer Marketing In-House vs. Agency: It depends on your situation
Running influencer marketing in-house or hiring an influencer marketing agency each has advantages and disadvantages. If you rely on your in-house team, on the one hand you retain full control over campaigns and communicate and negotiate directly with influencers. On the other hand, you may still lack the necessary expert knowledge for planning, implementing and evaluating a successful influencer campaign, and you may still be unsure, for example, about calculating influencer marketing costs.
An agency specializes in influencer marketing and takes care of all the tasks involved, including influencer relations and evaluating campaign performance. However, you cannot get in touch with influencers directly. In addition, it is usually difficult to find a suitable agency with sufficient experience for your brand that is also within your budget.
A cost-effective solution to this problem is to use an influencer marketing software, such as the squarelovin Influencer Manager. Tools like this allow you to automate campaigns without having to hand over control to an external agency. Thus, leveraging expertise and internal resources and building sustainable relationships with influencers has a positive impact on your ROI in the long run.
Sources
https://influencermarketinghub.com/influencer-marketing-benchmark-report/#toc-1