Influencer Marketing is becoming increasingly relevant. Influencers are constantly in touch with their community, which makes them seem very approachable and allows followers to build a personal relationship with them. Studies also confirm the growing importance of Influencer Marketing. 85% of over 30,000 participants trust personal recommendations significantly more. Companies use this kind of social proof to increase their own brand value, the trust in their brand and thus enable brand loyalty.
However, it is often not so easy to understand the costs of Influencer Marketing or to determine the true value of a campaign. What is an appropriate price for an Instagram post or a video sequence on YouTube? How much should be spent on visual content and which factors influence the cost of a collaboration in Influencer Marketing? This blogpost will tell you everything you need to know in the following.
Costs for Influencer Marketing in numbers
First of all, a few important facts and figures. During COVID, social commerce has become even more important for companies. According to a survey conducted by the German Association for Digital Business (BVDG) on the budget allocation for Influencer Marketing, 14% of over 100 participating companies stated, that in 2020 they invested more than 100,000 euros in Influencer Marketing. 11% even spent more than 250,000 euros. In 2018, this was only true for 6% of participants in each case.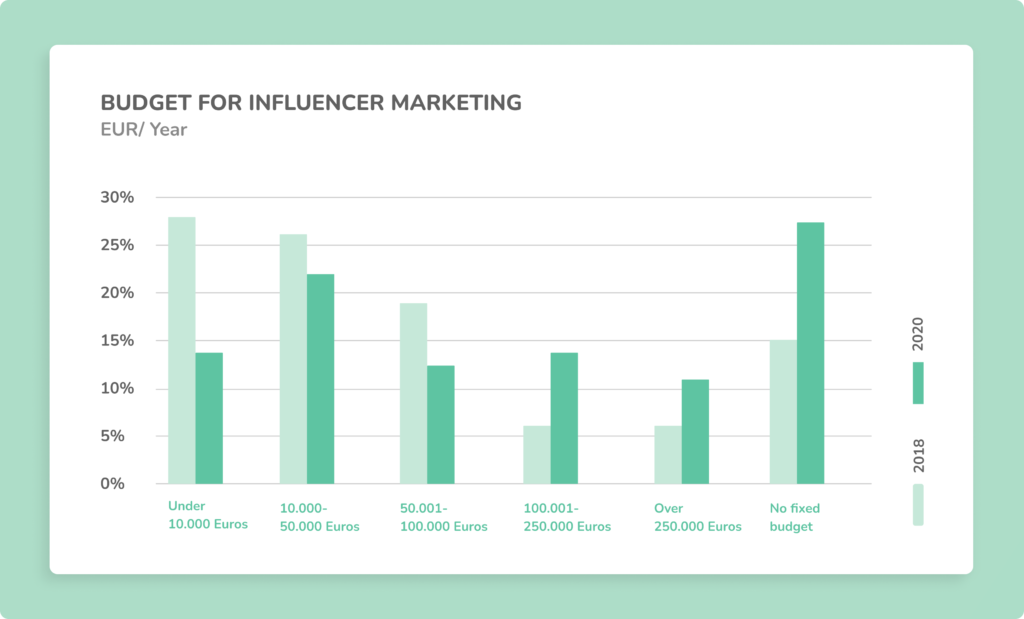 Overall, the majority of brands were already planning to increase their budget for Influencer Marketing in 2021. This suggests that the budget for 2022 was also set higher. This article lists the different ways to calculate influencer marketing costs.
What are the pricing models for Influencer Marketing?
The price for a cooperation between a company and an influencer is determined by various factors. These include, for example, the reach of the influencer, the engagement, the brand fit, but also the social media platform used for the campaign. The price is also influenced by whether you conduct influencer marketing in-house or hire an external agency.
Additional factors that determine the final costs of Influencer Marketing are effort, the type of collaboration, for example via product seeding, the respective industry and the reuse of content, for example via influencer whitelisting. As a result, the pricing for collaborations with influencers is also highly individual.
1. The CPM (Cost-per-Mille)
The Cost-per-Mille is considered a rough guideline in Influencer Marketing. It refers to the costs that arise when your brand aims to reach 1000 people from a certain target group. It is used to check whether the costs for a cooperation with influencers are justified. However, other factors such as credibility, influence, engagement, or industry are included in the final price. As a result, the actual influencer marketing costs can exceed the CPM.
How is the CPM calculated?
The CPM is calculated using the following formula:
Price of content to be produced / gross reach x 1000 = Cost-per-Mille
In addition, the price varies greatly depending on the social media platform and format. This is because certain content, such as videos, are much more costly than an Instagram post. In the table below, you see the different CPM's listed by social media platform:
| Social Media platform | CPM |
| --- | --- |
| Instagram post (according to followers) | ca. 2-10€ |
| Instagram story (according to views) | ca. 25€ |
| Youtube (60-90 video sequence, according to views) | ca. 30-100€ |
CPM by social media platform, source: W&W
Example for CPM
Let's assume an influencer reaches 500,000 people with an Instagram post and charges 5,000 euros for a cooperation. According to the formula 5,000 / 500,000 x 1000, this results in a CPM of 10 euros.
2. The CPE (cost-per-engagement)
In addition to the CPM, the engagement rate of an influencer is also an important factor in Influencer Marketing. After all, what is the point of a large community if these users do not interact with the content?
Micro-influencers in particular interact closely with their followers and enjoy a high level of trust from their community. That is why agencies often charge these smaller influencers not only by fixed amounts, but also by the cost-per-engagement pricing model.
How is the CPE calculated?
To determine the CPE, influencer marketing costs are calculated using the engagement rate. Engagement refers to all interactions with a post, i.e. likes, comments and shares. The engagement rate can be calculated in different ways depending on the context.
1. Engagement rate by reach (ERR)
With the ERR, you calculate the percentage of users who like, comment, or share an influencer's post. You include both the percentage of followers and the percentage of non-followers who interact with a post. The formula for the ERR is as follows:
Interactions of a post / reach x 100 = engagement rate by reach
An influencer reaches 5,000 people with a post. Of those, 500 interact with the post. Using the formula 500 / 5,000 x 100, the ERR is 10%.
2. Engagement rate by follower count (ERF)
The ERF, on the other hand, is used to calculate the percentage of followers who interact with a post. It is calculated like this:
Interactions of a post / followers x 100 = engagement rate by follower count
An influencer has 20,000 followers, 1,000 of whom like, comment or share the new post. The ERF of 5% is derived from the calculation 1,000 / 20,000 x 100.
3. Average ER
If you add up all the individual ERFs, you get the average engagement rate of the influencer. This is a more reliable benchmark than the ERF, as it adds up the different rates and thus provides information about the influencer's impact. You can calculate the average ER as follows:
ERF per post / number of posts = average engagement rate
The ERFs for three Instagram posts are 2% (post 1), 5% (post 2), and 4% (post 3). The average engagement rate for these three posts according to the calculation 11% / 3 is approximately 3.7%.
3. Affiliate Marketing
In affiliate marketing, an influencer receives a predetermined commission for each product sold by a company. The number of products sold and the success of the campaign are tracked via a personalized link. This link is placed directly in the post itself, in the profile or on YouTube in the video description. Affiliate marketing is particularly effective with micro-influencers, as they have a small but very specific target group and the bond with their community is very high.
4. The buyout
In a buyout, all rights to a product, in this case the content that the influencer creates (for example a post) are given to a third party, i.e. the brand, for a set fee. Influencers thereby authorize companies to use images and videos for commercial purposes and publish them on their channels. This can be limited to a certain period of time and a specific region for promotions or unlimited in time and location for global, long-term projects. You can find out about other ways to measure the performance of an influencer and the progress of a campaign in our related blog post about Influencer Marketing ROI.
Due to the possible difference in time period and geographic usage, the price of buyouts varies greatly. In general, though, you should plan on 100-200% of the original content price (see Reachbird).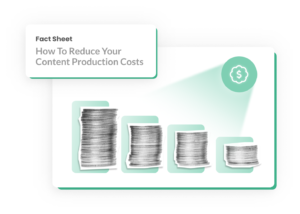 How to reduce content production costs
Download our fact sheet now and learn how to optimize content production for your brand and reduce costs in no time.
5. Unpaid services
In addition to fixed amounts and the pricing models explained above, some influencers also prefer non-monetary payment in the form of barter-deals.
For example, companies send free samples to influencers, who then in turn mention or feature these on their platform. By exchanging goods and advertising channels, in the best case both sides benefit equally from the deal.
Caution: Influencers are only obliged to feature products on their social media channels, if it has been agreed on through a contract in advance.
Conclusion and evaluation
Influencer Marketing is far ahead of traditional advertising in terms of effectiveness, engagement and approachability. Even if the prices for the visual content production of an Instagram post or a video sequence on YouTube seem very high at first – in the end, you save costs and effort with the help of Influencer Marketing.
For effective, successful influencer campaigns, however, it is crucial to be able to find influencers most suitable for your brand. You can read about the advantages of micro influencer marketing, for example, in our blog post on the topic. Remember, the price of a collaboration is influenced by several factors. Therefore, it is important that your brand individually looks at which pricing model best suits your campaign, so as not to be surprised by the influencer marketing costs in the end.
Sources
https://www.wuv.de/marketing/wie_teuer_ist_influencer_marketing_hier_sind_die_antworten
https://www.bvdw.org/der-bvdw/news/detail/artikel/bvdw-studie-70-prozent-der-befragten-messen-influencer-marketing-in-der-corona-pandemie-hoehere-bede/
https://de.statista.com/statistik/daten/studie/29057/umfrage/vertrauen-in-werbeformen/