No one would follow an Instagram account without posts – no one would look at a website that doesn't have any images. Websites and social media without photos are unimaginable these days. Therefore, visual Content is the be-all and end-all for brands, if they use it, they are more likely to stay visible and brighten up the customer journey for users. Brands need specific visuals for each stage. From product photos to website visuals to social media posts – the amount of content needed can hardly be produced completely by the brand itself.
Two ways to use externally produced visual Content are a) to use stock photography or b) User Generated Content (UGC). UGC – in our opinion, is the more authentic way to access a seemingly endless pool of affordable visual Content. In this article we provide you four solid reasons why you should rather not overuse stock photography.
Definitions
User Generated Content
User Generated Content (UGC) describes any content that has been created by users of a product out of their own motivation. Examples of UGC include online reviews, videos, blog articles, or a post on social media. If you want to use UGC, you must obtain the usage-right of the person who created the Piece. In the case of UGC, the creators are your brand's customers.
Stock photography
Stock photographs are images, videos or graphics that are not created for a specific order, but are produced en masse by photographers. Subsequently, the licenses for stock photos can be obtained from users on various stock photography platforms such as unsplash.com or shutterstock.com. These platforms have different licensing conditions: At unsplash, photographers provide the images free of charge and royalty-free for use, while at shutterstock, the license for rights of use must be purchased.
Reasons not to use stock photography
Using stock photography is a rather low-cost way to get image content for your marketing activities. With little effort, you can find images for almost any search-term in corresponding online photo archives, for which you can easily acquire licenses for your purposes. However, you should read very carefully which usage rights and copyright on Instagram, Facebook, etc. must be respected in order to avoid legal pitfalls. Stock photography, consequently, is rather an indirect form of visual content production. But quantity is not everything. Here are four good reasons why your brand should not use stock photography if you care about quality.
#1 Stock photography is interchangeable and unspecific
Images have the purpose of spreading a message, they should visually reflect what your brand stands for or support textual information. Specific and precise are the characteristics that should be attributed to your visuals. Stock photography is often interchangeable and non-specific, so it becomes more of a filler than it is useful to deliver your brand message and thereby provide inspiration. When you rely on stock photography, these royalty-free images are not appropriately created by a photographer for your brand. The use of stock images often seems arbitrary to users and is more of a deterrent than an argument for buying from your brand.
Here's an example: all of these royalty-free images can be found by searching for online shopping. Do you think using these interchangeable stock photographs will highlight the uniqueness of your brand?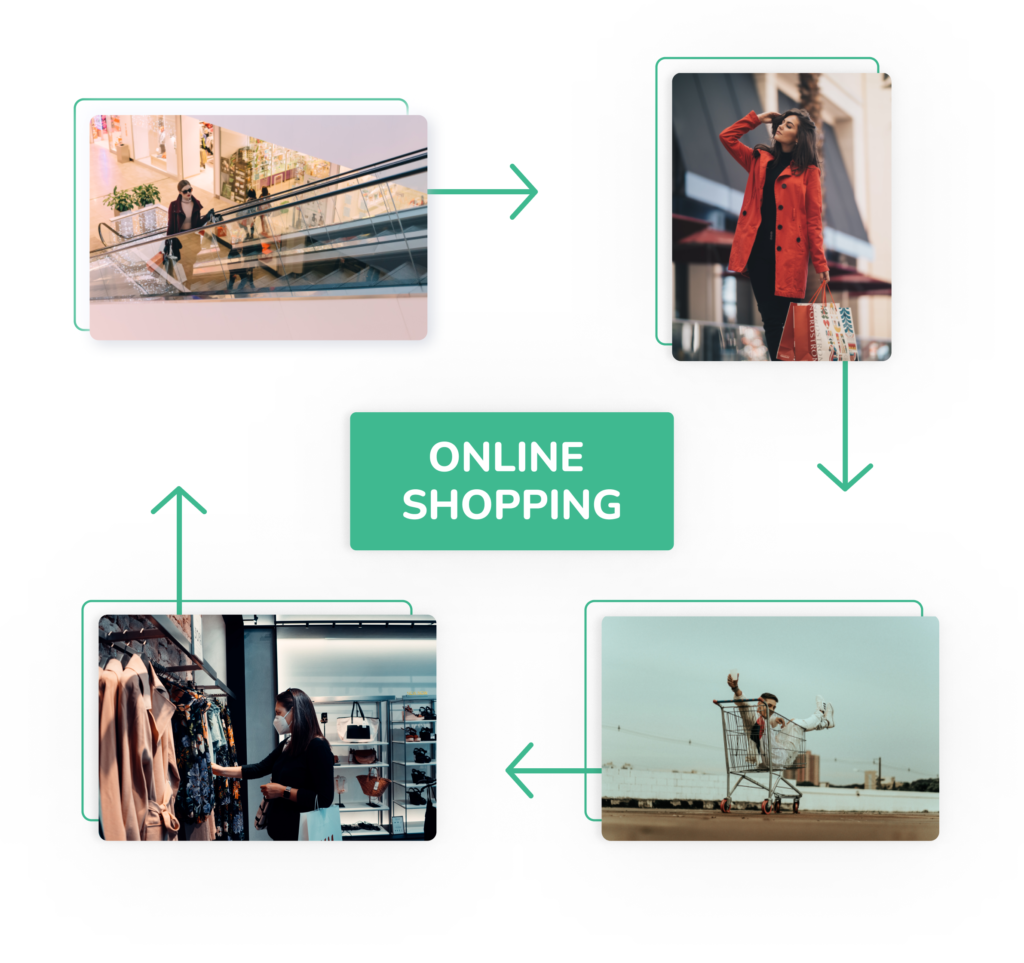 UGC is unique content from your community. By integrating this content, your personal brand story is told, so you promote your brand visibility and don't get lost in the crowd of competitors. If you're interested in how to embed Instagram content on your website and which usage rights you should consider, you can learn more on the topic in one of our blogposts.
#2 Stock photography can be used by many companies
Using stock photography isn't particularly unique and does not undermine your brand identity. They are freely available on the internet and can be used by any brand equally. When you use stock footage for ads or flyers, for example, your marketing efforts don't have a unique positioning feature. Your brand will not be remembered, but will get lost in the mass of competitors.
"Our ads with UGC have a CTR of 5%, which is pretty good. The average time on site of users who come to us through these ads has tripled. This means: people stay and browse for a while, rather than going right back to Instagram and other Platforms." ~ Norbert Windeck, Social Media Manager, design bestseller
UGC as brand-specific visual social content is focused directly on your brand and your products. As a result, it is more likely to attract attention and invite users to stay on your website. Learn more about essential KPIs in e-commerce in our free guide.
#3 Stock photography looks posed and "too perfect"
The use of stock photography often seems posed and far from reality. The fact that the images often exaggerate situations makes them look too perfect and over-polished. Families always look particularly happy, living rooms always particularly spruced up. This is because the creators of these stock photos intend to show what the pictures are supposed to say in the most foolproof way.
In addition, using stock photography unfortunately often means that the content doesn't match real product representation. It is more than unlikely that pre-produced images will ideally represent your current product and serve a specific purpose.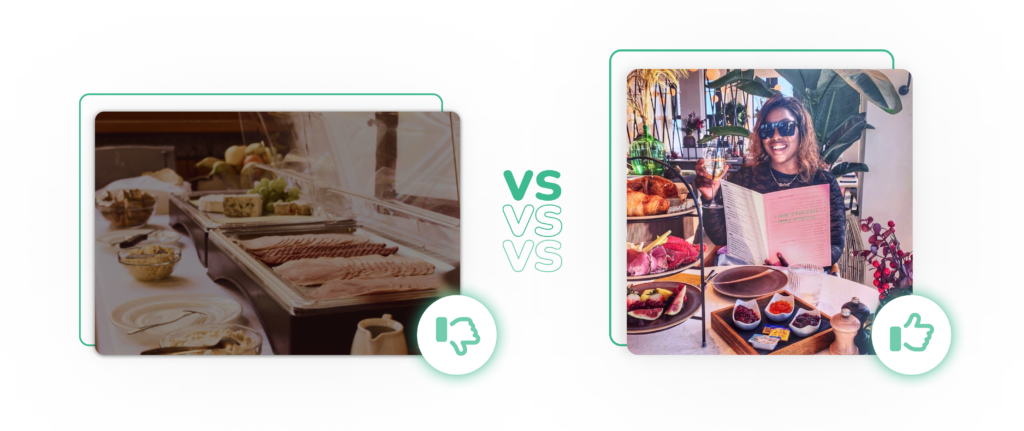 In this example, both images are meant to showcase breakfast at a hotel and make it appealing to people. On the left is a stock photo – it looks cold, unauthentic and interchangeable. On the right, you see real-life UGC from an Adina Appatment Hotel. This visual Social Content comes straight from reality and shows how guests actually enjoy the meal and capture that moment. This inspires other people to stay and dine at this hotel as well. To learn how to provide online shop inspiration for users in your industry, read our blog article on the topic.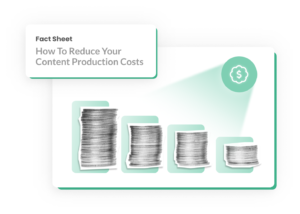 How to reduce content production costs
Download our fact sheet now and learn how to optimize content production for your brand and reduce costs in no time.
#4 Stock photography is inauthentic and impersonal
Stock photographs show engaged models who are interchangeable and often only slightly match the people in your target group. Ergo, they are not authentic, as they do not resemble your brand community, which will not recognize itself in the pictures.
Stock photos that you can use are not tailored to your brand, hence they are impersonal, have little recognition value and are not a good basis for brand loyalty. As a result, stock photos appear untrustworthy because they don't actually target your products and audience.
"UGC is authentic and that's the biggest benefit. It serves social proof to potential new customers and helps them with their buying decisions." ~ Christoph Heinrichs, Online Marketing Manager, Body Attack Sports Nutrition
Product pages with images of your community are highly individual and portray your brand very authentically and personally with the help of your real buyers – you can read more about this in our blog post on integrating UGC on product detail pages.
Conclusion
If you want to visually market your product and the unique personality behind your brand, it is not advisable to use stock photographs, as they are neither individual nor meaningful. They cannot reflect the values your brand stands for, are interchangeable and non-specific.
Stock images often look posed and their basic appearance doesn't help attract users' attention. In short, they fail to accurately portray your brand's message and face because they are inauthentic, impersonal, and lack charisma. To generate sheer, affordable and genuine visual Content for your marketing, use UGC is the better way. Our blog post, make the most of Social Content, shows you numerous ways UGC can make your marketing unique.