With more and more information, images and videos coming at us every second, it is becoming increasingly difficult for brands to stay in people's heads and stand out from competition through unique visual Social Content. Product seeding campaigns are a good way to counteract this problem and successfully launch new products on the market. With the help of product seeding, you create genuine, authentic interest in your brand, create word-of-mouth (wom) and thus promote the visibility and brand awareness of your company within your target group. This article shows you what it takes to run a successful product seeding campaign and how to best implement collaborations. Let's go!
What is product seeding?
In product seeding or influencer gifting, companies send products (seeds) to a carefully selected group of influencers. In return, influencers post about the brand and spread their opinions about the products they have received. Product seeding enables companies to cost-effectively increase their own brand awareness while laying the foundation for long-term relationships with creators.
Why does product seeding work?
When it comes to purchase decisions, we rely most on opinions of people close to us – family and friends. But influencers are also a popular contact point to turn for advice and inspiration. Creators are in close contact with their community, share product experiences and tips and are both role models and opinion leaders for followers. For your brand, they act as multipliers who spread your company's content and products naturally and organically in their network.
Influencer gifting is a very effective way for companies to increase their own brand awareness and reach at a comparatively low cost, while you only have to pay for product and shipping costs. Wth the right influencer you gain new prospects as well as high-quality, relevant content, benefit from social proof of the creator and build up a valuable network of relevant content creators. Therefore product seeding can be used to create an incentive for visual content production. Since smaller influencers are more likely to accept gifts and distribute them for free as a multiplier on their platform, product seeding is especially successful in micro influencer marketing.
How do you run a successful product seeding campaign?
With a successful product seeding campaign, you increase your brand awareness by using content creators as multipliers of your brand's content and products. You also receive high-quality content and increase your sales figures when an influencer promotes your brand via their own platform and shares product experiences with their audience.
Influencer gifting has a positive effect on companies with low product costs, as the influencer marketing ROI is higher. However, many marketers and agencies are still unclear about the details of influencer gifting and how exactly distribution of products and content via influencers as multipliers works. To help you to make the most out of your next collaboration with content creators, we have put together this step-by-step guide:
7 steps to successful influencer gifting
With more complex processes within influencer relationship management, it is often not easy to keep track of everything and pay attention to all important details. This also applies to product seeding. That is why we have created this graphic, which illustrates the individual steps of a product seeding campaign: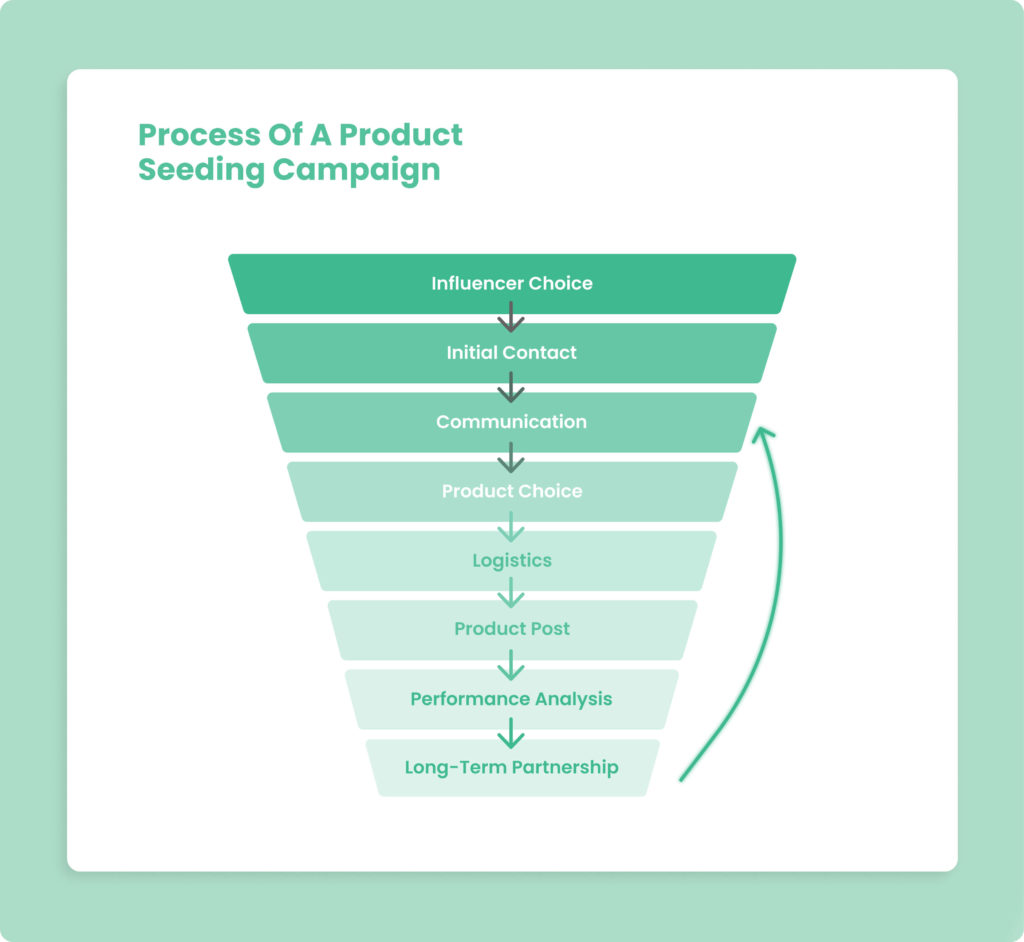 1. Choice of influencer and platform
For successful influencer gifting, it is primarily important that the content creator, their audience and the social media platform are relevant to your brand. For example, it would be ineffective for a company that sells dog accessories to promote products through beauty influencers. That is why you should define the exact goals of the cooperation before contacting content creators. Examples of such goals are increasing brand awareness and reach or building long-term partnerships with opinion leaders. This will make it much easier for you to find influencers that fit your brand.
Think about whether you are more likely to contact micro or macro influencers, whether the content creators you choose fit your brand message, and which type of content is most effective for your marketing strategy. After all, content type and influencer size influence not only your choice of social media platform, but also influencer marketing costs.
Key takeaways:
Define clear goals


Check the relevance of the influencer and the social media platform for your own brand


Specify details of the cooperation (size, niche, brand fit, content type)


2. Initial contact
Would you reply to an obviously copied, impersonal message sent to you by a brand? Such direct messages are completely lost in pace of daily DMs. This is why it's even more important for companies and agencies in marketing to be personal, authentic and direct when first contacting influencers.
Do some research about the content creator and their audience beforehand to integrate personal information into the first message. Briefly introduce your brand and remain friendly, direct and transparent in further communication. This way, you optimize the chances that influencers will respond to you and agree to product seeding.
Key takeaways:
Communicate authentically, directly and transparently


Write personalized messages


3. Further communication
If the initial contact was successful and the creator agrees to a product seeding, you should decide for yourself whether a verbal agreement is sufficient or if you want to secure the cooperation with an influencer gifting contract. Also clarify whether you are allowed to reuse produced content for your own posts, for example as part of influencer whitelisting.
Make sure you communicate your wishes and expectations clearly and clarify requirements in terms of content and aesthetics with your partners. Too much communication is always better than too little. Once these guidelines are agreed upon, it is time to select and later send out your products.
Key takeaways:
Communicate your wishes and expectations clearly


Determine content and visuals for posts


If necessary, sign an influencer gifting contract


4. Product choice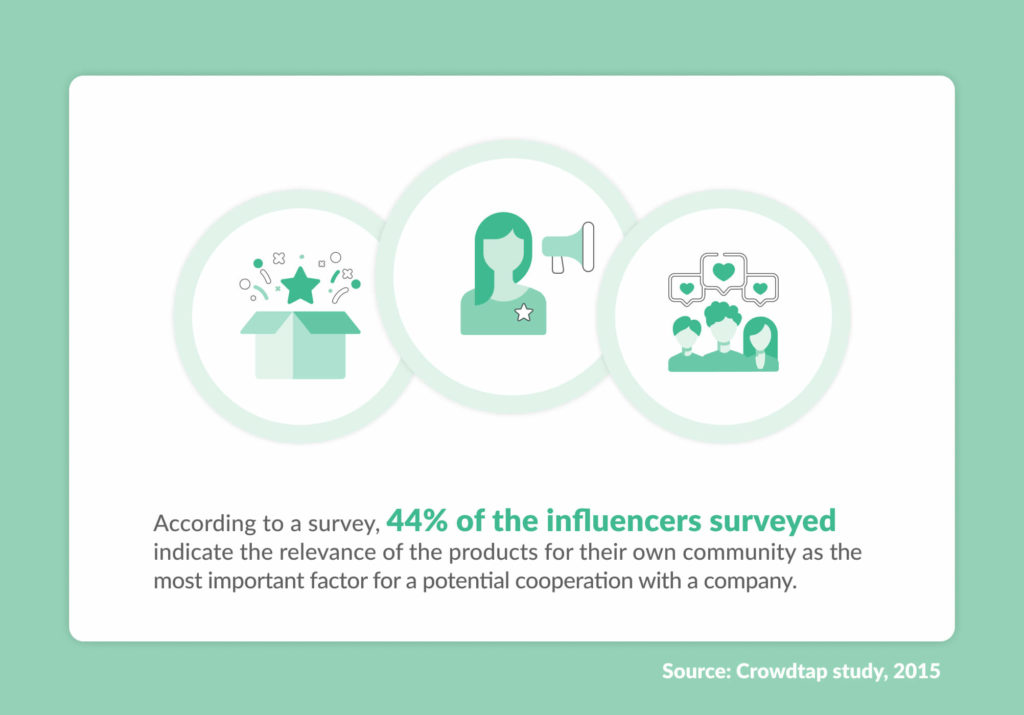 Therefore, think carefully about which of your products add the most value to the content creator and their audience. This makes your product seeding more personal, authentic, and increases the chances that influencers will share positive product experiences and convert followers to leads.
Key takeaways:
Tailor product choices strongly to individual influencer and their target audience


5. Logistics
After choosing the right products, focus on appealing packaging and effective time management. Sure, designing the packaging of your products means more effort and cost. But especially on visual platforms such as Instagram or Pinterest, a unique packaging sets you apart from competition, which in turn has a positive effect on your brand awareness.
By sending the package in a timely manner and providing quick feedback to the influencer, you show that you value the content creator's time and also stay in their mind longer. Once the influencer has received the package and all follow-up questions and details have been resolved, there are no further obstacles to the post.
Key takeaways:
Individualize packaging


Send the package promptly


Be available for follow-up questions and clarifications


6. Analysis of the product seeding campaign
After mentioning and spreading your brand on the influencer's profile, it is time to evaluate the cooperation. By analyzing key performance indicators, such as engagement rate or reach, you can check whether all goals were achieved during the collaboration and identify which influencers and which content formats performed best with the respective audience. From this, valuable conclusions can be drawn for future collaborations.
Key takeaways:
Using key performance indicators to analyze performance of individual influencers


Draw conclusions for future collaborations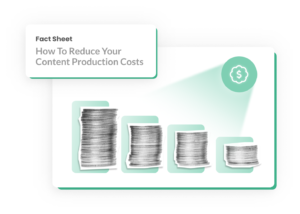 How to reduce content production costs
Download our fact sheet now and learn how to optimize content production for your brand and reduce costs in no time.
7. Building a long-term partnership
If the product seeding campaign was successful, you should strive to stay in contact with the content creator. Although this takes some effort, it has positive long-term effects for both brand and influencer. This is because a longer collaboration simplifies internal communication and also promotes trust in the brand. Thus you save time and resources and gradually build a network of valuable influencers in your niche.
Key takeaways:
Maintain regular interaction with influencers to build a long-term partnership


Examples of successful product seeding campaigns
After we have outlined in theory how to successfully implement product seeding as an agency or company and what needs to be considered in the individual steps, we will now use three examples to show what influencer gifting looks like in practice.
1. Product Seeding with iamfy x thepinkbohemian
Fy! (@iamfy) is a company that specializes in selling interior design and lifestyle products. For its own product seeding, the company predominantly relies on a network of micro influencers and opinion leaders from the home decor sector to create buzz and boost brand awareness. Fy! carefully selects its influencers and tries to build long-term relationships with the content creators. The company has already established a longer partnership with micro influencer Salomé Maisonnoire (@thepinkbohemian), who runs an account for interior design.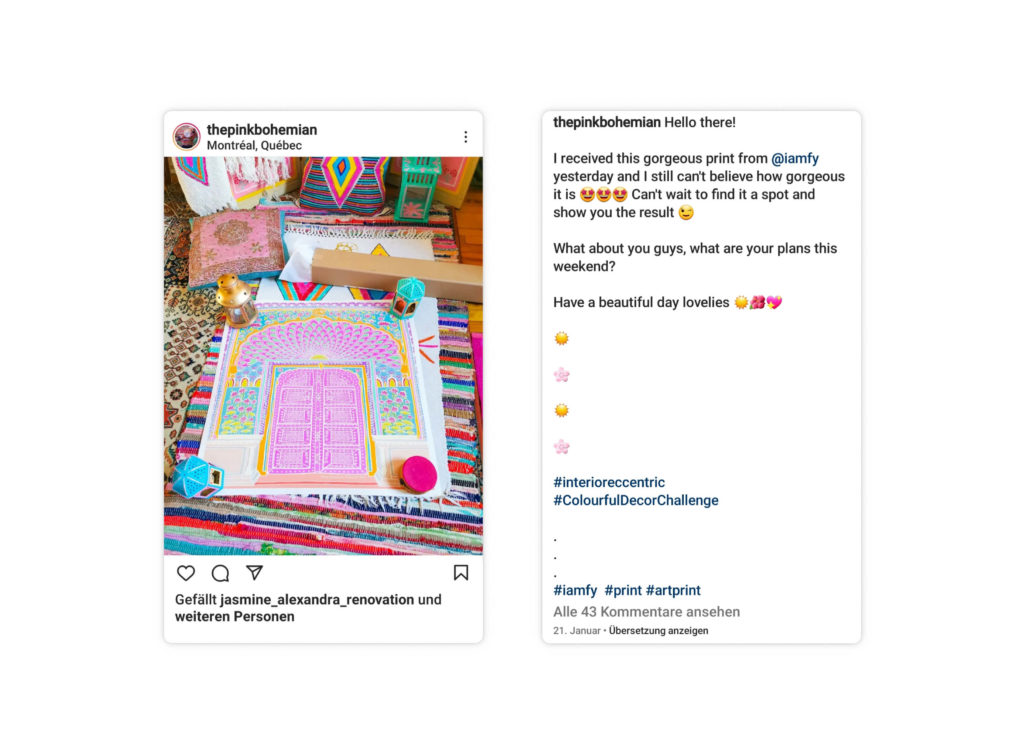 2. Influencer gifting with blogilates x aliviadandrea
For the launch of a new protein powder, fitness influencer and entrepreneur Cassey Ho (@blogilates) launched a product seeding campaign to increase awareness of the new product and reach of her own brand. For this purpose, influencers from the fitness and lifestyle sector were used as multipliers of the company's own content and products, including macro influencer and opinion leader Alivia D'Andrea (@aliviadandrea). The company relies on high-quality products for its collaborations and personalizes the individual product seeding packages. With customized, visually appealing packaging, the brand stands out from competition and stays longer in followers' minds. Read more about visual content and why it reaches people so well in our related blog post.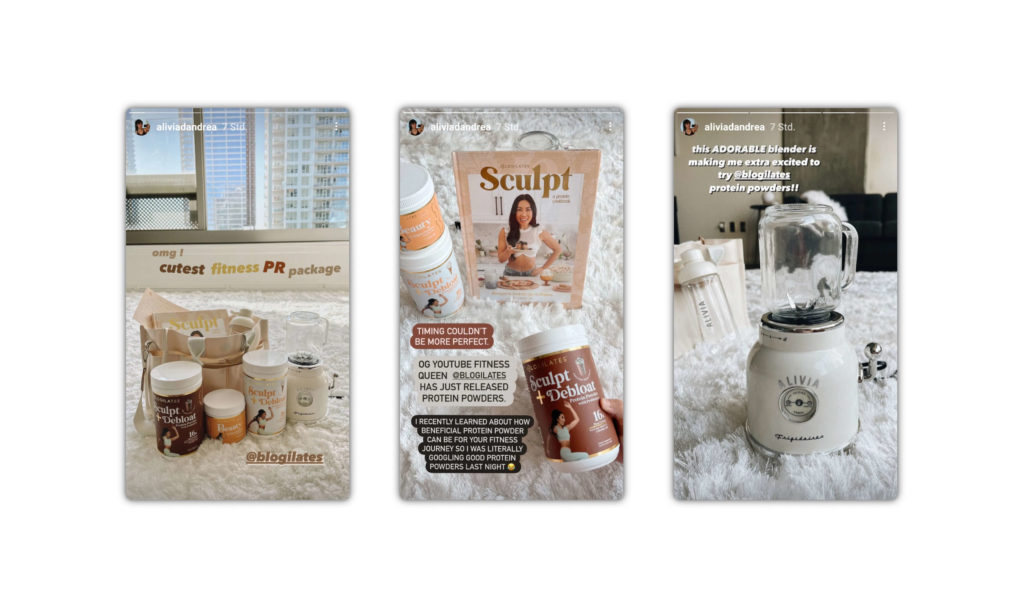 3. Product Seeding with herscent x seda.ai
Herscent (@herscent_official) is a small manufacturer of bath salts and candles. This company is an excellent example of how actively following relevant creators pays off. After moving, the brand sent lifestyle YouTuber and influencer Seda (@seda.ai) a candle for her new home and was promptly mentioned by the creator in her next Instagram post. In this way, the brand successfully used the influencer as a multiplier for its own products and reached a larger audience.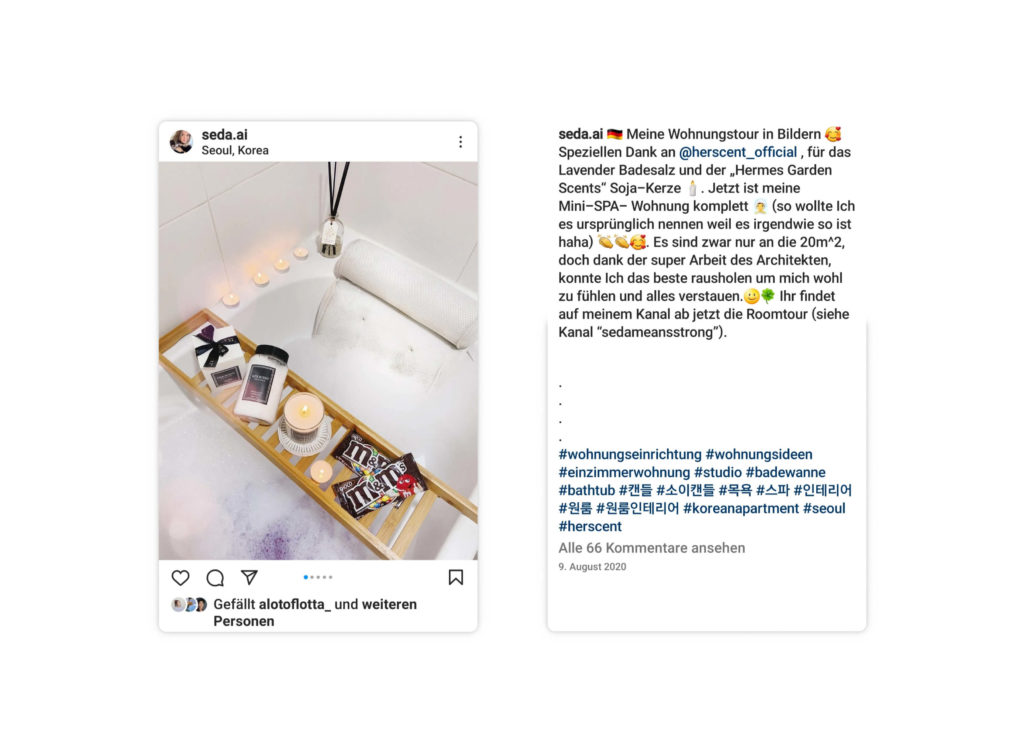 Conclusion
With successful product seeding, you optimize the launches of new products in the market, get in touch with content creators relevant to you and increase organic reach of your brand in your niche. Ideally, collaborations with influencers will develop into a long-term partnership that benefits both sides.
Influencer gifting helps you create genuine interest in your brand, generate valuable word-of-mouth (wom), and increase brand awareness, loyalty, and visibility – all at a relatively low cost compared to traditional Influencer Marketing. Check out our related blog post, to learn more about how content supports brand loyalty and why people are increasingly switching brands.
Sources
https://www.nielsen.com/wp-content/uploads/sites/3/2019/04/global-trust-in-advertising-report-sept-2015-1.pdf
https://www.iab.com/wp-content/uploads/2015/12/Crowdtap_TheStateofInfluencerMarketing.pdf