Visiting an online shop is like a shopping trip through the city center. Often, people aren't just looking for a specific product to put in their shopping cart, complete the purchase, and check an item off their to-do list. They stroll through stores, hungry for ideas and inspiration. For brands this means: Offer online shop inspiration!
The all-purpose weapon across industries is visual Social Content. Whether it's for the fashion, interior, travel or outdoor industry, the integration of visual content in the online shop sparks inspiration in almost every segment. In this blog post, you'll learn how to turn your online shop into a space of inspiration by integrating visual Social Content. For this purpose, the article outlines various starting points on how different industries can benefit from such an implementation.
Industries
Looking for inspiration. Browsing for ideas. Same same in almost every industry. It's easy to inspire users in a specific and personalized way with various integrations of visual Social Content on websites. One example of this is User Generated Content (UGC). UGC social walls, product streams or even brand-worlds virtually fire the imagination. The following examples illustrate how this can look for different industries:
Fashion
"Fashion has to do with ideas, the way we live, what is happening." (Coco Chanel)
Fashion – ideas – live. These keywords make it clear that the fashion industry depends on stimulating moments. Fill your fashion online shop with inspiration through Social content and bring fabrics to life.
Jewelry
For companies from the jewelry sector, the integration of visual Social Content in product streams or galleries in online shops is especially suitable, as they bring selected items into the focus of inspiration. Specific product streams allow website visitors a personalized search. For example, if they are looking for a "silver ring", your online store can inspire them individually through filtered and categorized social walls on the topic. This way users are shown which silver rings are available in your store and how they can be styled.
Our customer fafe collection additionally integrates product streams at the bottom of the product pages, showing the best stylings of each product from the community. This makes existing customers feel valued and all those who browse get examples of how other people wear and combine the jewelry. Good reasons why you product page images are important, we tell you in one of our blog articles.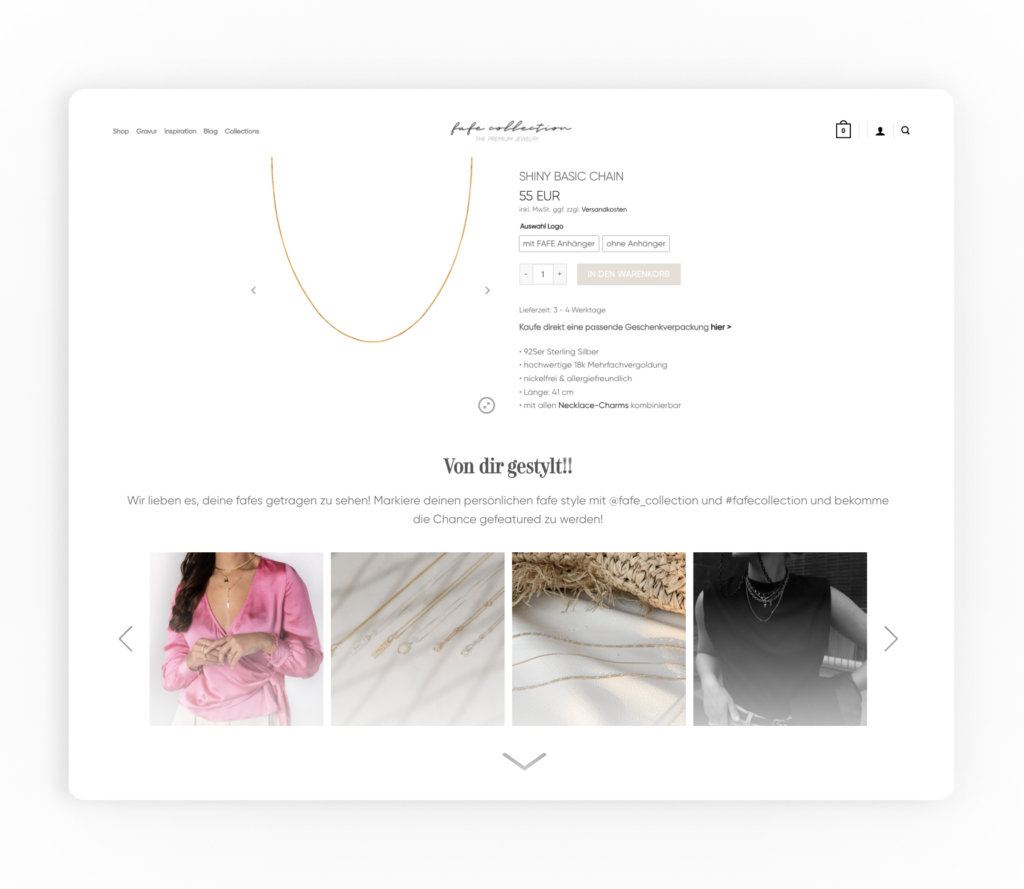 Clothing – using the example of #seierlich
Our customer erlich textil shows that the integration of visual Social Content visually undermines the brand philosophy. Through product streams showing images taken by the community, the sustainable Hamburg-based lingerie brand emphasizes values such as body positivity, diversity, and variety.
A teaser on the homepage of the online shop presents different images from the community, creating inspiration. Whether curvy or sporty, brunette or blonde, different people are given the chance to imagine how the underwear piece might look on their body.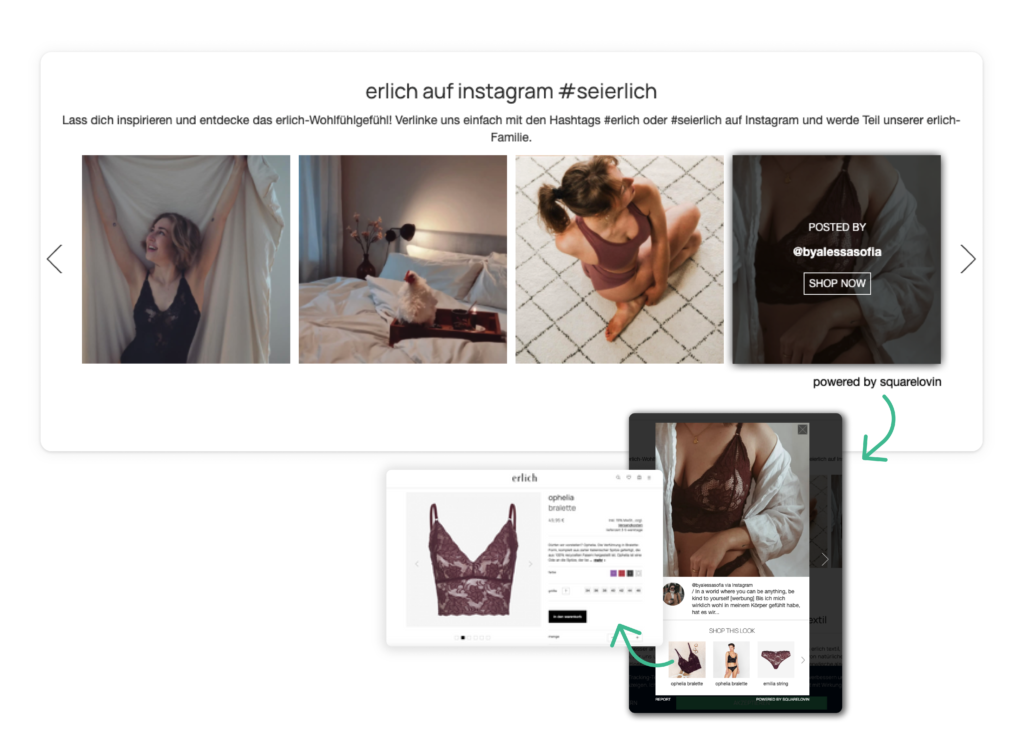 When users hover their mouse over the images within the teaser, the Instagram name of the person who posted the original image is displayed. This element has the function of showing social proof and makes the brand more approachable.
Clicking on the image opens a pop-up, which shows the products that can be seen on the image next to the original Instagram post. The visuals are linked to the respective product. Through this social commerce plug-in, one click takes the user directly to the respective product page. Inspiration and efficiency are often very close to each other – through a user-friendly design and commerce integration, sales can often be increased parallel to inspiration. Learn more about the brand's success story in our erlich textil case study.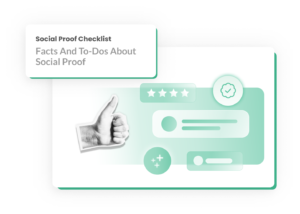 Download our checklist to have the key facts and to-dos about social proof at your fingertips.
Travel
Integrating images from the community has a strong customer focus and places customer interest at the center of your online store – at the center of inspiration. Such web design also has positive effects in the travel industry. Our blog article how to embed Instagram content on your website lists different possibilities on how you can integrate visual Social Content design-wise and technically into your online shop.
Tourism industry
The Tourism Association Ostsee Schleswig-Holstein uses social walls with different categories to give each region of the Baltic Sea its own spotlight. Through this element, users can specifically search for their vacation destination and get real life impressions. In this way, specific inspiration is created, no matter which part of the Baltic Sea coast a user is interested in. Besides the social wall of Ostsee Schleswig-Holstein there are many other inspiring Instagram galleries. We have put together the top 10 social walls of inspiration for you on our blog.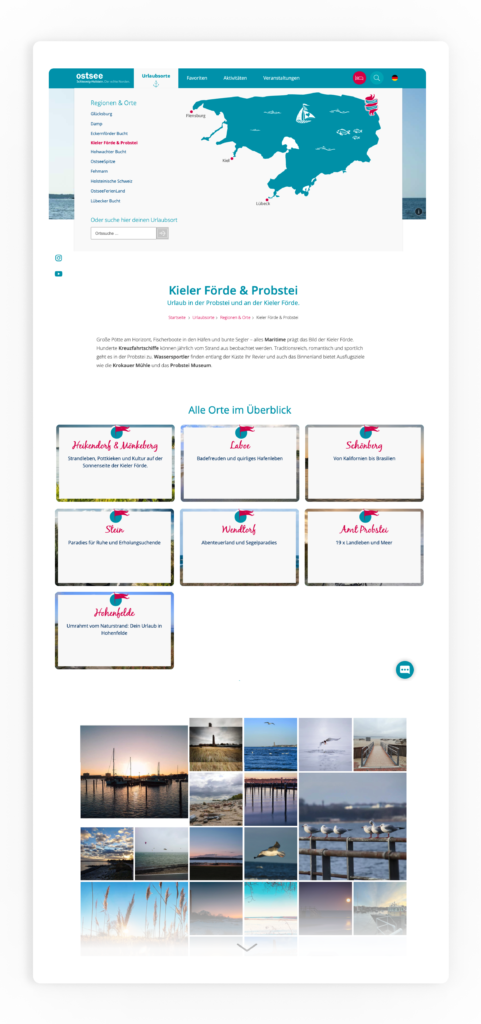 Hotel industry
Not only different regions can be focused through UGC. Specific inspiration can also be provided for certain events. Such is the case with our client Isla Bella Beach Resort. The hotel displays all wedding pictures that were taken at the hotel and shared on social media in a teaser. Through this website design, the resort highlights how wonderful the hotel location is for celebrating the potentially most beautiful day of your life in a dreamlike setting. People who are looking for inspiration for their wedding on the website will find what they are looking for.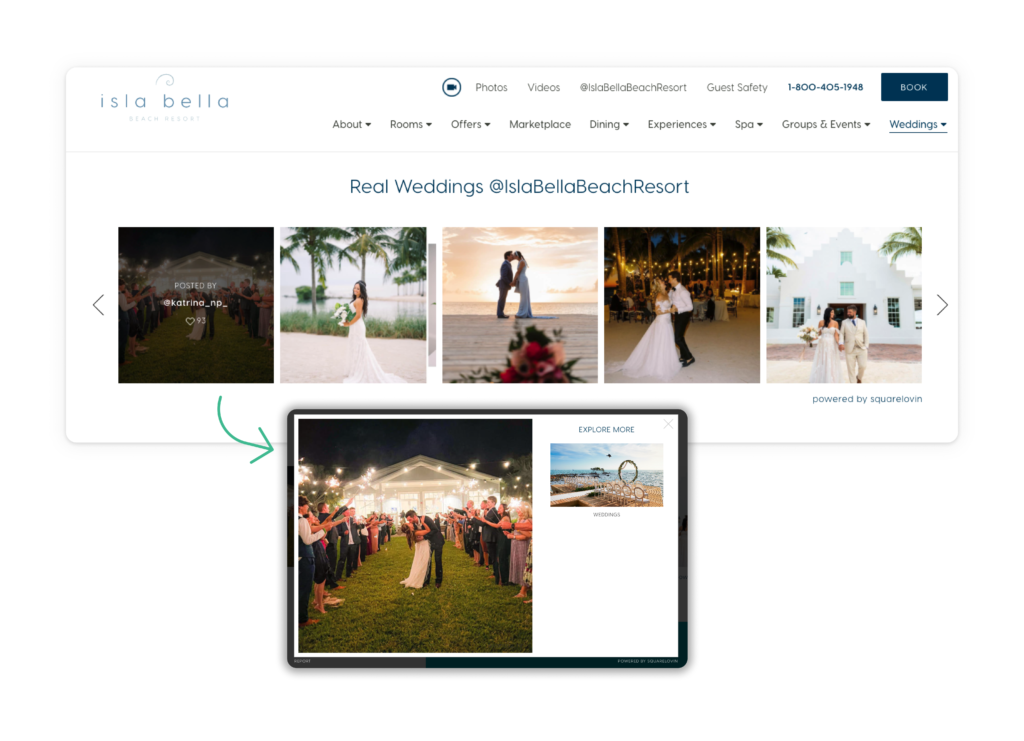 Artist supplies – Paper goods & creative equipment
Which industry is better suited to offer an online shop filled with inspiration than brands that want to appeal to creative people with their products? For example, the brand STABILO implements its own tab for colorful inspiration on its website. In it, the creative-equipment brand invites users to "let yourself be inspired."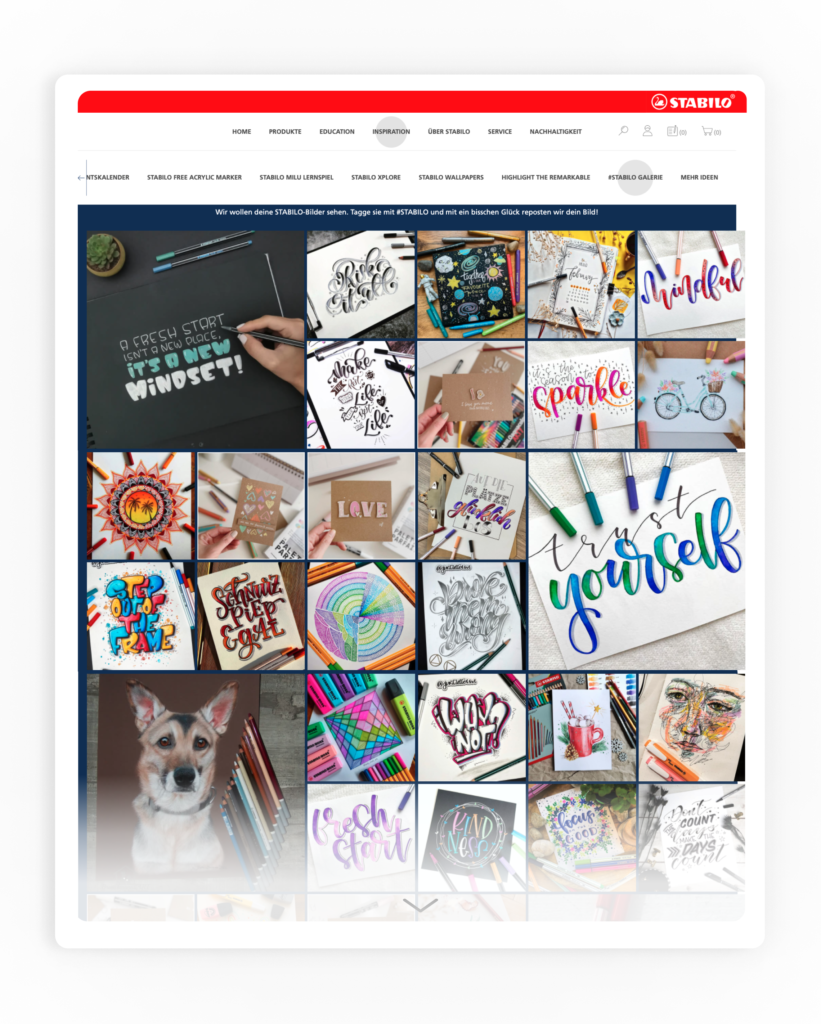 The UGC social wall displays all artwork that customers have created with STABILO products. This web-store design sparks ideas, provides online shop inspiration and encourages people to get creative. If you would like to read more about how the brand has turned its community into the mouthpiece of its brand, feel free to download our STABILO case study.
Interior design
Whether it is furniture, wall colors, imagery or decoration, companies from the interior design industry are well suited for an inspirational glow-up of their online shop through the integration of visual content. Depending on what specific inspiration is desired, from "I want to renovate my living room" to "I need a new carpet", website visitors can search through various categories, for what inspiration is desired.
For example, your brand can embed furniture or room-specific galleries and integrate filters. This gives website visitors the opportunity to search for what they are looking for within visual Social Content – from the living room table to the floor lamp to the perfect pillowcase. This allows your brand to respond to the specific needs and wishes of the target group and offers online shop inspiration and input for renovation-hungry customers. To learn more about different types of visual content production, feel free to read our blog post on the topic.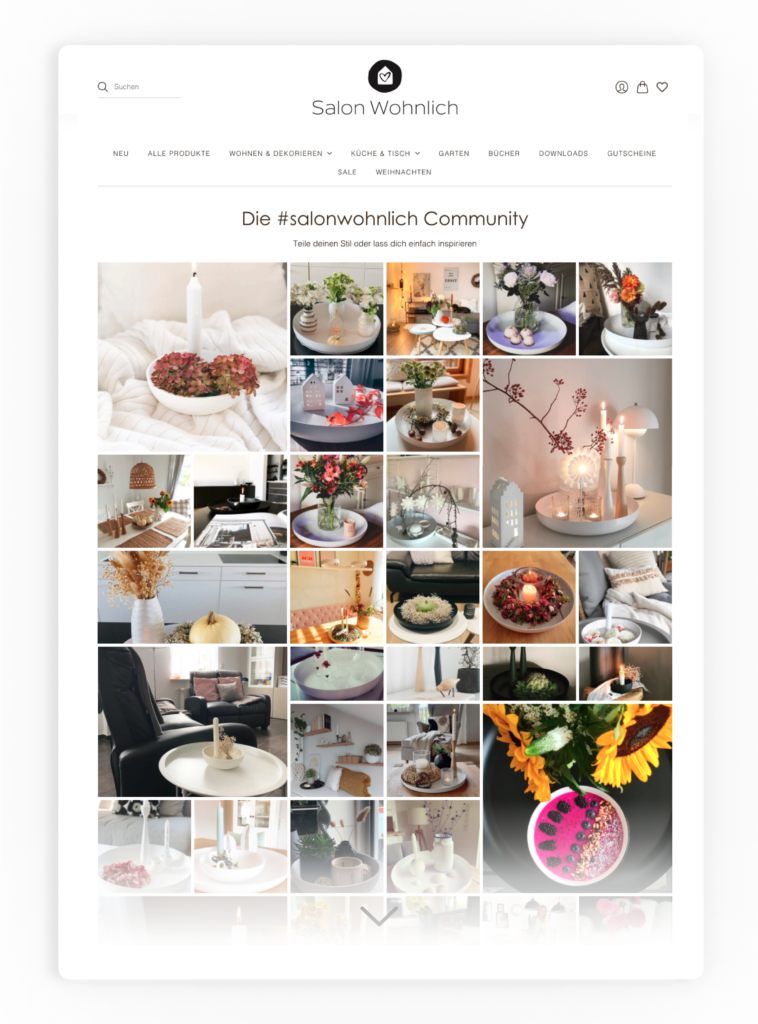 Outdoor & leisure
Do you have a brand from the outdoor, leisure or activity universe and want to inspire and motivate users to get active in your online store? Then specific galleries and teasers with different categories and filter settings are ideal, serving stunning visual Social Content.
You can use galleries and filters to differentiate your content into hobbies, manufacturers, or even clothing items. If people are looking for inspiration for trendy pants for skiing in your online store, you can explicitly show them inspiring pictures of them. It's also a great way to demonstrate how beautiful nature and outdoor activities can be.
The outdoor brand maier sports uses a teaser on the home page of its website to show mountain enthusiasts what its skiing gear looks like out in the wild.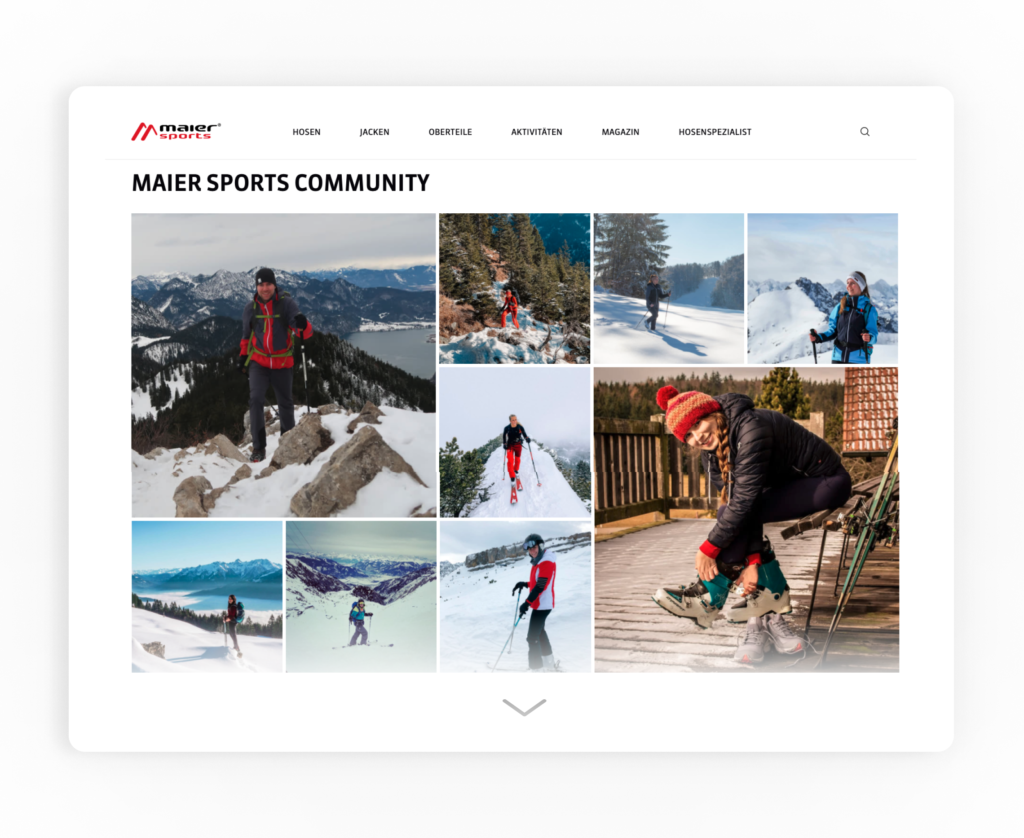 Family and kids
Visual information is perceived 60,000 times faster by the human brain than text. In addition, images address the part of the brain that arouses emotions ( cf. Nature Neuroscience). Images therefore support the evoking of emotions in the user.
Happy families and laughing children trigger joy in the vast majority of people anyway. If such visual content is integrated in the online shop, it is hardly possible to trigger more emotions and perceive inspiration. There is every reason to integrate social walls in the online store in this sector and thus to inspire users emotionally. To use stock photography in marketing is less inspiring and authentic, why?, you can read in our blogpost on the topic.
For example, if a person in your store is looking for toys for a nine-year-old child, an age group filter allows them to see only Instagram content that is relevant to them. In the social wall of our customer kindsgut, you can see how the children add life and emotion to the toys.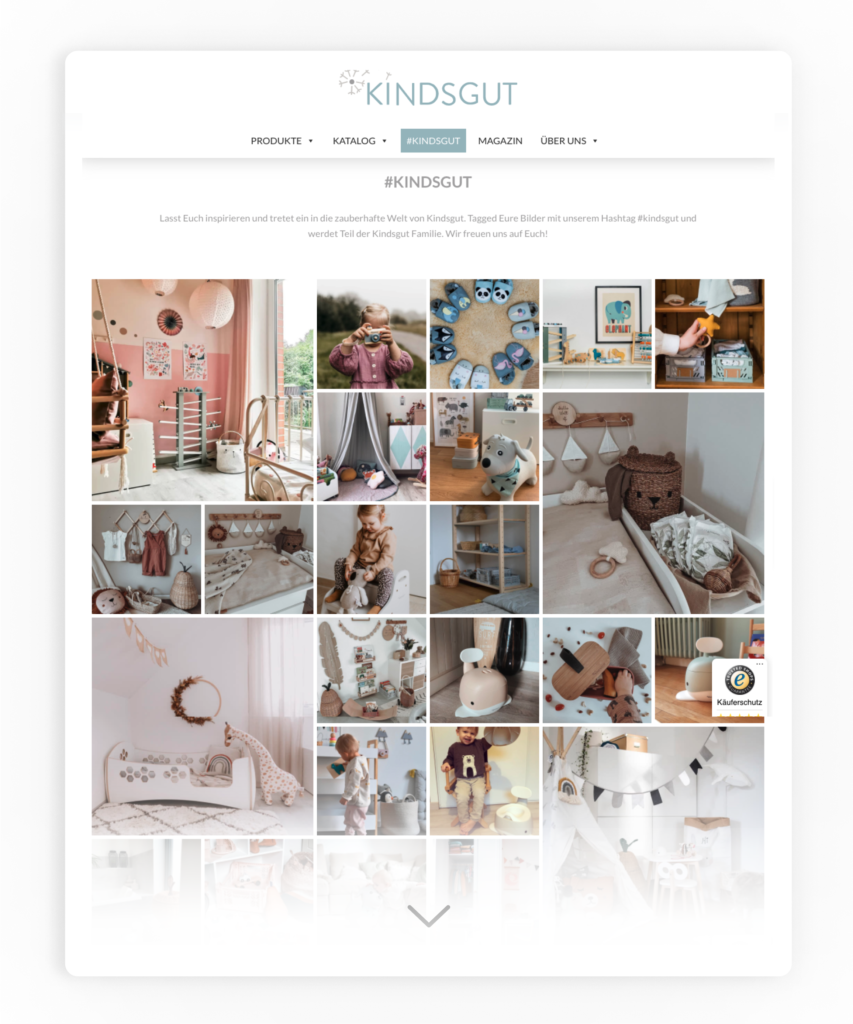 Retailer – using the example of the hair and beauty industry
Retailers can integrate different brand streams into their online shop. With the integration of UGC and different brand walls that reflect the individual aesthetics and different communities of the respective brand, visiting the online shop becomes a journey of inspiration.
Each brand listed by the online retailer has a personalized social wall that displays content of the corresponding community. This works across almost every industry. Likewise, SALONORY.com, Henkel's first online shop in the U.S., uses this kind of inspiration. The retail project unites eleven brands and pays homage to each of them with its own spotlighted social wall.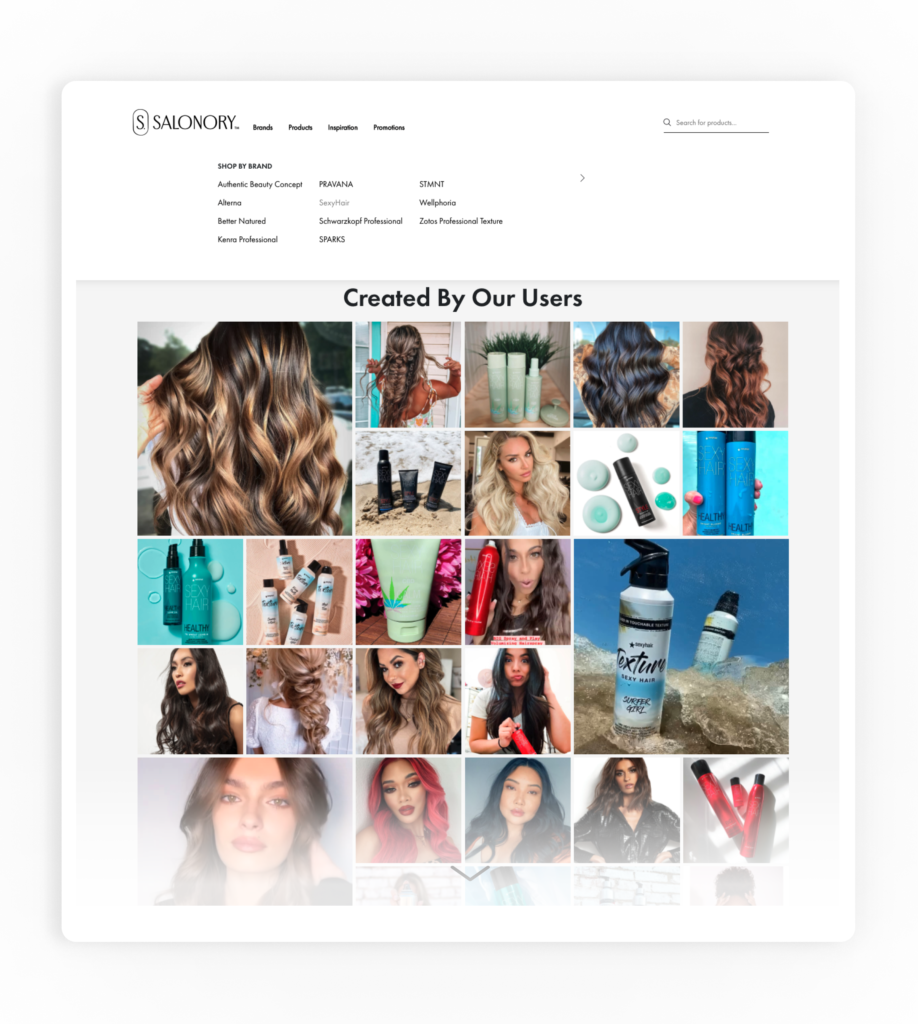 Conclusion
Infuse your online shop with inspiration and life. Visual Social Content elements in the online shop spark emotions and enable brand loyalty. The implementation enables specific inspiration and creates space for ideas and creativity. People inspire and motivate each other and strengthen the message and image of your brand. Enable inspiration too and take a look at our blog to see what possibilities exist to make the most of Social Content and establish customer-focused marketing. No matter what industry, integrating Social Content brings ideas to life and turns your online shop into a space of inspiration.
Sources
https://hirschtec.eu/kommunikation-im-21-jahrhundert-ist-visuell/
https://www.nature.com/neuro/articles