Instagram is one of the most popular social media platforms in the world. With over 1 billion monthly active users, it's a great way to connect with your target audience, attract new customers, and increase your brand visibility.
Instagram Business Accounts offer a number of features that help businesses and professional content creators achieve their goals. In this blog post, you'll find out what they are in detail. We'll also explain how to set up an Instagram business account and how to get the most out of it.
Click here if you want to jump straight to the step-by-step-guide.
What is an Instagram Business Account?
An Instagram Business account is a type of account designed specifically for businesses. It offers features not available on personal accounts, such as access to analytics and the ability to post ads. With a business account, companies can showcase their brand, products, and services to a larger audience and connect with their customers in a professional way.
In addition, users with a business account can also add contact information such as an email address or phone number to their profile, making it easier to get in touch.
What is the difference between a Business and Creator Account on Instagram?
Instagram offers two types of professional accounts for users: Business and Creator. Although they have some similarities, there are some important differences between the two. For your convenience, we've listed them here:
Instagram Business Account:
Developed for companies and brands
Access analytics and insights on your followers and posts
direct contact possibility in the profile
Placement of advertisements possible
Access to Instagram Shopping
Instagram Creator Account:
Designed for individual content creators, such as influencers and artists
Access to insights about your followers and posts
Option to store contact information
Possibility of labeling products of brands within the framework of official cooperation.
Access to Creator Studio
Do I need to get my Instagram account verified to turn it into a professional account?
No, verifying your account is not mandatory to turn it into a professional account. However, verification does offer some benefits for your Business or Creator account on Instagram. Verification confirms your identity as a person or business and gives you a blue checkmark next to your name. This increases users' trust in your profile and helps you stand out from other similar profiles.
In addition, a verified account gives you access to other features such as the swipe-up link in Stories or the embed code for posts. These features can be especially useful when it comes to generating traffic or promoting products.
However, you should keep in mind that verification is no guarantee that your profile will grow and your reach will increase. It still comes down to producing quality content and building an engaged community.
Why can't I use third-party tools like squarelovin with a personal account?
Third-party tools require an Instagram Business account, as personal accounts do not have access to certain features that are necessary for those tools to function properly. Business accounts provide access to analytics and insights about your followers and posts, allow tools to post or schedule content on your behalf, and serve ads, among other features.
How do I change my account type to a Business or Creator account?
To convert your Instagram account into a professional one, follow the steps below:
Open the Instagram app and navigate to your profile
Tap on the three horizontal lines in the upper right corner to open the menu
Tap on »Settings and privacy«
Scroll down to the »For professionals« section and then tap »Account type and tools« and then »Switch to professional account«
Next, select the type of professional account you want to create, Business or Creator
Check your contact information and connect your Instagram account to your Facebook account, optionally add it to your account overview
From the list of your pages, select the business page you want to link your account to, or create a new one
Once the process is complete, you'll have access to all the features for professional accounts, such as the Professional Dashboard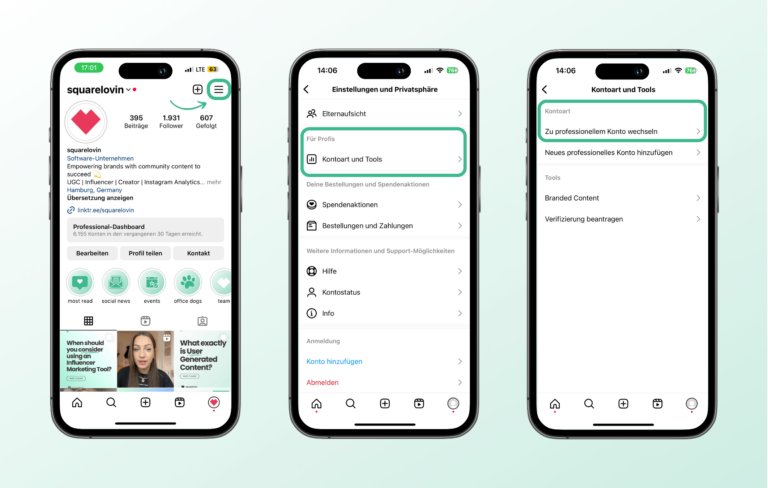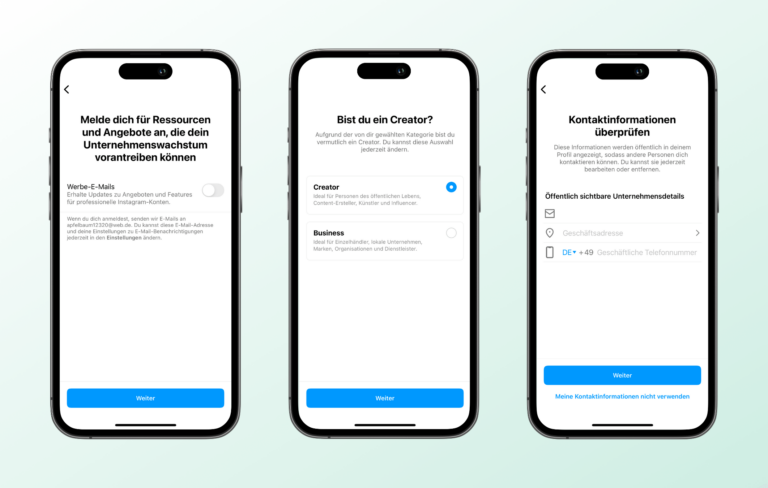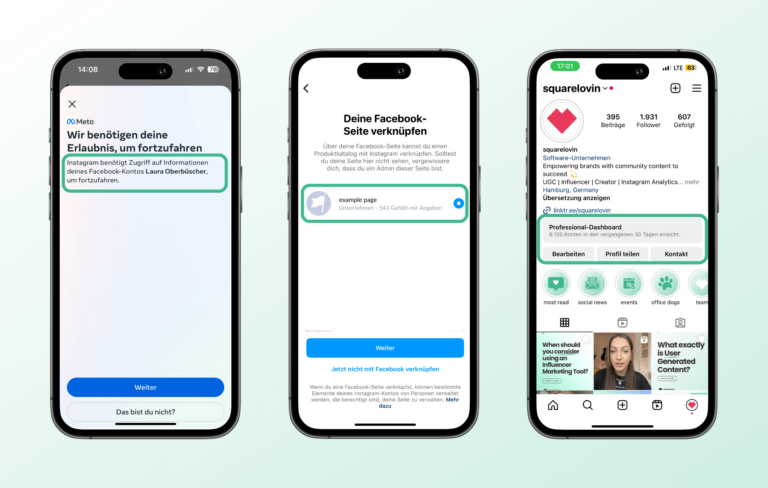 Why do I need an associated Facebook Business Page to set up a professional account on Instagram?
Both the social media platform Facebook and Instagram are now part of the Internet group Meta (formerly Facebook). Over the years, Meta has further integrated Instagram into its ecosystem and moved many processes, especially those related to account management, to its main platform, Facebook. As a result, Meta requires that professional Instagram content be verified via a Facebook Business Page.
How do I connect my Instagram account to a Facebook Business Page?
You can link your Instagram account to a Facebook Business Page directly via Facebook or via Instagram. However, it is important that you are the administrator of the respective page, otherwise you cannot perform this step.
If you don't have admin access to your company's Business Page yet, contact the administrator of the page to have your role changed. The settings for roles on Facebook Business Pages can be adjusted directly on the respective page via the »Manage« button. Once you click on it, a menu will appear on the left with the item »Page Access«, there you can change existing roles or add new people to manage the page.
If you have the necessary permissions, you can connect the Facebook Business Page to your Instagram Business account by following the steps below:
From Facebook:
Log in to Facebook and click on your profile picture in the upper left corner
Switch from your personal profile, to the business profile whose page you want to link to Instagram
Then click on »Settings and privacy«
Select the business page you want to link and then click »Settings«
Click on »Linked accounts« in the left column
Select »Instagram« here and connect your account
To confirm the link you will be redirected to Instagram and need to sign in there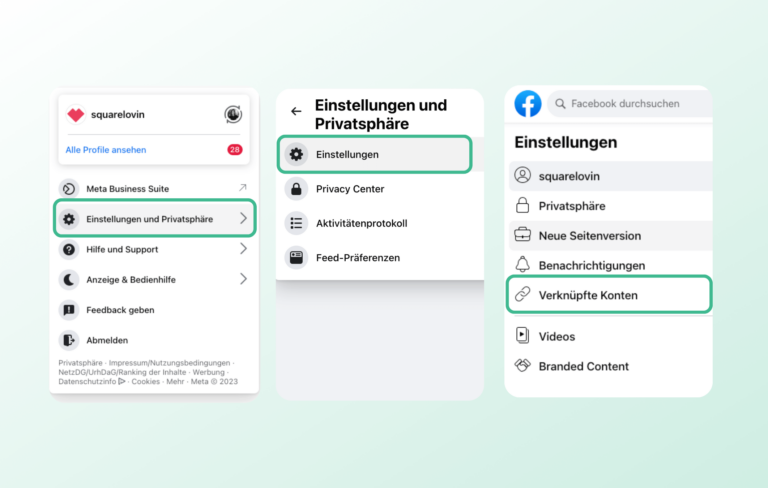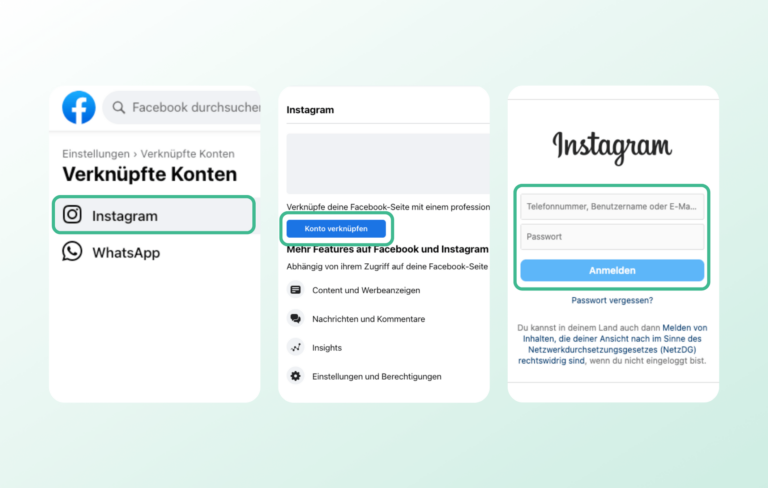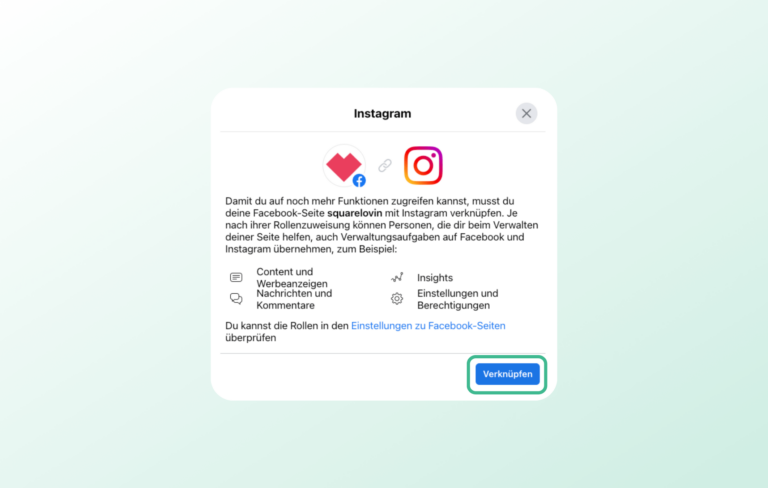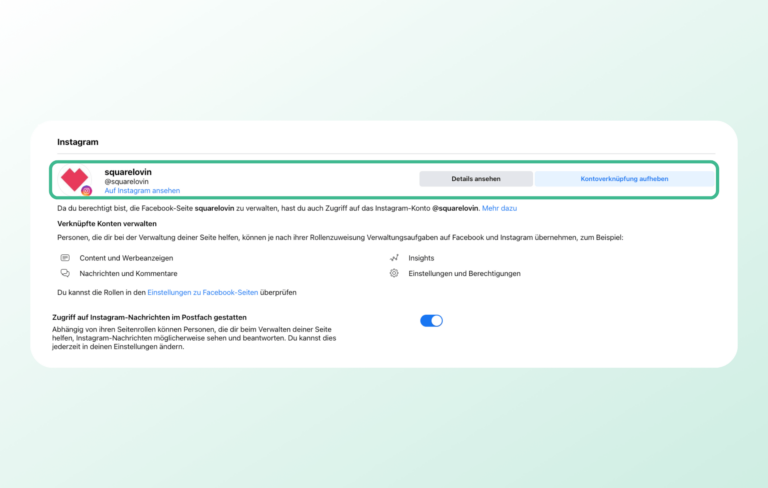 From Instagram:
Open the Instagram app and go to your profile
Tap on the »Edit« button in the profile
Then select the »Page« option under »Publicly visible company details«
Then click on »Next« in the pop-up and select the business page you want to link – if you don't have a related page yet, you can also create a new one here
Click »done« to save the changes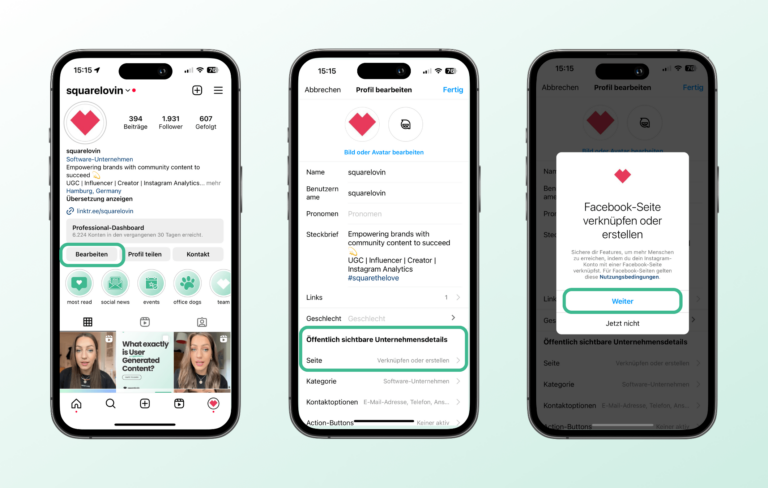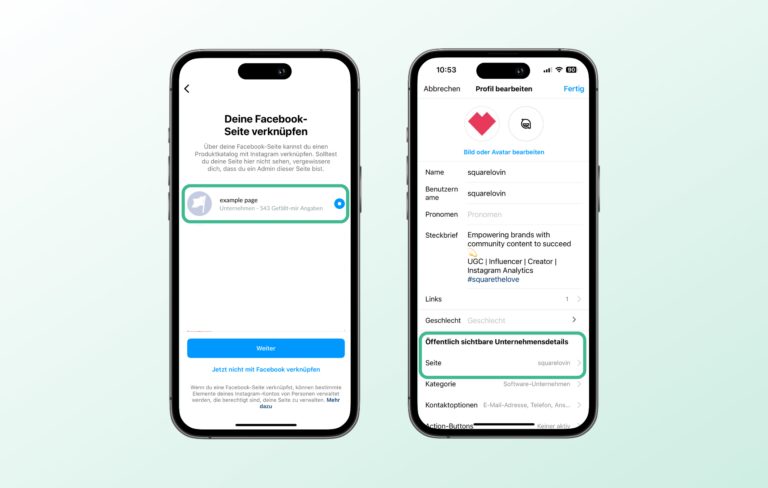 How do I create a new Facebook Business Page?
Log in to your personal Facebook account.
Click on »Pages« in the left menu and then on »+ Create new page«.
Select »Company or Brand« as the page type.
Fill in the basic information like name of the page, category and description
Add a profile photo and a cover photo
Complete the process by clicking on »Create page«.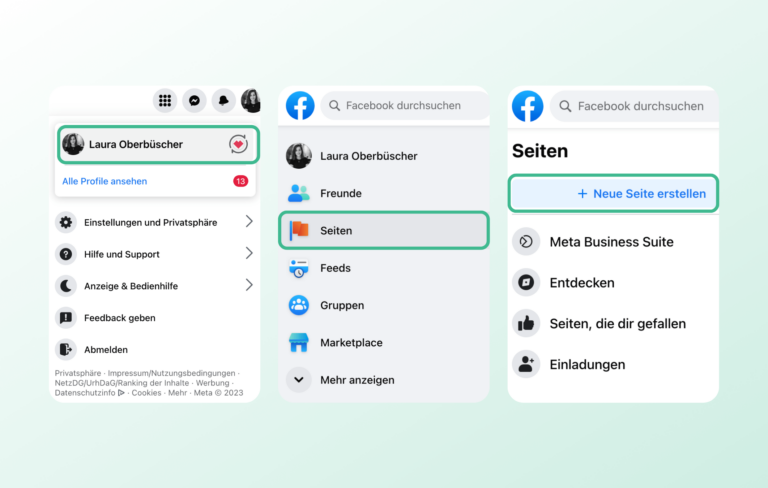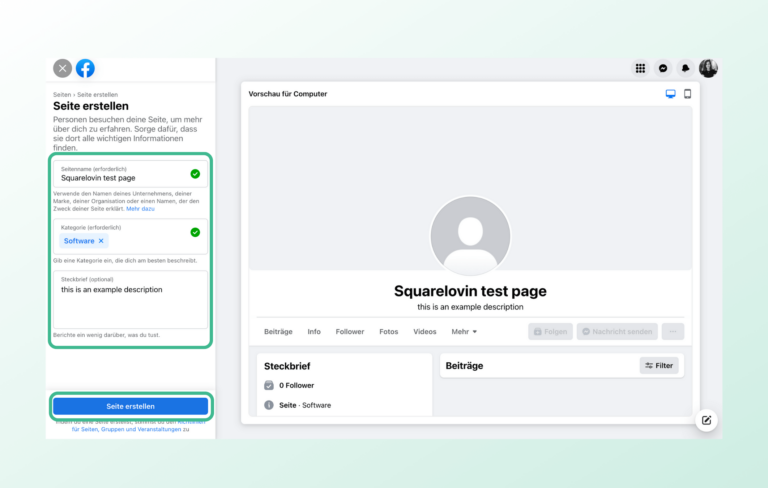 In summary, creating a professional account on Instagram offers many benefits for businesses, influencers, and creators. The benefits of an Instagram business or creator account include access to valuable statistics and insights, such as the age, gender, and geographic location of your followers, as well as reach and engagement analytics. Plus, with a business account, you can add more information to your bio, such as the location of your business, your services, and your industry. You can also run ads and sponsored posts to reach a larger audience. 
Another great advantage of having a professional account on Instagram is that it allows you to link directly to social media marketing tools, such as our squarelovin Instagram Analytics, or a scheduling tool to professionalize your Instagram activities.