Why do people on boats always wave? And why do strangers on the shore always wave back happily? The answer lies, as it does so often, in psychology and is called herd mentality (source: stangl) or social proof. Humans are primarily emotional and social beings.* According to this fact, a variety of behaviors are not rational, but based on an established consensus or the adaption of how others are behaving in a situation. Other people wave – so do I. Especially when people feel uncertain, the behavior of peers provides guidance.
This does not only apply to boats and waving but, more importantly, also to purchasing decisions. Using social proof examples, we will show in this blog post, how e-commerce companies can benefit from the targeted use of social proof content, especially in marketing.
What is social proof?
Social proof is a psychological phenomenon that says that people base their actions on other people's behavior because they consider this behavior to be trustworthy and appropriate. "We see behavior as more appropriate in a given situation when others do it too" (cf. Robert Cialdini). People often adapt the behavior of their friends or their online community. Especially in uncertain situations social proof is a proven tool to suggest trust and reliability. So it's true: purchasing decisions are often made through external orientation.
Different types of social proof – Social proof examples
The US tech news portal TechCrunch differentiates five types of social proof: expertise, celebrity, other users, swarm intelligence, recommendations from friends. We have broken down the most important types for you in more detail.
Customers' opinions
Others who have already bought a product or experienced a service obviously know more about it than new customers and can evaluate aspects such as quality and service. According to surveys, more than two-thirds say they are inspired by customer online reviews when it comes to buying a product for the first time.
Product Reviews
Opinions of people who have already used a product or service are reflected by online reviews. One target group for which the embedding of reviews as social proof is a good idea is people looking for the right dinner. Potential customers, people who are looking for the perfect delivery meal. For example, the Dutch-based food delivery company Just Eat Takeaway uses a five-star rating scale to show how satisfied other customers have already been. This creates social proof through reliability and real, visible confirmation.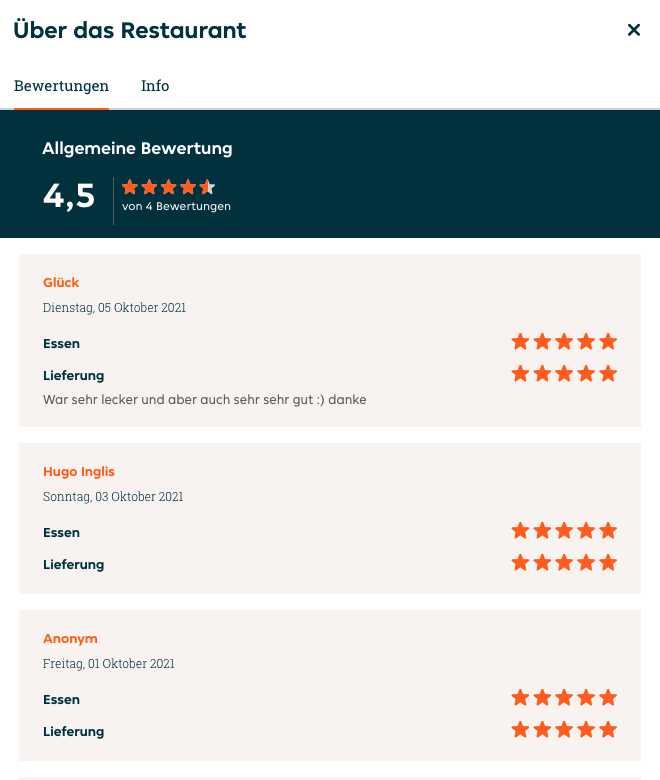 Word-of-Mouth
Opinions of others are often passed on by word of mouth (source: Wirtschaftslexikon). Recommendations from personal contacts have a particularly strong influence on the formation of one's own opinion and the resulting purchase decision, as these are classified as more credible. In the beginning, recommendations were usually reproduced by spoken language. However, the word-of-mouth principle can also be excellently transferred to the digital world, especially to social networks.
Word-of-mouth is especially used in influencer marketing. Using product seeding, products can be promoted authentically via content formats such as stories or videos. Influencer Marketing is particularly effective when this content is additionally reused for paid ads via influencer whitelisting. However, many marketers are still unsure how to measure the success of a campaign with influencers. Find out how to determine your Influencer Marketing ROI and thereby check the cost-effectiveness of your campaigns in our related blog post.
Social Media – Comments
Comments on social media posts are also a form of word-of-mouth. For example, if I see other people commenting on a brand's product post and I don't even know these people, I automatically perceive the product and the brand as more positive. This can significantly contribute to a purchase decision, because I see that many other people also use the products of the brand.
Social Media – Likes and Shares
The same is true for shares and likes. Many likes and frequent shares suggest that many other people have also interacted with a piece of content and that a large mass agrees with the message of the content. There seems to be an established consensus regarding the product. In the example of likes and shares, trust and proof is openly displayed, which benefits the brand image. However, the focus here is on quantity rather than quality. If a person is particularly insecure and needs a lot of guidance to be convinced to make a purchase, many likes and shares are often not enough. In combination with other types of social proof they make an excellent contribution to holistic social proof in e-commerce.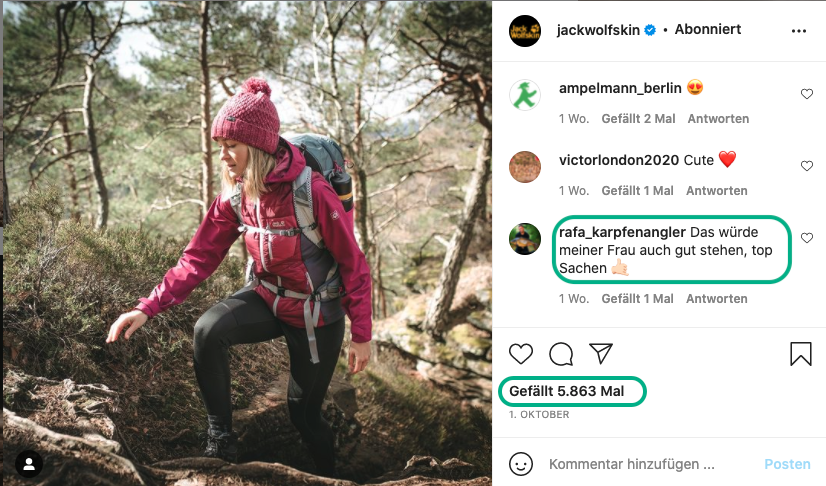 Experts
As soon as someone is labelled an expert, we automatically ascribe them great proficiency and authenticity – no matter if the person actually is an expert, or simply an actor squeezing toothbrushes on tomatoes in a TV ad. A study by the American psychologist Dr. Robert Cialdini shows that solely a secretary's reference to the many years of experience of her colleagues to whom she forwarded callers led to 20 % more customer appointments and 15 % more signed contracts.
Celebrities
In the 1960s it was the Beatles' mop-top cut, in the late 00s Justin Bieber's sides wept bangs. Time and time again, celebrities set trends that people decide to adapt – apparently without putting much thought to it. This also applies to product recommendations made by famous people. In those cases the so-called halo effect (source: Spektrum) comes to work, which is described as the tendency for an impression created in one area to influence opinion in another area. For example, when Beyoncé in her role as a flawless pop icon advertises a shampoo she claims to swear on, it signals to us that this shampoo must be a very good and special product. To learn how to authentically integrate influencer content into your marketing as part of influencer relationship management, read our blog post on the topic.
Certifications
Further studies by Cialdini show that customers trust doctors significantly more when certificates are clearly visible in their office. This observation can be transferred to online shops as well. If well-known symbols such as Trusted eShops for example are prominently placed in an online shop, visitors are more likely to make a purchase.
Friends and Peers
According to studies, 84% of participants indicate that their buying behavior is influenced by recommendations from friends and acquaintances. This mainly lies in the fact that people generally consider recommendations by people close to them to be honest. In contrast to product recommendations by influencers, for example, since boundaries between their own opinions and paid advertising are becoming increasingly blurred.
Wisdom of the Crowd
If many people approve of something, then it must be good – at least that's what we tend to assume. For his bestselling book Influence: The Psychology of Persuasion (1984), American psychologist Dr. Robert Cialdini conducted a series of experiments in the 1980s that proved this behavior. For example, restaurants that advertised a particular dish as their most popular one, saw a 20-30% increase in the sales of it.
How is social proof relevant for e-commerce?
Supporting purchase decisions through social proof
Numerous studies show that social proof influences decisions. The impression that many people approve of something has a positive effect on the behavior of others. The same mechanism also applies to purchasing behavior. More than 80% trust recommendations of friends and acquaintances when buying products for the first time. Only 48% of buyers, on the other hand, consider classic forms of advertising to be trustworthy.
Especially digital social proof counteracts this loss of trust and helps brands to create an appealing and personal brand image across all channels, as the Nielsen Global Survey of Trust in Advertising confirms. For more detailed information on social commerce, feel free to check out our blog article on it.
In Influencer Marketing, brands also benefit from social proof, provided that companies can find influencers best suitable for their brand. Creators are both role models and experts for their communities, which means they have a strong influence on the purchase decisions of their target group. Find out how to calculate influencer marketing costs in our related blog post.
Social proof Marketing – The eBay Example
Social proof is a confirmation for potential customers that people who have already made a purchase at a brand were satisfied. Thus, it can be deduced for marketing that all positive statements about products and/or services of the company should be used for the marketing strategy in order to create trust and persuasion.
We've probably all read the sentence "X out of Y people are also looking at this article right now". This is an indicator for social proof as well. In addition to the feeling that the item could quickly be out of stock, customers are given a sense of security in their choice and taste. To illustrate other indicators of social proof in e-commerce, the american online marketplace, eBay, can be used as an example. The outlined values are further ways of integrating social proof into marketing. Among other things, they show concrete actions of other buyers:
How many items have been sold in the last 24 hours?
How many items are still in stock?
How do customers rate the product?
How many items have been sold in total?
How is the seller evaluated?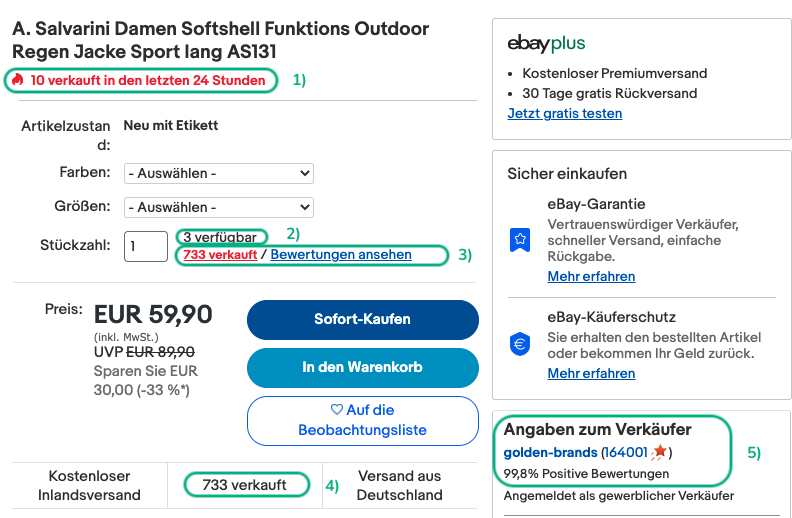 Social proof through UGC
The integration of User Generated Content (UGC) is a valuable tool when it comes to including digital recommendations in marketing. UGC comes straight from customers and provides up-close, authentic, but also particularly versatile impressions of a product or service. Consequently, the integration of UGC into the marketing mix represents a trustworthy and appropriate base that supports customers in their decision-making. Besides, your online shop becomes a space of inspiration – you can read more about it in one of our blogposts.
On Instagram, more than 500 million users are active every single day. This number gives a small insight on the sheer mass of postings that are continuously being generated and interacted with on the social media plattform. UGC management tools such as squarelovin can also be considered a social proof software. They enable brands to use the large number of visual content to their advantage and precisely filter for relevant content. In accordance with German law, it is also automatically ensured that the creator approves the usage rights and copyright on Instagram, Facebook and the like. Through using this customer created content, brands are able to present their products in a wide variety of settings with little to no effort. At the same time, social proof advertising allows them to convey more authenticity and trustworthiness than regular advertisements would. You want to see how aesthetically pleasing the integration of UGC can be? Then take a look at our Top 10 Social Walls of Inspiration blog post.
Many of our customer's experiences show that professional UGC integrations on a website or online shop lead to significant improvements in performance. On average, the conversion rate in online shops increases by 210% when user-generated content is featured. If you try to make the most of Social Content, the length of stay on the website extends by an average of 29%, while the average shopping cart rises 13.7%. Moreover, the clickthrough rate improves significantly with an average increase of 59.25%. If you'd like to learn more about how UGC can positively impact your sales, feel free to read our whitepaper "Boost your Sales with UGC".
Gain social proof and make it usable
Short recap: Make sure to collect all feedback, ratings, comments and social content related to your business and think about where in your marketing strategy this content can strengthen your brand message. Social proof is a good base for brand loyalty. In addition to the social proof that already exists, it is smart to directly and actively request reviews and encourage your community to share social proof in the form of social content. In our Knowledge Corner you will find a Social Proof Checklist that summarizes the most important information on this topic.
Actively ask for ratings
Send automated emails after the customer makes a purchase inviting them to leave a review. Include direct links to feedback options to minimize user effort. How happy are you about the website and the customer journey? How do you like the product and the service? Doing so, you collect authentic and real feedback that can be used as social proof. For even more customer feedback, you can send standardized feedback forms, such as Amazon's "How was My Driving", which can be filled out in a matter of seconds. This will give you ratings that you can use to show people that your brand supports them in the best possible way, even in problem situations, and that customers come first.
Establish hashtags
Social media is loaded with social proof. Every day, thousands and thousands of images, videos, and stories are posted showing how people wear brands' products and how they rate them. In order to filter what content is available for your brand, it is a good idea to use hashtags as anchors. This way, the entire visual Social Content of your brand can be precisely filtered and sorted. Besides, potential customers can search for your brand hashtag to get inspired by the visual content productions of your community or to look for confirmation and thereby build trust in your brand.
Another positive aspect of hashtags is that they encourage your community to post even more content related to your brand. Hashtags build relationships and networks by giving people a sense of belonging to a group. Using the same hashtag as another person, creates a connection and allows communities to form and grow. This, in turn, has a positive impact on your brand identity and creates a reciprocated feeling of being seen by your customers. You can establish hashtags by including them in campaigns, prominently displaying them in your store, or including them on your product packaging.
Profit from your community: Case studies & testimonials
Proactively create case studies and look for testimonials. Case studies are an excellent way to show how customers benefit from you as a brand and which great experiences they have had with your products and services. Positive user experience and a positive customer journey are perfect for organically underlining the added value that your brand creates.
In addition, this type of social proof has another benefit – customer loyalty: You honor your existing customers and interact with them. This makes them feel seen and valued and increases the likelihood that they will buy from you again. Ask your sales team and customer service department to regularly inform your marketing team if and which exciting use cases exist and which positive user experiences you can integrate into your marketing. Why stock photography should not be used in marketing, you can read on our blog.
Social proof as a long-term investment
However, it is not enough to collect social proof and actively ask your customers for reviews. To ensure that a positive image of your brand is established and worth the effort, you should make sure that social proof is weaved into your marketing strategy in the long run. You can read how to embed Instagram content on your website on our blog. A positive image doesn't build up overnight, but must be fed continuously, over a long period of time, and reinforced again and again. Good things come to those who wait, which means: integrate social proof into your marketing and e-commerce by developing a long-term strategy of how you can use positive buying experiences and reviews to let your brand shine bright like a diamond.
Conclusion
We wave from ships because others wave from ships. We cross the road while the red lights are on because we see other people doing the same. We buy protein shakes because we see on Instagram that other people are excited about them. We are social beings and for this reason we naturally trust in what others do. Knowing this influence of the psychological phenomenon called social proof is not only helpful to better understand the person across from you, but also an important tool for marketing. Integrate the positive feedback that already exists about your brand and actively ask your customers to rate your products and services. Remember: purchasing decisions are often made through external orientation.
Social Proof Infographic

Embed this infographic on your own website
Just copy this code and embed it on your website:
<a href="https://blog.squarelovin.com/social-proof-im-ecommerce/"><img loading="lazy" src="https://blog.squarelovin.com/wp-content/uploads/2021/08/2019-07-24_19-51-20.png" alt="Social Proof Infographic" title="Social Proof Infographic_en" /></a>
Sources:
https://lexikon.stangl.eu/2695/herding-herdentrieb
https://link.springer.com/chapter/10.1007/978-3-531-91345-2_2
https://onlinemarketing.de/lexikon/definition-social-proof
https://techcrunch.com/2011/11/27/social-proof-why-people-like-to-follow-the-crowd/
https://www.spektrum.de/lexikon/psychologie/halo-effekt/6232
https://www.nielsen.com/us/en/insights/article/2013/under-the-influence-consumer-trust-in-advertising/
https://wirtschaftslexikon.gabler.de/definition/word-mouth-51942
https://www.influenceatwork.com/principles-of-persuasion-are-not-just-for-business/
https://business.instagram.com/
https://www.futurebiz.de/artikel/instagram-statistiken-nutzerzahlen/
https://onlinelibrary.wiley.com/doi/abs/10.1002/mar.21191
*Der Mensch ist von Natur aus "sozial" und geht persönliche Beziehungen ein (vgl. Aristoteles, Politik, I 2 1252b; III 6 1278 b; Cicero, De re publica, I 25,39. auch https://stjosef.at/artikel/mensch_als_soziales_wesen.htm#_ftn1 )
Cialdini, R. B. (1984). Influence: The Psychology of Persuasion (ISBN 0-688-12816-5). Also published as the textbook Influence: Science and Practice (ISBN 0-321-01147-3), online unter: https://www.amazon.com/Influence-Psychology-Persuasion-Robert-Cialdini/dp/006124189X/ref=asc_df_006124189X