The fact that we no longer have to leave the house to do shopping has been known for quite a while now. E-commerce, or as it is popularly known, "online shopping", has received an even more important significance in our everyday lives in the times of COVID and the related restrictions of human interaction.
Social life is shifting more and more to the online world, to social networks. Instagram is no longer a pure entertainment app to share photos or to communicate, rather it's becoming a place of inspiration, a place to consciously go to make buying decisions, a place of social shopping. People search for specific products, brands or services on Instagram and use this to research to decide whether they should make a purchase.
What is new is that we don't even have to leave our favorite social media platform to do shopping, everything happens automatically with a click in the familiar surroundings. Virtual price tags – direct links to the shopping basket, that's the shopping vibe 2021. Following the motto ""shop till you drop"", people are shopping online everywhere on the socialnet. But what exactly is this trend called "social commerce" all about? First, a couple of important definitions:
Definitions for a wider context
E-commerce
E-Commerce [also: electronic commerce or online commerce] refers to all sales processes conducted electronically. In this form of commerce, purchasing processes take place via the Internet, i.e., digitally mediated, rather than face-to-face through direct physical contact.
Shoppable social content
Shoppable social content refers to any social content (source: Gartner) that enables consumers to add products to their shopping cart with just a few clicks. This means, for example, videos, articles or images that offer a direct purchase option. The discovery of the product and the actual purchase are only a few moments – or rather a few clicks – apart, which significantly increases the conversion rate and sales.
Social commerce
Social commerce is a subcategory of e-commerce that refers exactly to this shoppable visual content. Social commerce is a symbiosis of e-commerce and social media. Social networks are used as the basis for purchase transactions, they are turning into social commerce platforms. The functionality of the convenient online shopping experience is integrated directly on the social media platform, into the digital living room of every user.
Either the entire sales process takes place on a social platform or shoppable social content promotes sales in the brand's own online store. Therefore social commerce is a new, contemporary variant of e-commerce. Higher, faster, further is the motto of customer experience here.
Social commerce in numbers
More than two thirds of the time we spend on our cell phones is spent on social media – according to studies, there are currently around 4.2 billion active users on all common platforms combined. The global online fashion market is expected to grow to $872bn by 2023. 74% of consumers use social networks to strengthen their purchasing decisions. Online marketing inevitably means social media marketing as well. Due to the long that is on average spent in these apps, social networks offer enormous potential for companies and brands to reach customers and accompany them on their customer journey.
More than half of all online purchases are nowadays achieved through social commerce. Consequently, it is only logical for brands to integrate social platforms into their e-commerce journey – social commerce is no longer just a trend, it is the future.
Influencer marketing meets social commerce
Integrating influencer content into marketing is an efficient way of visual content production. Social media influencers who promote brands online in the course of influencer relationship management go hand in hand with the expansion of various social commerce functions. Influencers recommend brands to their community via product seeding and, thanks to their reach, meet the target group in the place where they spend their time anyways. When companies find influencers best suited to their brands, they benefit from the authentic content of the creators. Influencer content gives users direct buying impulses and can be reused multiple times via influencer whitelisting. If in addition followers are able to get to the product with just one click, a purchase is much more likely.
However, it can be difficult for companies to determine both the success and the final costs of a cooperation with influencers. In our blog posts on Influencer Marketing ROI and influencer marketing costs, we show you how to measure the progress of influencer campaigns and provide you with various pricing models for collaborations.
Why is social commerce worth it?
Benefits for your brand
1. Boost brand visibility
In a nutshell, social media boosts your company's brand visibility. Potential customers are influenced by existing real customers. This is not a made-up, it is fact proven: Around ¼ of consumers say they first became aware of brands through recommendations on social networks.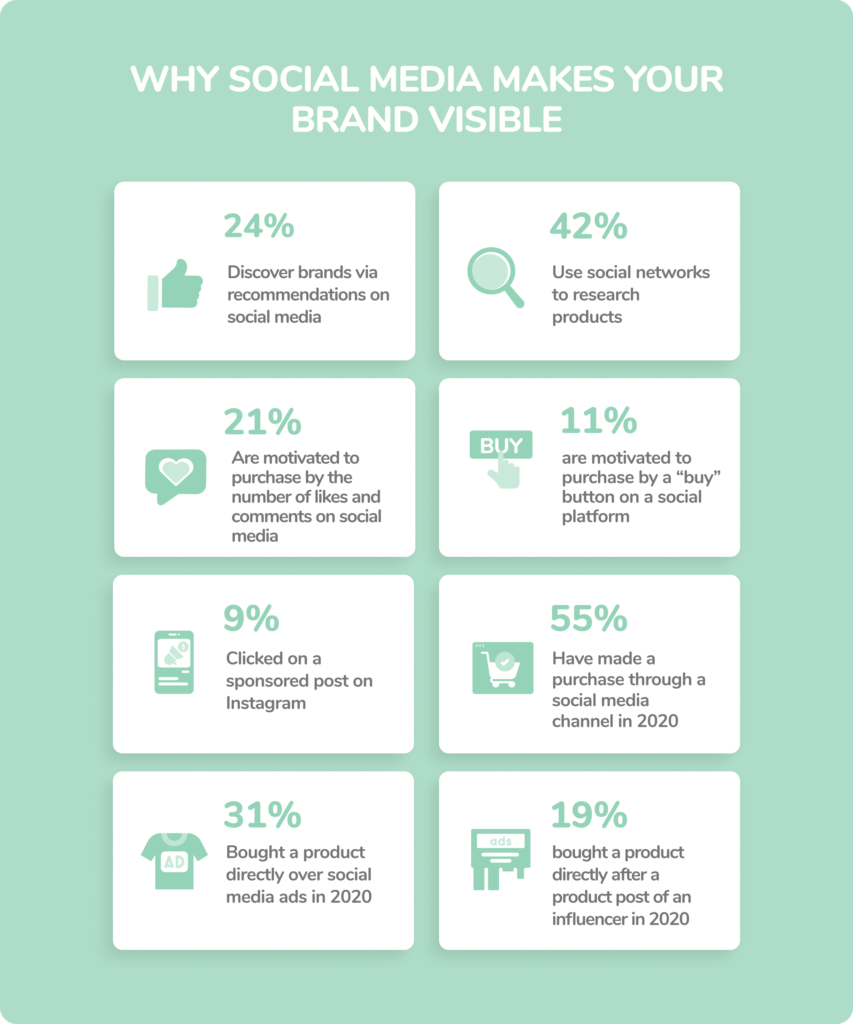 2. Endless opportunities for brands to develop
Online, brands have the opportunity to present themselves in a more versatile way, they are not limited to the size of an ad, the duration of a spot or other limiting guidelines. Advertising your brand on social networks also comes with manifold benefits. How to make your online shop a space of inspiration you can read in our blogpost about the topic.
3. Expansion of the target group
Facebook, TikTok and the like enable brands to reach larger target groups. In turn, they make it easy for consumers to get in touch with brands and guide them conveniently through the product decision and final purchase process. This creates a holistic online shopping experience. Potentially, social shopping aims at every person who is active on social media. Hence, embedding a social network into the buying process is also suitable for almost every company that engages in online commerce. You can read why your product pages should include images plug-ins on our blog.
Benefits of social commerce for your customers and your brand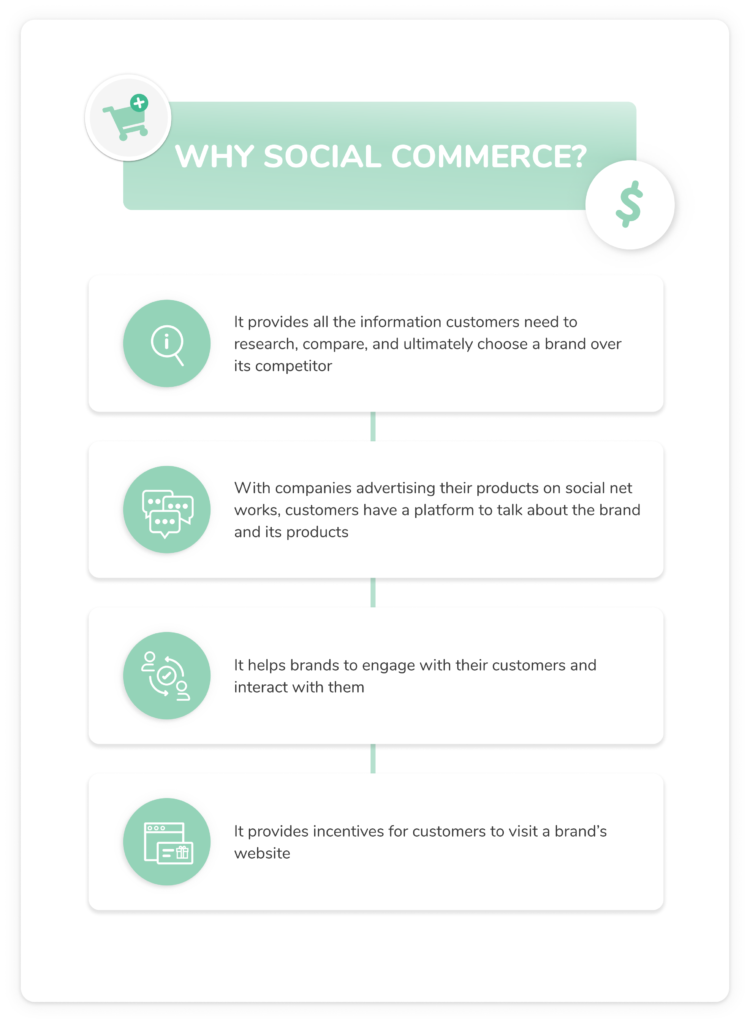 1. Holistic shopping experience
From catching their attention, to getting them excited about your brand, to helping them make the final purchase decision: all of these stages can be accomplished with social networks. Social commerce takes potential customers by the hand and accompanies them step-by-step on their journey until they make a purchase.
The holistic shopping solution of social commerce provides them with all the relevant information they need for their research and comparison with other products and brands, bundled up at one glance. Instagram e-commerce turns the social network into a comparison portal.
2. Social media as the new search engine
Through social media, potential buyers do not only become aware of products, but also search for information, different opinions, and experiences. 60% of Instagram users consciously use the platform to search for new products. Instagram is a search engine, a place where buying inspiration is looked for and, at best, found. Therefore, what is better suited than Instagram to spread the good news about an inspiring product or an innovative brand?
3. Interaction boost through network structure
As the name suggests, social networks connect people with each other and, thanks to this structure, form a foundation for interaction. Brands also benefit from direct communication, as they can enter into a dialog with their customers and support them in their buying process on the social media platform.
Advertising by companies in the form of posts on social media also offers consumers the chance to exchange information about brands and products under a post. Interaction on your brand profile and in the comment sections of your content also plays a key role in this regard.
Around 25% of people surveyed by globalwebindex said that likes and comments from other users have a key influence on their purchase decision. People who are interested in buying, exchange ideas on Instagram with people who have already bought the product. Recommendation marketing is the name of the game. At the same time, positive feedback serves as social proof. Learn more about social proof in our related blog post.
4. Favoring community building & website visits
Due to the fact that no other marketplace is involved in social commerce, consumers and companies come into direct contact with each other, which makes it possible to build up a strong community. Social commerce plugins, buttons or ads with calls-to-action that directly link to the respective online store also provide consumers with incentives to visit a brand's website.
5. Simplification of the customer journey
The social customer experience makes the buying process less complex and thereby minimizes the chance that prospective buyers will cancel the shopping experience before completing the purchase. This is extremely practical and user-friendly for potential customers: if they come across an interesting product while browsing Instagram, they can call it their own with just a few clicks.
Overview of key social commerce features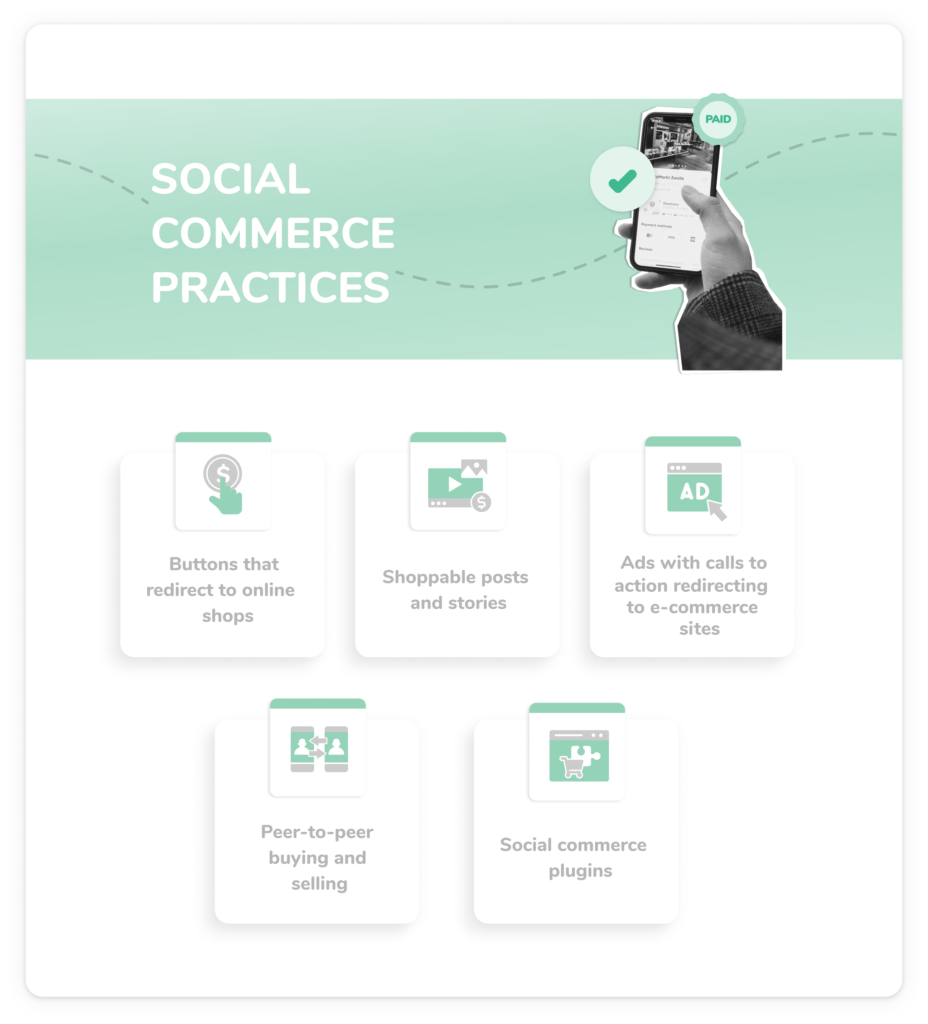 Buttons, shoppable posts or ads
There are several ways to upgrade the e-shopping experience through social media: first of all, it is possible to include direct links to the brand-website, for example via product links in feed posts, ads with calls-to-action (source: onlinemarketing) to online stores or tap tags in Instagram Stories. Customers don't have to actively visit the online store, but are conveniently redirected by a few clicks without having to leave the social media channel. To sum it up, social commerce shortens the customer journey & significantly boosts the customer experience.
Social commerce plugins on websites
Another option is to integrate shoppable posts and stories into the brand's own online store. The keyword here is authentic marketing through User Generated Content (UGC) and organic influencers. The possibilities to make the most of Social Content are almost endless.
The implementing UGC in your brands online store, for example through product streams or interactive social walls, creates a sense of closeness, is authentic and puts the products in the spotlight in a number of ways. It helps a wider range of people to identify with your product and brand through this content marketing strategy. You can learn more about this topic in general in our Basic Guide User Generated Content.
App-specific social commerce
Instagram in-app checkout
This feature is unique for Instagram users so far. With in-app checkout, users no longer have to use their browser to make a purchase. Their own payment information can be stored securely and centrally on the social platform.
Instagram commerce allows users to make purchases from brands of their choice on the platform without having to log in again or re-enter their data. The complete integration of the payment process into the app, however, is only available in the US so far. Selected brands such as Adidas, Mac Cosmetics and Uniqlo already offer the complete purchase process, including checkout, on Instagram. While Instagram Shopping itself is free of charge, in-app checkout comes with a prize on Instagram. For every transaction, a fee is charged by the social network.
The in-app checkout is not yet available in Germany – users are only redirected to an Instagram internal product page that has a CTA linking to the brand's online store. This service is completely free. The company has announced that it will continue to work on expanding the function and is also developing further features and strategies to make the shopping experience easier for users.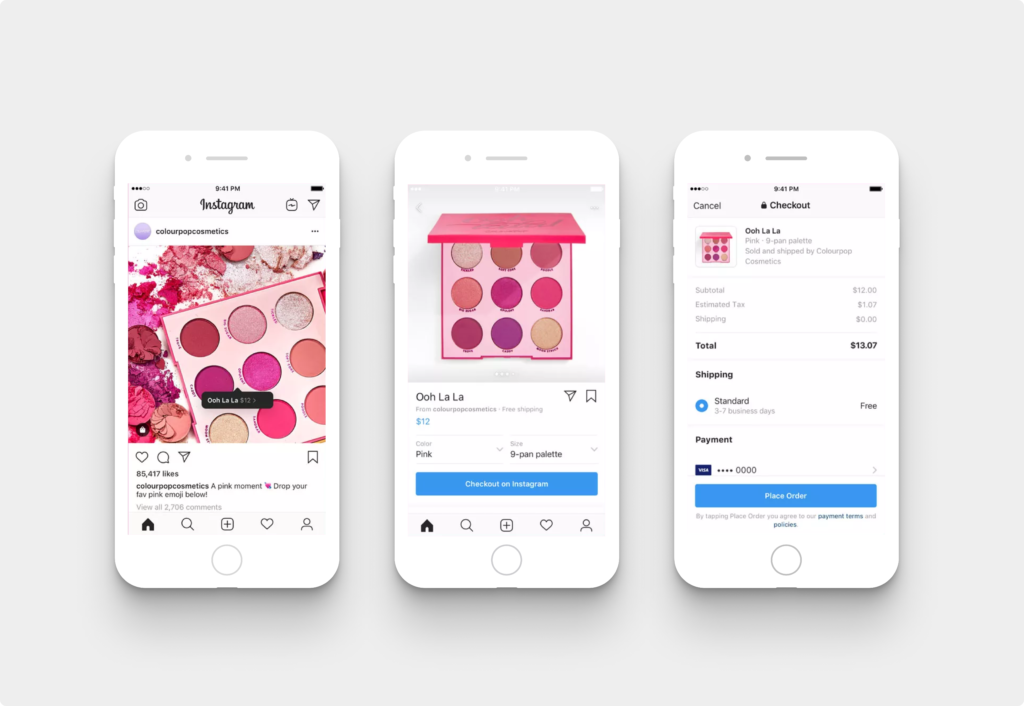 Facebook Marketplace
Facebook Marketplace is a kind of platform that enables social shopping within the Facebook community. Users can sell or buy new or used items. Not only private people, but also companies and retailers can use the Marketplace to connect with their target group and offer products.
TikTok social commerce options
TikTok allows users to integrate links into their own profile description. Furthermore, swipe-up links that redirect to a brand website can be added to videos. Swipe-up shopping links are particularly valuable for influencer collaborations to make it easier for users to make a purchase. TikTok has also announced to be working on providing additional in-app shopping features in the future.
Summary and trend analysis
The personal relationship of consumers to brands and the exchange between them stand at the center of social commerce. Both aspects become a central part of marketing and give brands their very own, nuanced and highly individual face. Creative, modern and personal is the motto of modern marketing.
If you haven't already, it's high time for your company to jump on the e-commerce train: Integrate social media into the sales process and use efficient channels such as Instagram to enable communication and exchange between and with customers. Online shopping will continue to play an increasingly important role in the coming years. Accordingly, social commerce will be expanded more and more through additional functions and will continue to gain relevance. If you are interested in how to embed Instagram content on the website, feel free to read our related blog post.
Social Commerce Infographic

Embed this infographic on your own website
Just copy this code and embed it on your website:
<a href="https://blog.squarelovin.com/social-proof-im-ecommerce/"><img loading="lazy" src="https://blog.squarelovin.com/wp-content/uploads/2021/08/2021-03-18_14-30-17.png" alt="Social Commerce the New Fast Lane of E-Commerce" title="Social Commerce the New Fast Lane of E-Commerce" /></a>
Sources:
https://wirtschaftslexikon.gabler.de/definition/e-commerce-34215
https://www.gartner.com/en/information-technology/glossary/social-content#:~:text=Social
https://www.onlinemarketing-praxis.de/glossar/conversion-rate-konversionrate-umwandlungsrate
https://www.onlinemarketing-praxis.de/glossar/social-commerce
https://blog.styla.com/de/was-ist-shoppable-content
https://de.statista.com/statistik/daten/studie/739881/umfrage/monatlich-aktive-social-media-nutzer-weltweit/
https://www.gwi.com/hubfs/Downloads/Social-commerce-report.pdf
https://www.smartinsights.com/ecommerce/social-commerce-trends-2019/
https://de.statista.com/statistik/daten/studie/1118997/umfrage/umfrage-zu-den-online-einkaeufen-ueber-social-media/
https://www.smartinsights.com/digital-marketing-strategy/race-a-practical-framework-to-improve-your-digital-marketing/
https://totalproductmarketing.com/social-commerce-the-trend-thats-changing-ecommerce/
https://www.socialmediaworldwide.com/blog/uncategorized/benefits-social-commerce
https://www.adjust.com/blog/social-media-marketing-for-mobile-fashion-apps/
https://www.salecycle.com/blog/featured/online-fashion-retail-11-essential-statistics/
http://web.archive.org/web/20190127124030/https:/sproutsocial.com/insights/social-networks-influence-buying-decisions/
https://business.instagram.com/blog/new-to-instagram-shopping-checkout?locale=de_DE
https://www.facebook.com/marketplace/learn-more/business
https://www.onlinehaendler-news.de/e-commerce-trends/digitale-wirtschaft/133428-instagram-shopping-funktion-deutschland
https://suxeedo.de/magazine/social/social-commerce-trends/
https://offers.hubspot.de/danke/social-media-trends-2022
https://www.onlinemarketing-praxis.de/glossar/call-to-action-cta
https://allfacebook.de/toll/neu-in-app-shopping-mit-kompletten-bestellprozess-auf-instagram
https://www.bvdw.org/der-bvdw/