A group of ambassadors who are genuinely passionate about your brand is literally the best thing that can happen to you. Even if these people aren't influencers in the traditional sense, they can strengthen your brand's image and help increase reach and engagement with authentic content. Building and maintaining a brand ambassador network is time-consuming, but well worth the effort. In this blog post, we'll show you how to build a creator network step-by-step and increase awareness and enthusiasm for your brand in the long term.
What is a Brand Ambassador Network?
A brand ambassador network is a marketing effort that puts a company's messaging in the hands of various ambassadors who have specific goals, such as increasing sales or further building brand awareness. Brand ambassadors:are individuals who have a working relationship with the brands they represent and receive specific briefings on how to create content that represents the brand. Brand ambassador programs can be both temporary partnerships and permanent relationships that are designed to last indefinitely.
How do brand ambassadors differ from influencers?
Brand ambassadors are people who represent and promote a particular brand or product. They are often hired by companies to support their marketing activities, usually in the form of content creation.
Brand ambassadors usually have a long-term relationship with the respective brand and embody its values and messages. An influencer, on the other hand, is someone who has built up a large following on social media and is mainly used by brands as a mouthpiece in selective collaborations. You can learn more about the differences between influencers and branded content creators in our blog post on the topic.
Influencers usually work with brands on a campaign basis and promote products or services in exchange for compensation. Unlike brand ambassadors, influencers don't necessarily have a long-term relationship with a brand. They also often work with multiple companies at the same time.
In summary, both brand ambassadors and influencers do promote products or services. However, the main difference lies in the relationship with the brand and the nature of the collaboration.
What types of companies typically work with brand ambassador programs?
One of the biggest advantages of Ambassador programs is their versatility. While they are particularly popular in e-commerce due to the high level of competition, other sectors are now also increasingly relying on brand ambassadors:in. Even more niche industries such as SaaS, gaming, technology, and medicine, including Twitch and Xbox, for example, are now successfully working with brand ambassadors from their community.
Here's how you benefit from the enthusiasm of your community
Your existing customers, followers and fans of your brand are your best mouthpieces. These people already know, love and appreciate your products or services. This makes them the perfect advocates to promote your offering. The key to successful ambassador marketing is building a strong community of all these valuable supporters in one place.
That said, it's important to be selective when choosing members of this group. Try to approach the selection of new Brand Ambassadors in much the same way you would approach the hiring of new employees. Consider what requirements must be met and what other attributes align with your Brand Values before extending an invitation.
For example, partnering with someone who lacks creative skills would be inappropriate if you desire high-quality visual contributions. Conversely, those who don't meet all the criteria can produce exceptional results if they're on fire for your brand.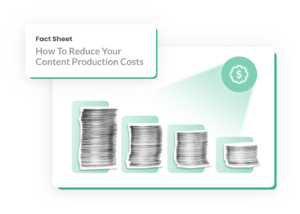 How to reduce your Content Production Costs
Download our fact sheet now and learn how to optimize content production for your brand and reduce costs in no time.
So where can you find Brand Ambassadors for your brand?
In 2023, potential ambassadors for your brand are just waiting to be found by you. The Internet is a hub for potential brand ambassadors who are eager to buy your products and willing to generate photo and video posts for you. Plus visitors to events where your brand is present and all the people who shop in your stores. Best of all, all these people surround you every day. If you feel that someone would represent your brand well, just ask them to apply!
When it comes to choosing brand ambassadors, you should always focus on your existing customers first. Their enthusiasm for your products is the best starting point for a content collaboration. Fans of your brand come second, as they are likely to be interested in your products and can identify with your brand, but do not yet have an experience.
Influencers should be considered last, as they probably haven't tried any of your offerings yet and may not know your brand at all, but could definitely provide good and appropriate content if a collaboration arises. Check out our blog post on the topic to find out how to best embed influencer marketing into your marketing strategy.
Start with loyal customers
Your customers are your best brand ambassadors. They have already invested in your brand, visit your stores and are convinced of your products. That's why they have great potential to become strong ambassadors for your company.
To give your customers the opportunity to become ambassadors for your brand, you have various options. For example, you can insert a link to the registration on your website, or directly embed an entire form. You can also promote both via your email newsletter.
The jewelry brand Puravida shows how such an embedding on the website can look like: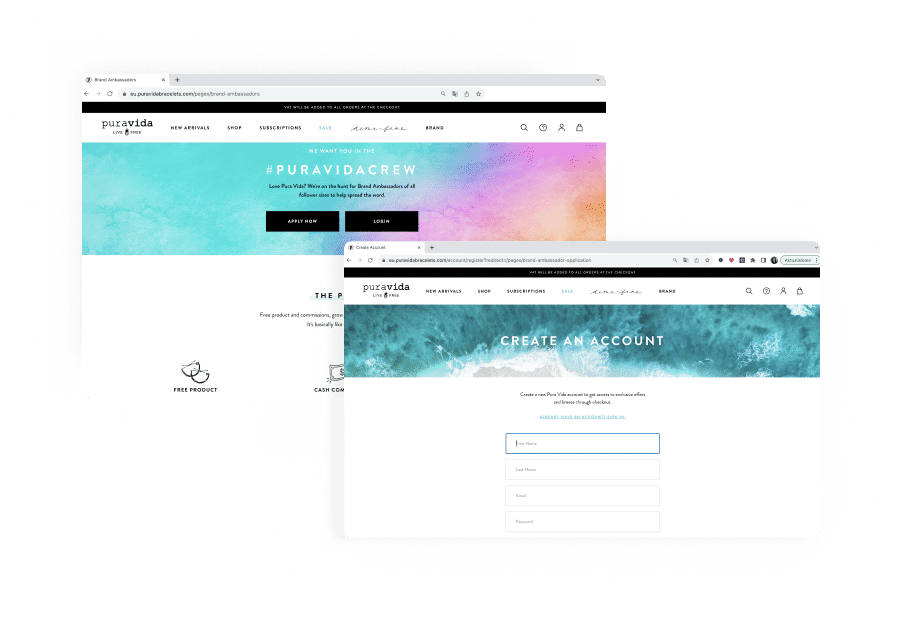 Activate your online community
Another effective strategy is to reach out to potential Brand Ambassadors via social media. By sharing the link to your sign-up page via Instagram Stories or drawing attention to it in your feed, you can quickly and easily turn enthusiastic followers into brand ambassadors.
The dog accessory brand Flossie & Floof shows how it's done: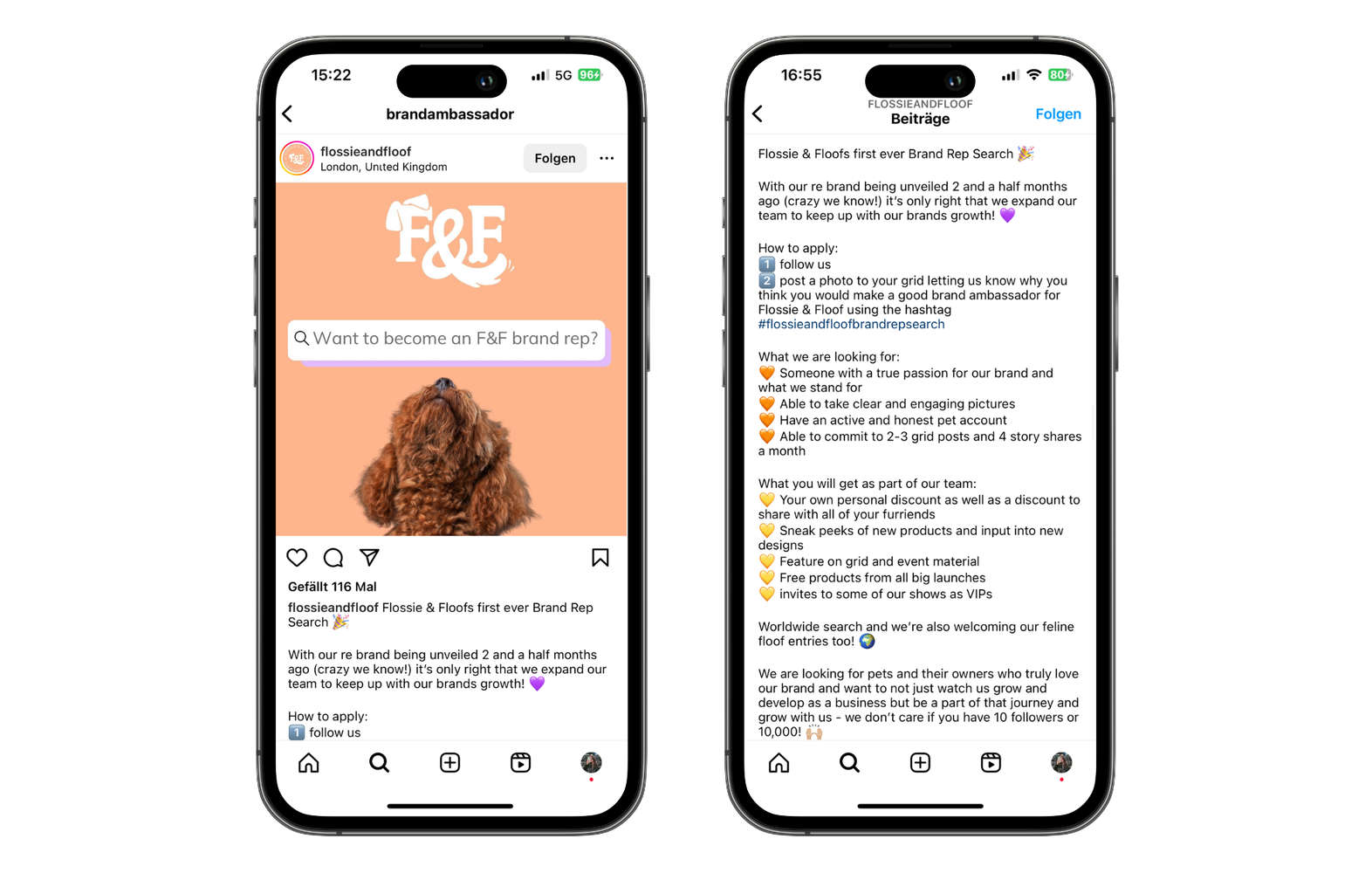 Expand your brand ambassador network offline
Finding ambassadors for your brand doesn't have to be limited to the digital realm. You can easily reach a wider audience by sharing the link to your Brand Ambassador registration page in your stores or at events.
To reach as many potential Ambassadors as possible, you should use different touchpoints. For example, you can place links or QR codes on business cards, flyers, in store windows, or on sales receipts. This way you create awareness for your brand ambassador network and inspire more people to become part of your ambassador team.
Another option can be to actively invite customers who visit your store or events to become brand ambassadors.
Regardless of how you end up inviting potential ambassadors to your network, always remember: It's okay if not all applicants end up in your pool, but only those who are truly passionate about your brand and will stick around for the long haul.
Why loyalty is the key to success
Loyalty and long-term collaboration cannot be overstated when it comes to your brand ambassador network. Once your brand's most loyal fans become part of your brand ambassador network, the possibilities for collaboration are endless. Not only will they continue to buy from your brand, but they will promote it again and again, helping you spread the word about your products and services, attract new customers, and increase sales.
By building a loyal community of brand ambassadors, you create a foundation that can withstand any challenges and obstacles in the marketplace. You build a group of active advocates who believe in the mission and values of your brand.
Here's why brand ambassador programs are a win-win for both brands and ambassadors
For Brands
Cost-effective marketing: Brand ambassador programs are a cost-effective way to get your brand out there because you don't have to spend money on traditional advertising methods, but can generate content quickly and easily.
Authenticity: Ambassadors can create authentic content that resonates with your target audience – because they are part of it. This, in turn, is more likely to lead to more engagement and sales than generic advertising.
Greater reach: By working with multiple Brand Ambassadors across multiple platforms and touchpoints, you can quickly and easily increase the reach and awareness of your brand.
For Ambassadors
Opportunities for advancement: as a brand ambassador:in, members of your network can develop new skills in areas such as social media, content creation, and possibly even influencer marketing
Exclusive perks: Many Ambassador programs offer exclusive perks or discounts that give Brand Ambassador:in access to products or experiences they might not otherwise be able to afford
Collaboration opportunities: working with other like-minded Creators within the same program provides networking opportunities
Overall, ambassador programs offer a mutually beneficial partnership between brands and creatives. On the one hand, the collaboration leads to increased visibility for your brand, and on the other hand, it brings valuable benefits for your ambassado
How to grow your community and continue reaching new Brand Ambassadors
Search specific hashtags and contact potential brand ambassadors directly via social media
To keep your ambassador community growing, you should regularly search relevant hashtags and write directly to potential candidates. Another good option is to simply keep scrolling through your own followers to see who might be good potential ambassadors for your brand. This approach takes some time and effort, but can lead to great results if you find the right people.
Use social ads to reach a similar audience
Alternatively, you can run social ads to target people with similar interests as your current followers. Be sure to include a CTA that makes it easy for interested users to apply immediately. This method has proven effective for many brands in growing their Ambassador communities while attracting new customers.
Invest in building long-term relationships
Once you have identified potential brand ambassadors, it is important to define clear guidelines and expectations for the collaboration. This includes, for example, setting clear rules for specific messages or content branding.
You should also regularly offer your brand ambassadors incentives that motivate them and encourage long-term engagement. This could include exclusive discounts or early access to new products. Most importantly, you should keep in regular contact with your brand ambassadors and acknowledge their work to show that you value their contribution to your brand.
Only include people in your Ambassador Network that are an ideal fit for your brand
Always remember that you decide who joins your brand ambassador community. Only work with people who align with your brand's values and requirements and offer real value. With careful selection, you'll create an engaged group of advocates who will help you spread the word about your products or services.
Which tasks can be sourced out to successfully manage a large Ambassador Network, even with a small team?
Effectively managing your Ambassador Network can be a difficult and time-consuming task. With numerous Brand Ambassadors creating content to promote your products, it's essential to provide a professional framework and coordinated collaboration.
Whether you have 20 or 20,000 Brand Ambassadors, it's time-consuming to keep track of all activities and maintain personal relationships with your Ambassadors. The solution? Automate as many manual tasks as possible! Not only will this streamline processes, but many processes will become less error-prone.
Automate negotiations and contracting with your brand ambassadors
Give your ambassadors the ability to choose the tasks they prefer, rather than engaging in lengthy negotiations over compensation and terms. Set fixed compensation or in-kind benefits for your content campaigns and give your Brand Ambassadors the freedom to decide whether they want to participate.
This voluntary approach encourages enthusiasm and engagement from your brand ambassadors, simplifies communication, and saves valuable time for everyone involved.
Streamline brand ambassador payouts
Automation is especially important when it comes to payments. By implementing an automated payment system, you can save valuable time and ensure that your brand ambassadors are always paid on time and correctly. This will not only keep your team happy, but also build trust and loyalty with your Ambassadors.
Organize all communication with your brand ambassadors in one place
As your community grows and your ambassadors multiply, the task of managing all your contacts and keeping everyone informed can quickly become overwhelming. But don't worry, there's a solution that not only takes the burden off you, but also strengthens relationships with your ambassadors at the same time.
By automating communication processes, you can ensure that all messages are delivered consistently and efficiently at all times, while maintaining a personal touch that makes your ambassadors feel seen and valued.
Give your brand ambassadors the stage they deserve
In order to retain your brand ambassadors in the long term and to keep attracting new brand ambassadors, it is also important that you offer their creative works a public stage. For example, on your brand's social media channels. The brand Parsa Beauty shows what this can look like on Instagram: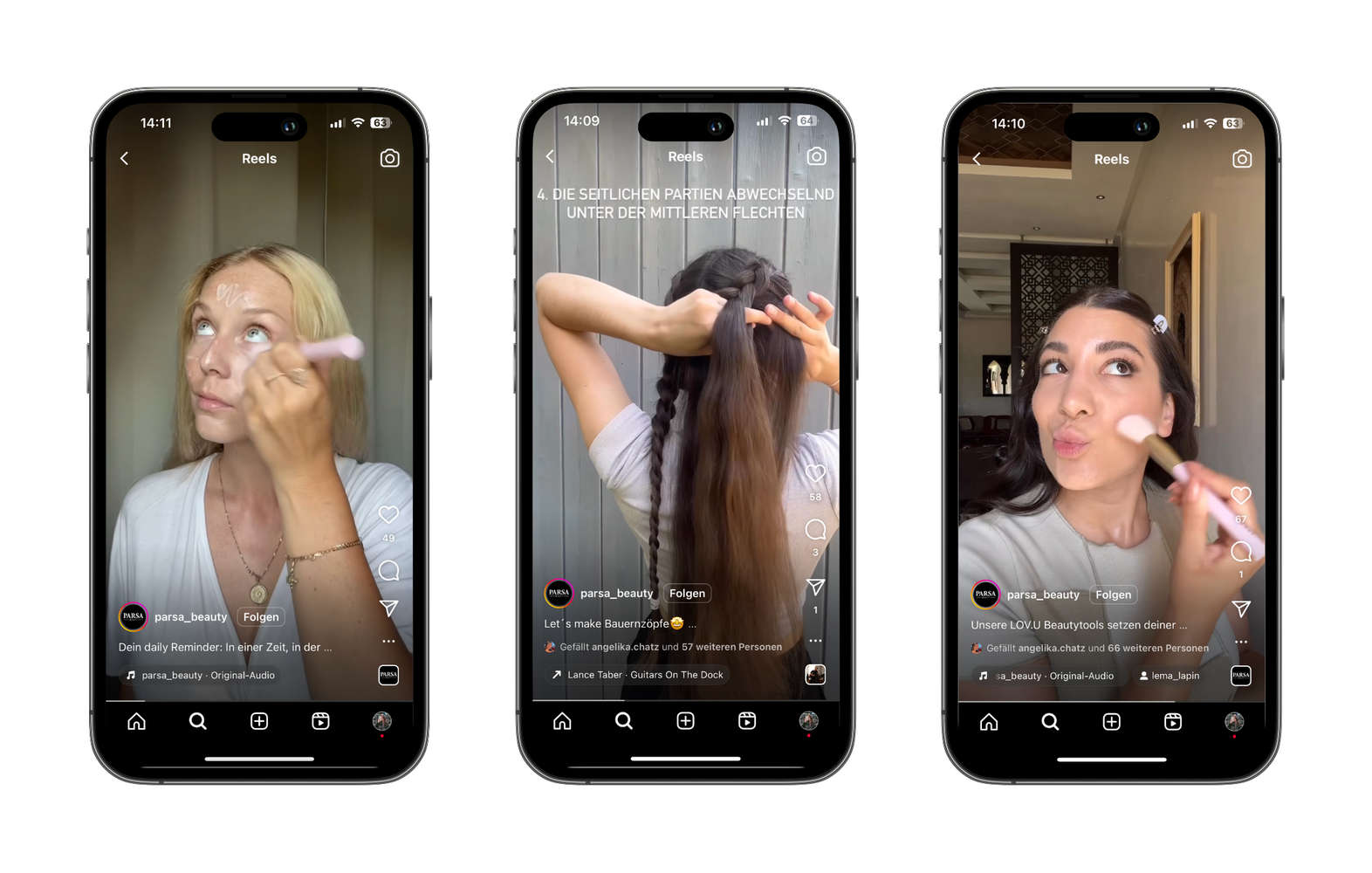 Another option are Shop The Look integrations on your website or in the online store. This option is doubly worthwhile because you not only give your branded content creators a stage, but also provide inspiration for potential customers. You can also link directly to the appropriate products and significantly shorten the path from inspiration to purchase. How such a website integration can look like, you can see here at the example of Puma: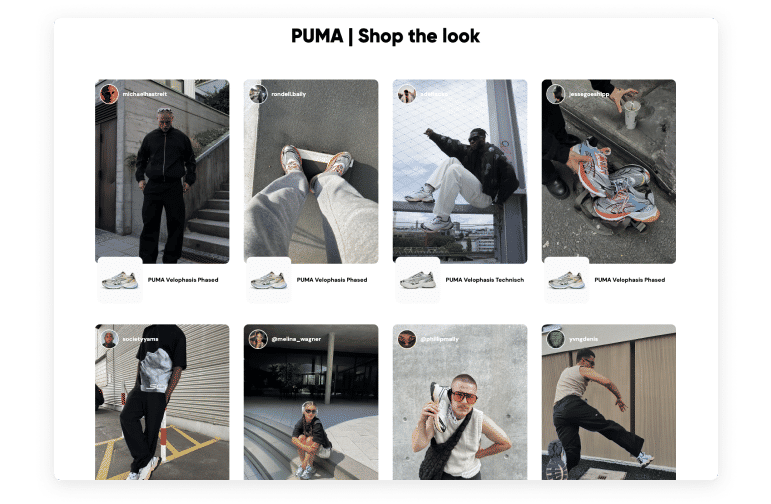 The squarelovin Branded Content Manager as an all-in-one solution for your brand ambassador network
Now that you've learned about the criteria you should consider when setting up your brand ambassador network, we'll introduce you to a concrete all-in-one solution: the squarelovin Influencer Manager.
With this tool, you can build your individual ambassador pool and select content creators with an optimal brand fit. The platform also allows you to easily create and efficiently manage your campaigns, from briefing to payment. A personal account manager is available to help you with any questions or concerns.
Through links to leading tech providers, squarelovin also enables you to optimally integrate your content into the entire marketing cosmos. This allows you to build a coherent brand image across all interfaces.
If you want to keep full control over your Ambassador Community and all branded content campaigns, but want to save resources in your internal team, a software solution like squarelovin Branded Content Manager is the best choice for you. With our tool, you can tap the full potential of your brand ambassador network. At the same time, you build successful long-term partnerships with enthusiastic customers.
Conclusion
In summary, building a brand ambassador network is a crucial step in growing your brand. Attracting Brand Ambassadors is a simple task that brings numerous benefits.
By creating a close-knit community of brand ambassadors, you not only increase your brand's reach, but also build long-term relationships with your community. The right tools can help you streamline processes and automate tedious tasks. This leaves you more time to build and maintain close relationships with your brand ambassadors.
Sources
https://www.forbes.com/sites/forbescommunicationscouncil/2022/09/29/building-a-brand-ambassador-program-for-your-company-in-2022/
https://blog.hubspot.de/marketing/markenbotschafter
https://www.neuromarketing-wissen.de/artikel/warum-jedes-unternehmen-eine-markenbotschafter-strategie-braucht-jetzt