In recent years, influencer marketing has become one of the most successful marketing strategies used by companies worldwide to reach their target audiences. This is also confirmed by a survey conducted by Statista: in February 2023, 23% of marketing agencies and companies worldwide invested more than 40% of their marketing budget in influencer marketing.
Influencers enable companies to target their exact audience, especially in micro influencer marketing. By working with influencers who cater to a specific niche, you ensure that your messages get to the right people. In addition, influencer marketing offers a great way to increase your brand awareness through visual content and engage with your community on various social media channels.
Despite these advantages, however, many companies still rely on manual processes or hire external agencies, which can quickly cause influencer marketing costs to skyrocket. This is where influencer marketing tools come in. With the help of such tools, you can manage your campaigns more efficiently, achieve measurable results and tailor your marketing strategy more specifically to your target groups. In this blog post, we'll go into more detail about the benefits of influencer marketing tools compared to manually run campaigns and working with agencies, and highlight the various criteria to consider when choosing the right software.
What is an influencer marketing tool?
Influencer Marketing Tools
Influencer marketing tools are special software solutions and platforms that help you plan, implement and evaluate influencer campaigns. These tools offer a variety of features, including identifying and selecting influencers based on target audiences, demographics, and various KPIs, such as engagement rates. They also allow you to communicate with influencers and monitor and analyze campaign progress and success, all in one platform.
What are the benefits of influencer marketing tools?
Influencer marketing tools offer a variety of benefits that can take your influencer marketing to the next level. From efficient influencer search to comprehensive campaign management and detailed analytics, these tools make it easy for you to collaborate with influencers and optimize your marketing strategy. We have summarized the most important advantages for you in the list below:
Efficient and time-saving search of influencers: Influencer marketing tools offer detailed filtering options that allow you to differentiate influencers by follower count, engagement rate or demographic characteristics. This saves you time and allows you to work only with influencers who match your desired target group.
Simplified campaign management: Influencer marketing tools provide a centralized platform to manage campaigns efficiently. They make it easy to communicate with influencers, create briefings, and provide direct feedback loops and tracking of campaign progress.
Campaign analytics: Influencer marketing tools give you a clear overview of key metrics such as reach, engagement, conversions, and influencer marketing ROI. This allows you to adjust your marketing strategy and optimize campaigns at any time.
Expand your network of potential influencer partnerships: With software solutions, you have access to extensive databases and platforms that include a variety of influencers from different industries and niches. This allows you to significantly expand your network of potential influencer partnerships, which also means you have less work to do in terms of influencer relationship management.
Should I run influencer marketing in-house, with an agency or use a software solution?
In addition to the benefits of influencer marketing tools, you should also ask yourself whether software is the right solution for your individual situation. The decision whether you should conduct influencer marketing in-house, with an agency or with a tool depends on various factors. In the table below, we have compiled the most important advantages and disadvantages of the individual options: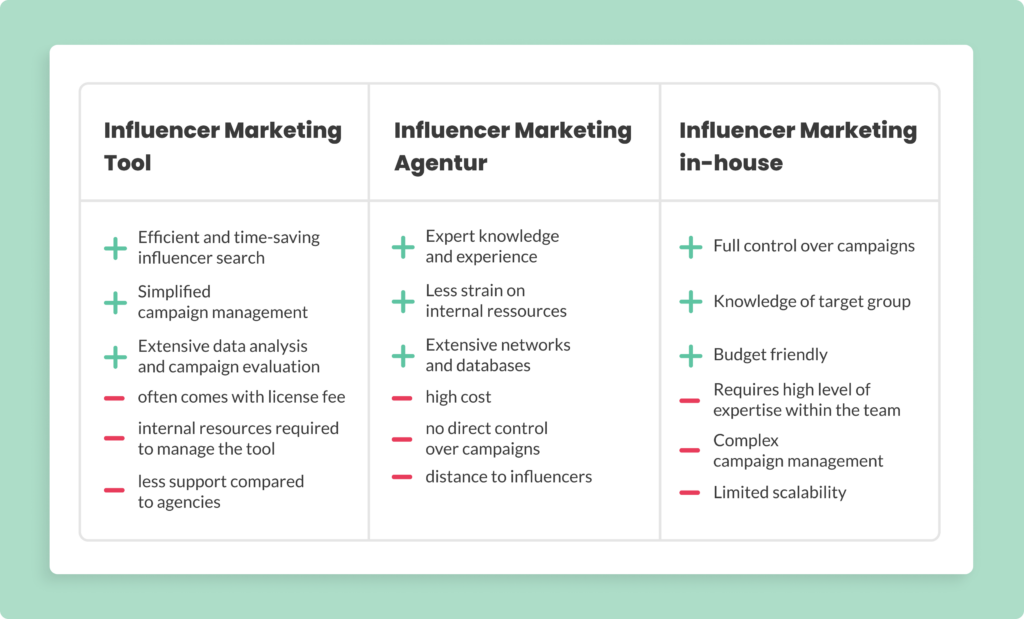 The decision ultimately depends on your specific needs, resources and goals. If you have sufficient internal resources and expertise, doing it in-house can be a cost-effective option. On the other hand, if you need to rely on the expertise and network of an agency, this will probably be the best choice. Influencer marketing tools offer a standalone solution for companies that want to efficiently manage and, most importantly, scale their influencer campaigns on their own.
You can learn even more about the individual advantages and disadvantages of influencer marketing in-house compared to agencies in our blog post on the topic.
How To: Criteria for choosing the right software for your business
If you decide to use an influencer marketing tool in your company, you should consider some important points beforehand. If you follow these, you will easily find the right solution for your brand:
Functionality: Think about which functions and features you need to effectively implement your influencer marketing strategy. Do you just need a comprehensive database to find influencers? Or do you want an all-in-one solution that allows you to fully manage and evaluate campaigns? Make sure the software you choose has the features that meet your needs.
Usability: An intuitive and user-friendly interface is important for you to use the software efficiently. Test the usability before the final purchase (e.g. in a product demo) to make sure that the software is easy to understand and that you can quickly familiarize yourself with it.
Integration: Check if the selected software can be seamlessly integrated with your existing systems and processes. The ability to integrate with other tools such as CRM systems or social media platforms can improve workflow and efficiency.
Scalability: Think about your company's long-term goals. Will the tool be able to keep up with the growth of your influencer marketing efforts? Make sure the software is scalable and has the ability to add more features or capacity as your business expands.
Support: Check to see if the influencer marketing tool provider offers reliable customer support or provides other resources to help you get the most out of the software. Good support can help you quickly and effectively when you have questions or problems.
By considering these criteria when choosing an influencer marketing software, you can ensure that the solution you choose is the best fit for your business needs. This way, you can exploit the full potential of your influencer marketing strategy and maximize your success.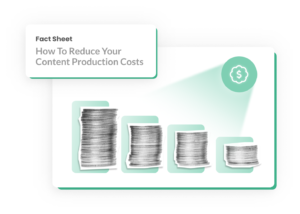 How to reduce content production costs
Download our fact sheet now and learn how to optimize content production for your brand and reduce costs in no time.
The squarelovin Influencer Manager as an all-in-one solution
Now that you've learned about the criteria you should consider when choosing the right influencer marketing software, we'll introduce you to an all-in-one solution: the squarelovin Influencer Manager.
With this tool, you can build your individual ambassador pool and select influencers with an optimal brand fit. The platform also allows you to easily create and efficiently manage your campaigns, from briefing to payment. A personal account manager is available to help you with any questions or concerns.
Another plus point is the integration of first-party data, as the Influencer Manager is connected to various social media platforms via direct interfaces. This gives you first-hand insights into the performance of the influencers you work with. In addition, squarelovin enables you to optimally integrate your content in the entire marketing cosmos through connections to leading tech providers.
If you want to maintain full control over your influencer campaigns and your group of brand ambassadors and save resources in your internal team, a software solution like the squarelovin Influencer Manager is the best choice for you. With this tool, you can leverage the full potential of your influencer marketing and build successful partnerships with influencers at the same time.
Conclusion
No more Excel lists – with an influencer marketing tool you have everything under control! Centralize your influencer campaigns on one platform and keep track of everything. Find suitable influencers, adjust campaigns directly in the tool and evaluate them via the software. This way, you can organize and automate influencer campaigns for your marketing team without having to hand over control to external agencies.
With the help of influencer campaigns, you increase your brand awareness and ensure that only high-quality content is posted on social networks. Besides influencer marketing, there are other types of visual content production, such as UGC or branded content. Depending on your personal goal and budget, a different solution may work for you. Read our blog post on the topic to learn more about the differences between UGC, branded content and influencer content, as well as the respective advantages and disadvantages of the different content formats.
Sources
https://www.statista.com/statistics/268641/share-of-marketing-budgets-spent-on-digital-worldwide/